Bahria Sky, a prestigious project in Bahria Orchard Phase 4, is rapidly progressing with its latest development. OZ Developers, the renowned developer behind Bahria Sky, has recently introduced a new floor named 'Kids Mania.' This floor is exclusively dedicated to all things related to children, including shopping brands, a kids' playing area, a climbing wall, a bird's area, and much more. In this blog, we will explore the exciting features of Kids Mania, the available shops, and the investment potential this floor holds for investors.
Kids Mania
Kids Mania, located on the 4th floor of Bahria Sky, offers an exceptional experience for both children and parents. This floor is thoughtfully designed to cater to the needs and desires of children, providing a wide range of shopping options, entertainment facilities, and recreational areas. From renowned kids' brands to engaging activities, Kids Mania aims to become the ultimate destination for families seeking quality time and memorable experiences.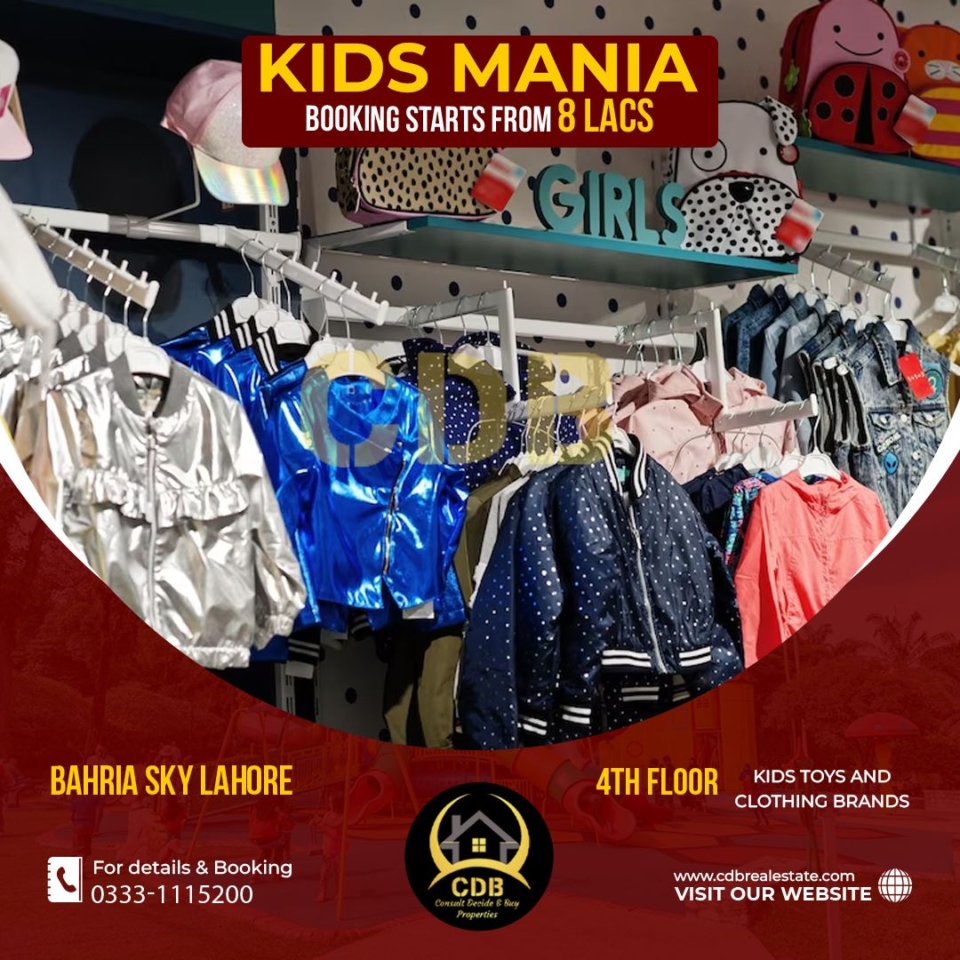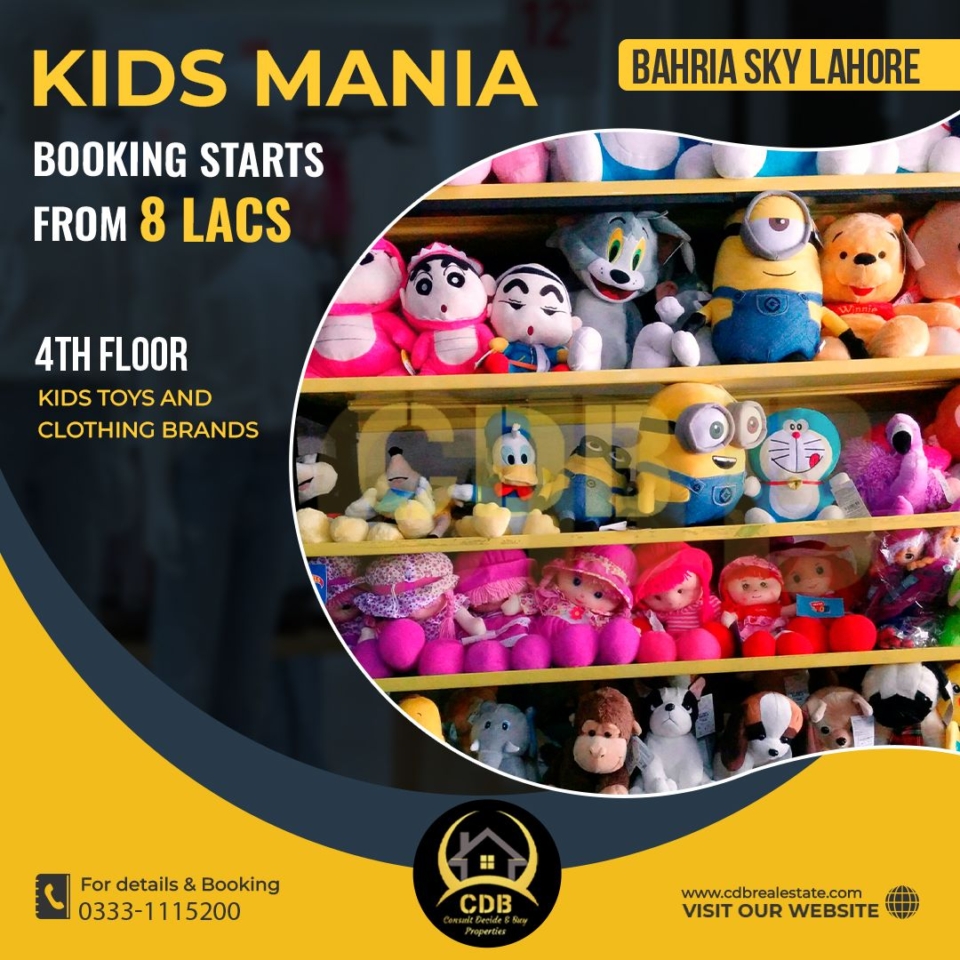 Exclusive Partnership with CDB Properties for Shop Sales
The esteemed developers of Bahria Sky have entrusted CDB Properties with the exclusive rights to sell the shops on the Kids Mania floor. With a total of 85 shops available, this partnership ensures a streamlined and efficient process for interested buyers. The sale of shops is conducted on a first-come, first-served basis, making it imperative for potential investors to act swiftly and secure their desired shop.
Shop Options and Pricing
Kids Mania offers a diverse range of shop options to cater to various business requirements. Corner shops and main boulevard shops are available, providing prime locations within the floor. The initial launching price for the shops is set at 20,000 PKR per square foot, making it an affordable investment opportunity. The booking price for these shops is 30%, ensuring a convenient payment plan for interested buyers.
Any questions, contact us on WhatsApp for prompt response.
Act Now for Lucrative Returns on Investment
As Kids Mania is expected to attract substantial footfall, the prices of these shops are likely to rise in the near future. Investors who secure their shops early on can benefit from potential capital appreciation and rental income. By seizing this opportunity, investors can tap into the growing market demand for children's products and services and maximize their returns on investment.
Accelerated Development with Tower Crane Installation
To expedite the development work in Bahria Sky, the developers have announced the installation of a tower crane before July 30th. This progressive approach to construction is unprecedented within the Bahria Orchard community, highlighting the commitment of the developers to delivering the project on a fast track. This accelerated development further enhances the investment potential and ensures timely completion of the project.
Conclusion:
Kids Mania in Bahria Sky offers an exciting prospect for both investors and families seeking a vibrant shopping and entertainment experience for children. With an extensive range of shops, exclusive selling rights with CDB Properties, affordable pricing, and accelerated development, this floor presents an opportunity for investors to secure a profitable venture. Don't miss out on this chance to be a part of the thriving Bahria Orchard community and invest in the future of children's retail. Act now and experience the rewards of investing in Bahria Sky's Kids Mania.
Contact: 03331115100
Contact: 03331115200

If you are visiting our website for the first time, you can make your very first deal with CDB Properties for free.
To avail this offer click on the below chat button
Check out our Social Media pages for the newest updates of properties
Rate Now, we'd love to hear your feedback on this article.