Bahria Sky is the perfect opportunity for investors looking to get involved in a secure and rewarding venture. Esteemed ABS Developers and OZ Developers have developed the project to provide the general public with top-notch residential and commercial properties. Bahria Sky Lahore will give investors great returns due to its prime location in the heart of Lahore.
Investors can choose from a wide range of residential and commercial options designed to meet the individual needs of all types of investors. The properties for sale include apartments, offices, commercial shops, and outlets in the food court area. All the residential and commercial units have been designed to provide a modern and luxurious living experience with every possible amenity included.
Food Court Investment:
Normally the developers of any commercial building don't offer investments in the food court area. However, OZ developers first time offer an investment opportunity in the food court area. Investors can buy shops and food outlets in the food court area. The returns from this investment are guaranteed as Bahria Sky will generate great footfall in the food court area due to commercial and residential opportunities under one roof.
Any questions, contact us on WhatsApp for prompt response.
Location of Bahria Sky:
Bahria Sky is located at a prime location to provide easy access to the people. It is situated at Plot # 3, 4, and 5 in the G2 Block of Bahria Orchard Phase 4 Lahore. After entering into G2 Block, Bahria Sky is located on the right side of the main boulevard. The total covering area of this mall is 15 Kanals. Almost half of the area is reserved for parking and boundary area. The Bahria Sky Mall has situated at 7.5 kanals area. It has easy access to Raiwind Road's commercial zone and is close to many of the city's popular attractions. It is situated close to renowned locations such as Times Square Mall, Residencia Orchard Mall, and Arabian 99 Mall.
Also Read
Reasons to Invest in Bahria Sky Lahore: Top Features to Consider
Infrastructure:
Bahria Sky has a basement + 15 floors, and a parking area. The basement, ground, and 1st and 2nd floors are dedicated to shops. The 3rd Floor has been set aside for offices, and the 4th to 15th Floors are reserved for residential apartments. All floors are equipped with elevators to provide residents and visitors with easy access. The building also has a standby generator, CCTV cameras, security staff, and a guard room for the safety of the residents.
Payment Plan:
The payment plan for these properties is quite flexible and easy. The installment plan of Bahria Sky includes 4 years of easy installments with only a 20% down payment. Following is the complete payment plan of Bahria Sky: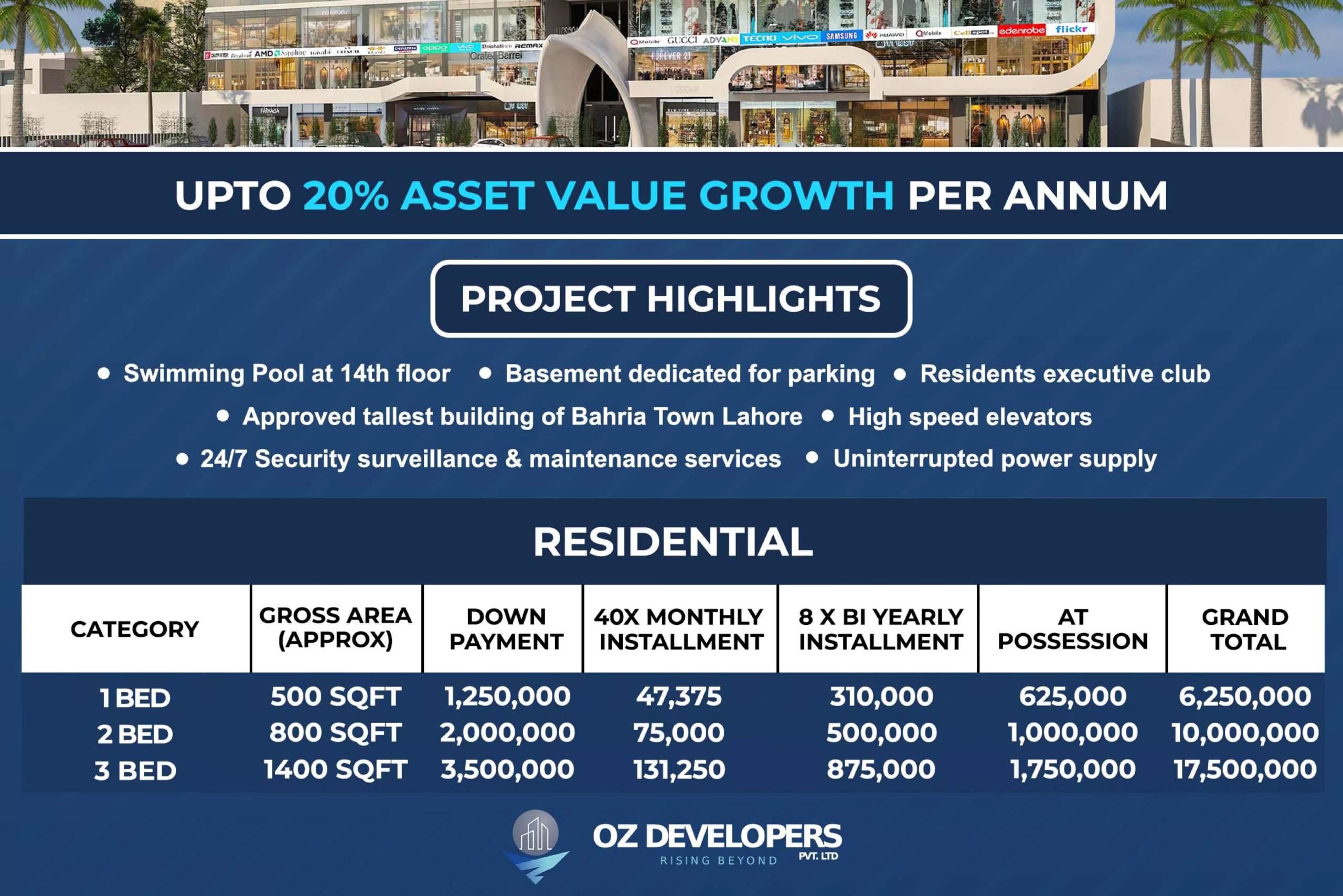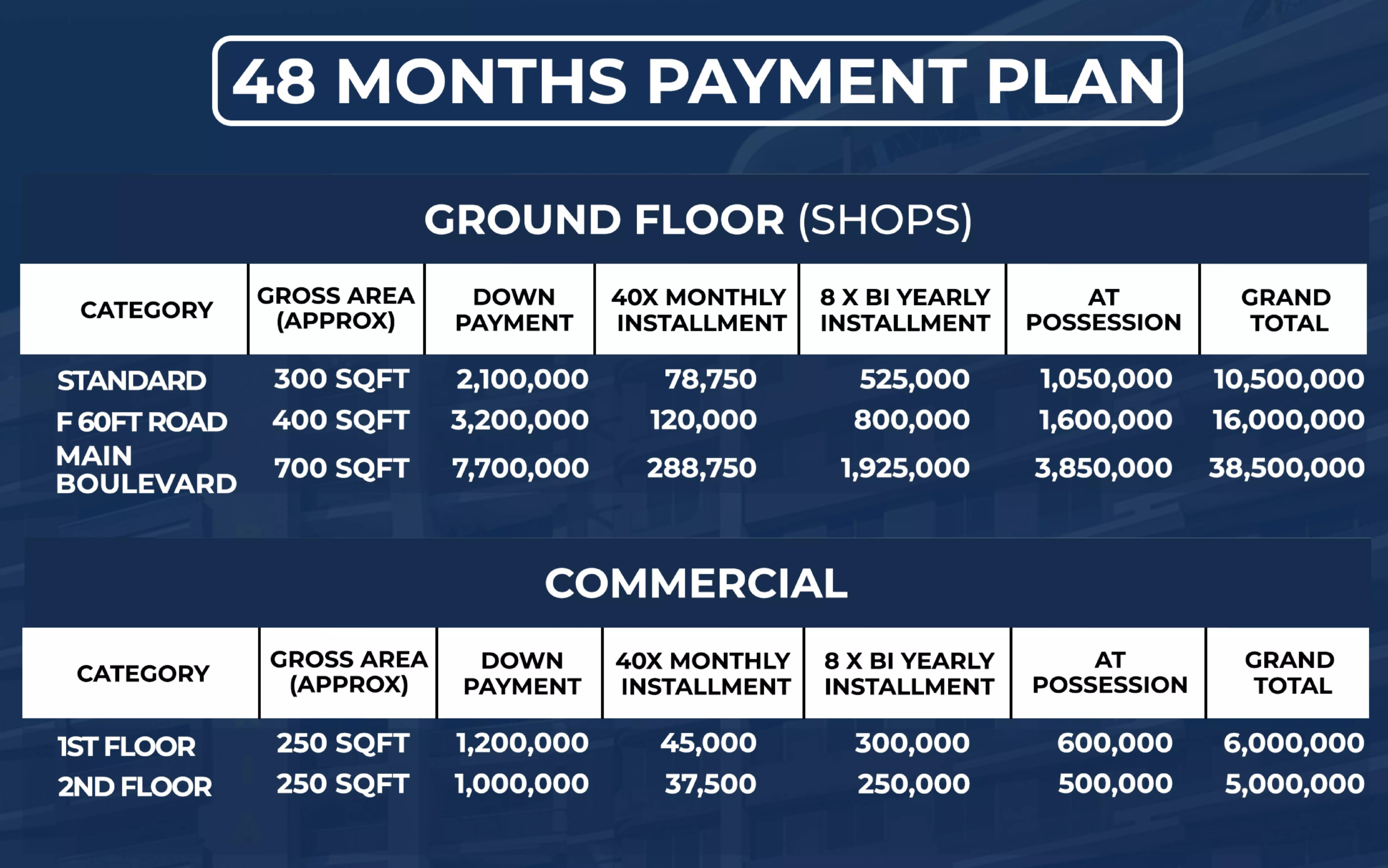 Booking:
The booking of shops and apartments in Bahria Sky is open. For further details, contact CDB Properties. We offer the best opportunity according to your budget. Our contact details are as follows:
Contact: 03331115100
Contact: 03331115200

If you are visiting our website for the first time, you can make your very first deal with CDB Properties for free.
To avail this offer click on the below chat button
Check out our Social Media pages for the newest updates of properties
Rate Now, we'd love to hear your feedback on this article.