CDB Properties is one of Pakistan's top reputable and credible Property dealers. Investors rely on CDB Properties due to their commitment and clear guidance about real estate investment opportunities. CDB Properties offers a variety of real estate investment opportunities for its clients, including office space, retail space, and residential units. It also provides many services to help clients succeed in their investments, such as property management and lease negotiation.
CDB Properties is a great choice for those looking for a reliable and trustworthy consultant to invest in. The company has a long history of success in the real estate industry, and its team of experts are highly experienced in all aspects of property investment.
Here are some of the highly profitable investment opportunities in Lahore with CDB Properties.
Victorica City Lahore
Victoria City Lahore is a premium housing project. It is located at the prime location of Main Canal Road. It's a newly constructed, high-standard project with modern living and futuristic investment possibilities. Its location has seen significant price appreciation and remains one of the most sought-after real estate investment opportunities.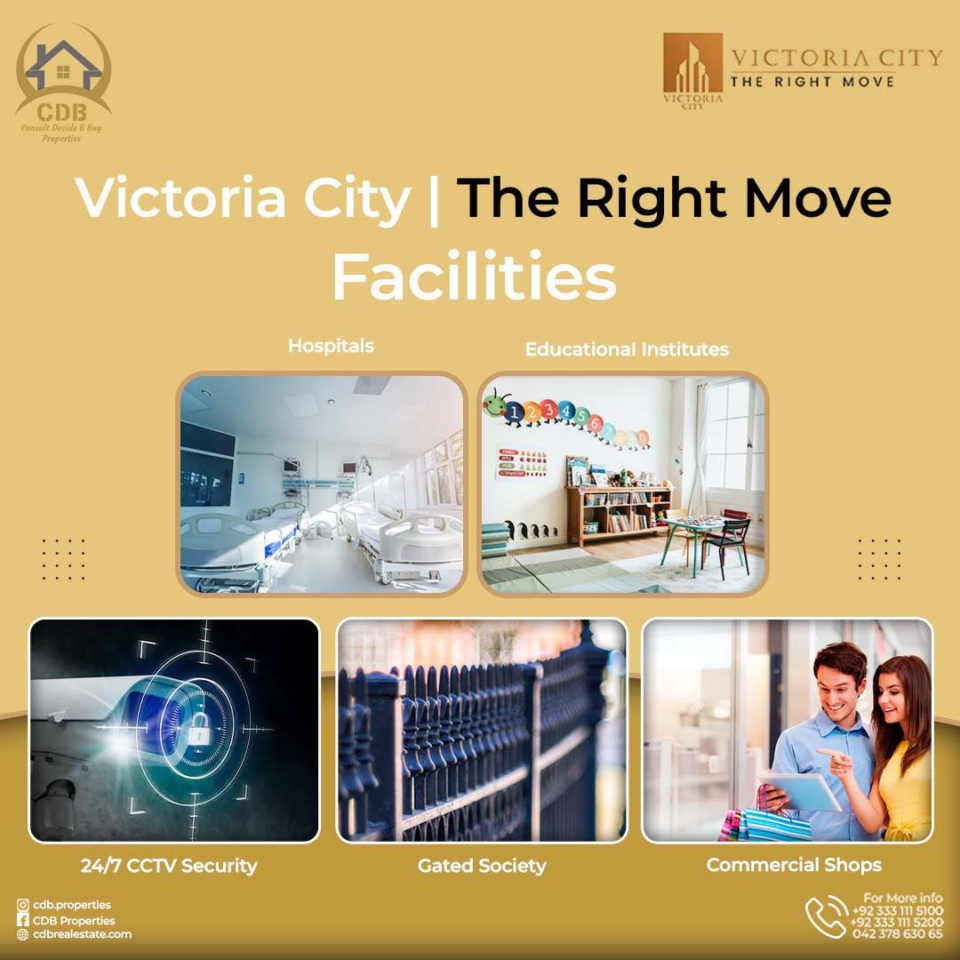 Victoria City Lahore is one of the best housing projects by the Sheranwala Group. It offers both residential and commercial plots. They offered pre-launch pricing, which made it even more appealing for people to invest. Victoria City Lahore provides all of the modern comforts you could desire in a dream house.
With this pre-launched pricing, the Victoria City Lahore 2022 payment plan is very convenient. CDB properties will guide the complete investment process in this project.
New Metro City
BSM Developers' New Metro City Kharian is a highly exclusive home development. It's a project by the same people who developed Gwadar Golf City, which had to achieve enormous success. The New Metro City is a residential project with high construction standards, amenities, and contemporary elegance.
It's a first-ever high-end housing development that has revolutionized the way people live in the state of Gujarat. New Metro City, located at the historical crossroad of Kharian and Sarai Alamgir, is at the best spot.
New Metro City Kharian has a lot of advantages for investors. This society, founded just a few years ago, has fast evolved into one of the most well-developed residential projects in the Gujarat region.
Orchard Mall
The Orchard Mall is one of Bahria Orchard Phase 4's most well-known and celebrated projects. It's a developing project with easy accessibility from Main Raiwind Road, and Q-Links Developers develop it.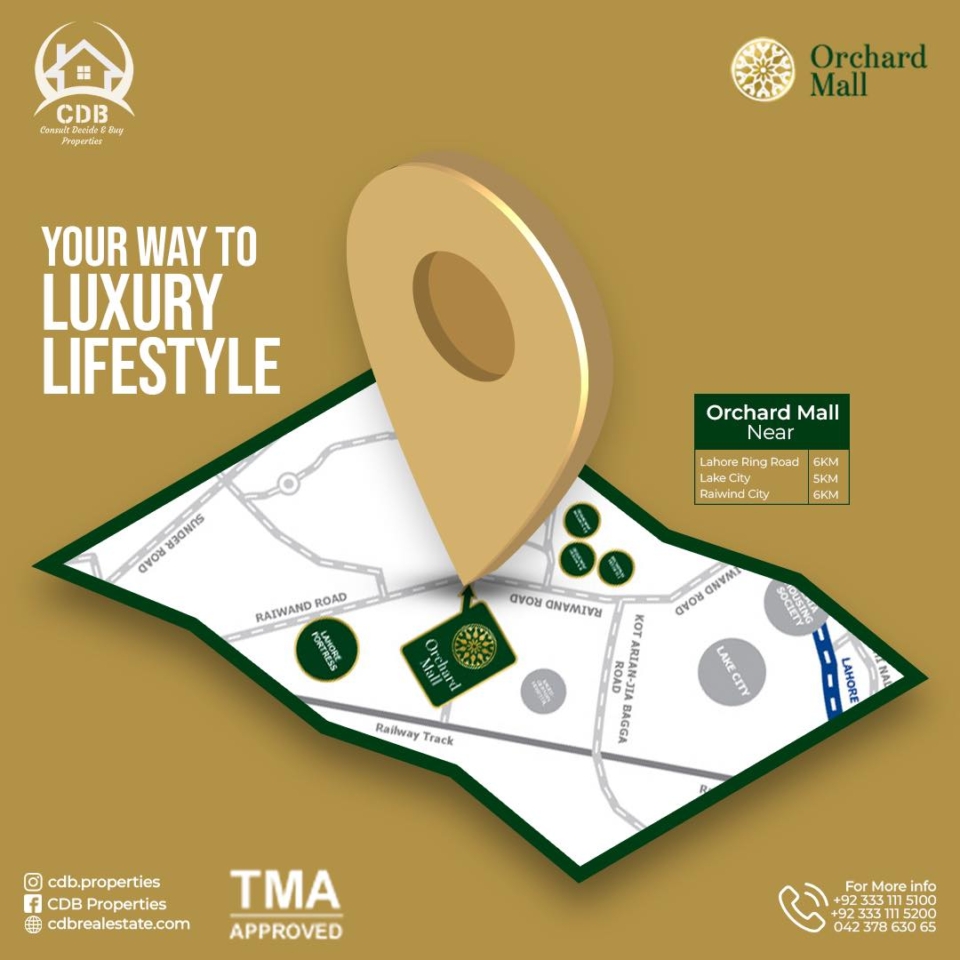 Orchard Mall is destined to be the finest retail experience in Bahria Orchard and its region, combining world-class luxury labels, cutting-edge architecture, simple access, and fascinating new entertainment ideas.
The mall's design and layout make it a popular destination for customers and families. The wide range of shops, restaurants and entertainment options provide it with versatility as a day-out destination. It's a business center that draws in investors with its enticing offers.
This giant mall consists of 4 floors. In which one can find a wide range of big brands including clothing, IT market, Kids arena and hotel room apartments. It's the best opportunity for investors to get high profit with early booking.
Any questions, contact us on WhatsApp for prompt response.
Jasmine Grand Mall
The Grand Jasmine Mall is a major retail complex and the greatest mall in the region. The Jasmine Grand Mall is located in Bahria Town Lahore and will have hundreds of businesses selling a wide range of real estate investment opportunities in Lahore.
Jasmine Grand Mall is a large project that will be the largest mall in Lahore's Bahria Town. It's a well-thought-out mega-development where you can find everything, from food to wedding shopping.
The Grand Jasmine Mall consists of 6 floors, in which one can have access to top brands of the world, a wedding galleria, a kids galleria, one of the largest IT Market, and food courts.
The prices of Jasmine Grand Mall, which was established almost 1.5 years ago, have gone up. On August 2nd, 2021, the price increase was 10%. But still, CDB properties will provide you with the best real estate investments in Lahore according to the affordability of the investors.
Safari Villas
Safari Villas, in Bahria Town, is one of Pakistan's most popular residential communities where you may enjoy a luxurious lifestyle. It has well-designed houses with high standards of living for residents in Lahore. The terms "exclusive," "comforts," and "quality" accurately characterize Bahria Town.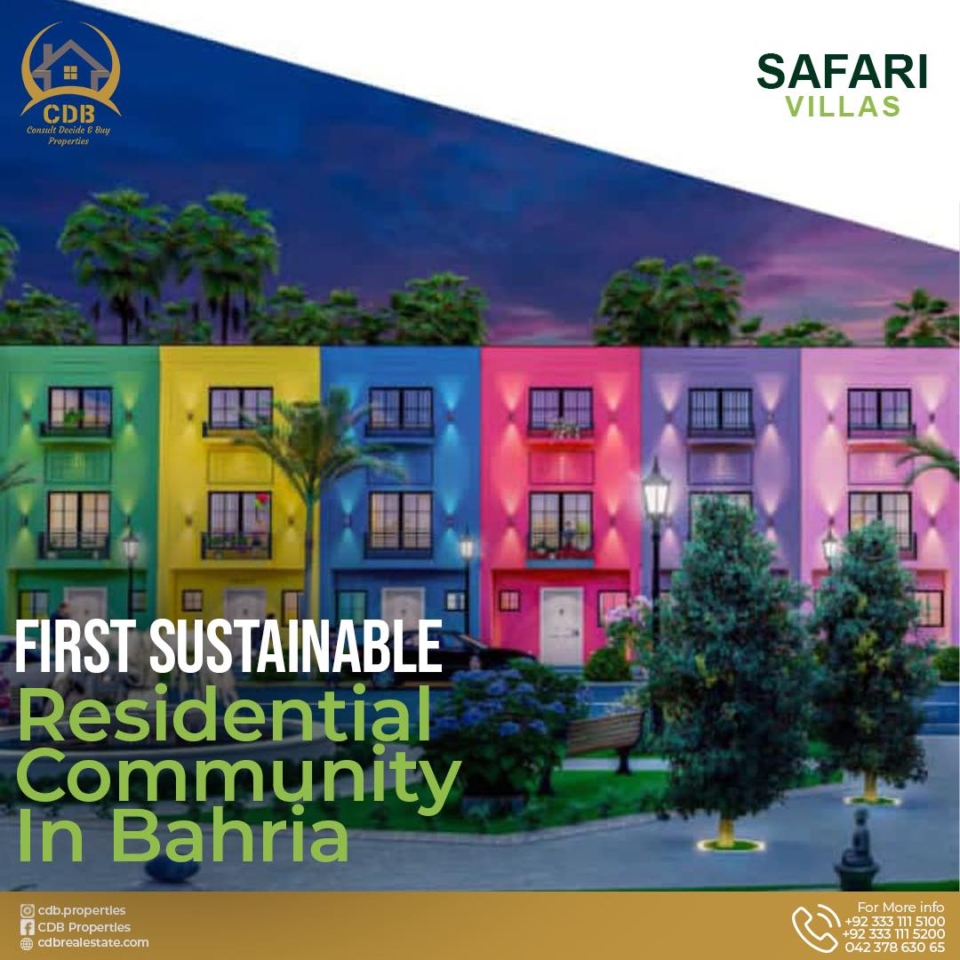 These Villas are fully equipped with modern facilities, including Bahria Town International Hospital, Park, Gated enclaves, a digital security system, Safari Club with a guest room, a swimming pool, banquet hall, squash ground, tennis court, and many more.
Safari Villas are affordable for all types of people. CDB properties provide the appropriate and favorable payment plan for the investors. Anyone can reach out to CDB properties for a free consultation.
Times Square Mall
Times Square Mall & Residencia, located in Bahria Orchard's Phase 4 and is just a short walk from Raiwind Road, is an excellent and well-planned first highrise development. It's a Sheranwala Group initiative with a proven track record in real estate development.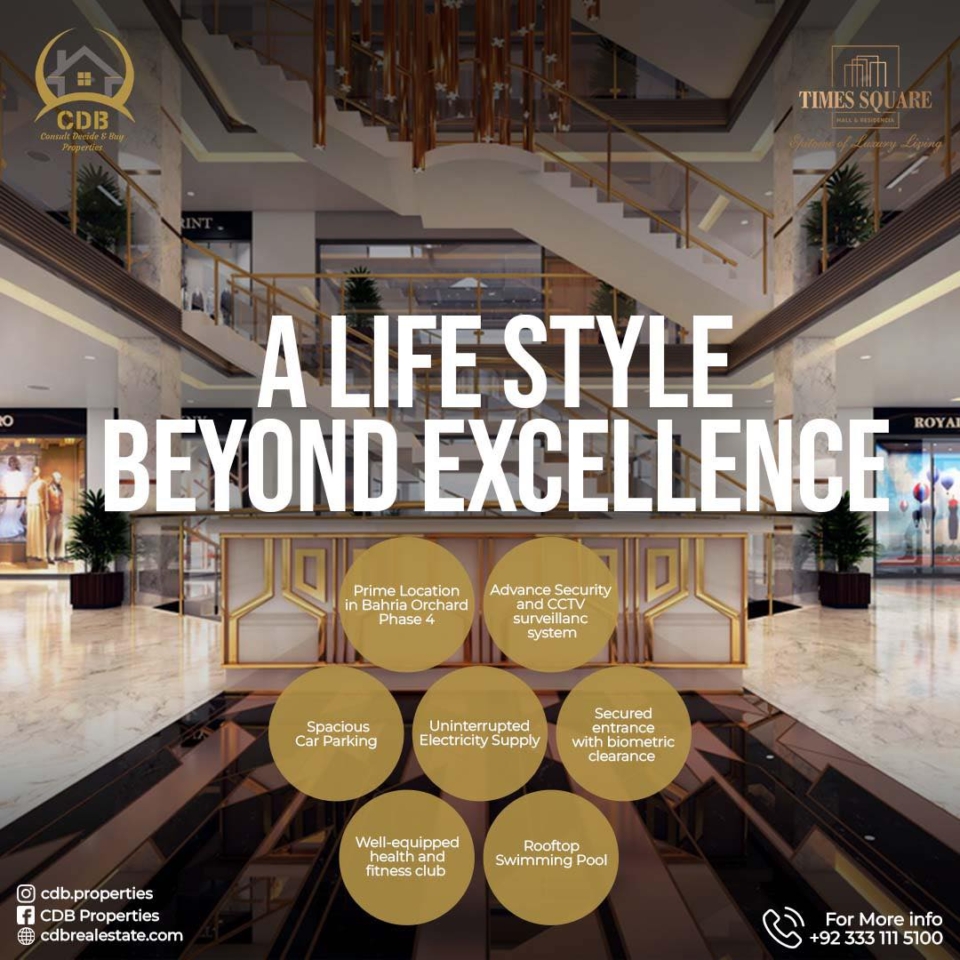 The Times Square Mall consists of 8 floors that will be fully furnished with modern facilities.
Meticulously designed businesses will utilize the ventures' basement, ground, and first stories.
The second floor will be home to sophisticated corporate offices.
The third, fourth, and fifth floors will contain 1-bedroom luxury apartments.
And the sixth and seventh floors will be housed with 2-bedrooms apartments.
The eighth floor is reserved for a luxury penthouse.
This project also includes a rooftop garden, swimming pool, and sun deck, making it a fantastic addition to Pakistan's flourishing luxury housing sector.
New Lahore City
New Lahore City is the best option for low-budget buyers. Also, it is the best option from an investment perspective. It is the best investment opportunity as rapid development is in progress.
New Lahore City is located quite near Multan Road and Main Canal Bank Road and provides access to all major shopping areas and attractions of the city.
New Lahore City is the project of the Zaitoon Group. They started quick development of New Lahore City after the successful completion of the mega projects such as Landmark Plaza, Zaitoon Plaza, and Japan Center.
News Lahore City offers residential plots of the following sizes:
5 Marla
10 Marla
1 Kanal
2 Kanal
It also offers commercial plots of the following sizes:
It offers both types of plots on easy installment plans of 3.5 years and plots can be reserved with only 15% down payment. CDB Properties can assist you with further details.
Bahria Orchard Lahore
The Most Beautiful Houses and Commercial Areas in Pakistan, where every structure weaves the contemporary into leisure and allows you to enjoy the most carefree life with peaceful surroundings. Till now, the best investment opportunity is Bahria Orchard Lahore which CDB Properties deals in. CDB Properties provides the maximum compensation to the investors in these deals.
The development of the Orchard has been divided into five Phases, each with its own set of residential and commercial buildings. These are as follows:
Bahria Orchard Phase 3
Bahria Orchard Phase 5
Bahria Town offers residential plots of the following sizes:
5 Marla
8 Marla
10 Marla
1 Kanal
For further details and consultation, you can contact CBD Properties.
About the CDB Properties
CDB properties, a well-known name in the real estate market, offers the very best real estate investment opportunities to its clients. CDB Properties is an authorized dealer of all the projects mentioned above. Clients can transfer payments directly to the developer's account, and they do not need to pay anything to the dealers. Overseas investors can also invest with complete guidance of CDB properties.
CDB properties have a strong commitment to clients, and this is why investors trust CDB properties and consult with them for any investment opportunity. People can consult and invest with CDB properties. Contact details are given below:
Email: [email protected]
Contact : 03331115200
Contact : 03331115100
Any questions, contact us on WhatsApp for prompt response.
Check out our Social Media pages for the newest updates of properties