The Jasmine Grand Mall is a great commercial center and the largest mall in the region, with several of the world's best brands, event areas, and anchor shops. Bahria Town Mall is the biggest shopping mall in Lahore, where you may invest in growth, retail, and a variety of other business possibilities. The Jasmine Grand Mall is situated in Bahria Town Lahore and will have hundreds of shops that provide a wide range of investment possibilities. The mall also provides visitors with numerous activities and entertainment every day in a different manner.
Key Features
Largest Supermarket
Jasmine Grand Mall is one of the largest shopping malls in the town. It's a world-class supermarket that includes brand shops, food courts, and amenities common to such a high-end market.
Prime Location
The location of this is mega Bahria Town Lahore. The location is commonly known as the "Center of Commercial Activities in Bahria Town. The district headquarters of Jasmine and the city's main commercial area is located approximately 5 kilometers from M-2 Motorway and 11 kilometers from DHA EME SOCIETIES.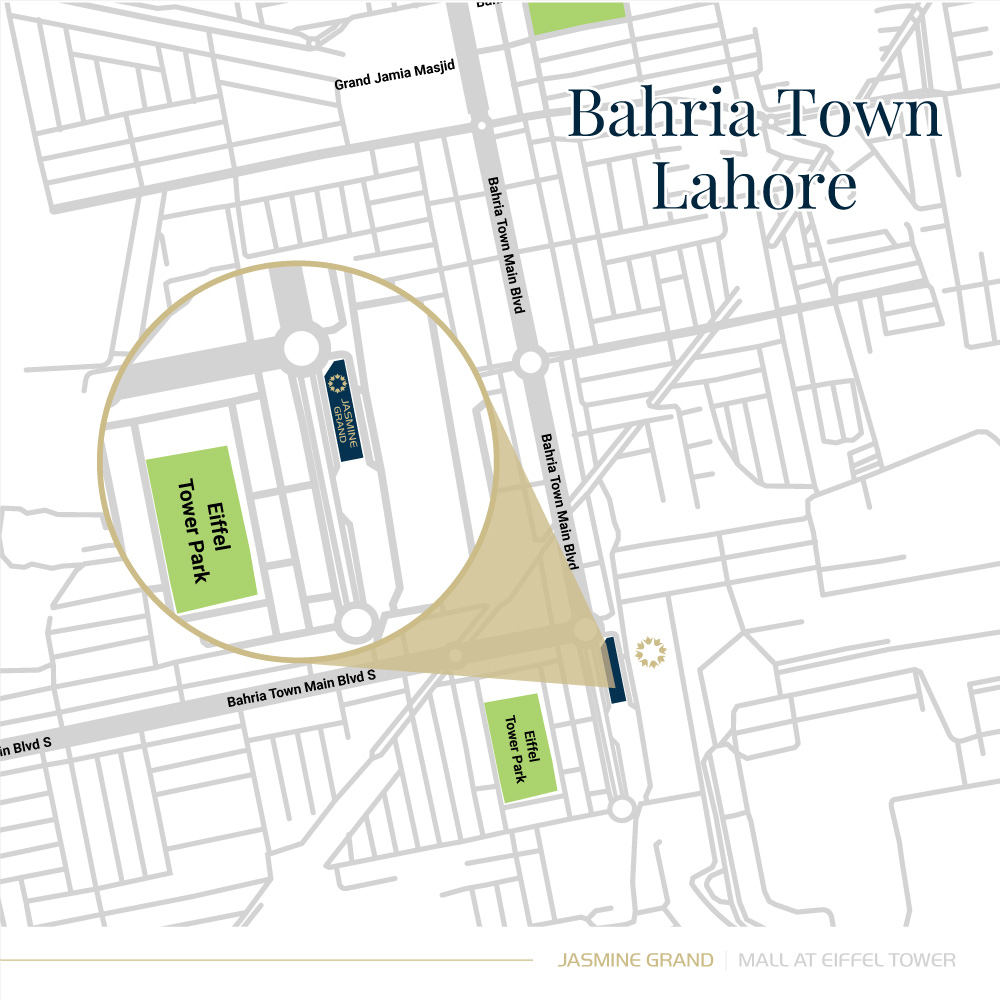 Area
Jasmine Grand Mall is expanded on a very large area. Its total area is 250,000 square feet, with more than 200 shop spaces, and has huge public spaces for shows and events. And still, it provides ample car parking.
Reliable Developers
The spectacular shopping center in Bahria Town Lahore, Pakistan, is carefully planned and developed by Q-Links Real Estate Company. The creators of Jasmine Mall are a well-known and trustworthy brand in Pakistan's real estate industry. Q-Link is well-known for its ability to deliver on time and for excellence in its projects.
Structure of Jasmine Grand Mall
Basement
The basement of Jasmine Grand Mall is reserved for the renowned Aslam Supermarket. The shops in the basement are not for sale. However, it provides the best rental opportunities to investors. One can earn guaranteed rental income for life on their investments.
Any questions, contact us on WhatsApp for prompt response
Ground + First Floor
The ground floor and first floor of Jasmine Grand Mall are home to several merchants for well-known brands. Multiple companies have already booked these shops. You will see numerous local and international businesses in operation shortly there.
Second Floor
The second floor of this magnificent shopping center is eye-catching. It was the first of its kind Wedding Galleria that is more attractive than other malls. Wedding Galleria of Jasmine Grand Mall is a project that provides a one-stop shopping experience for all wedding-related items and services. Furthermore, only a few shops are for sale in Wedding Galleria Jasmine Grand Mall.
Third Floor
The Jasmine Grand Mall's prices are generally low, which is one of the mall's major selling features. Another beautiful project named Kidz Galleria is planned on the third floor. This project comprises several shopping spaces geared toward children's clothing, footwear, accessories, gaming, and toys. The booking of shops on this floor is already started.
Fourth and Fifth Floors
Both these floors are featured in this grand mall. These floors are planned with the first IT Hub in Bahria Town Lahore. It's a project that will have access to a wide range of computers, laptops, electronics, and gaming devices. Furthermore, the IT Hub of Jasmine Grand Mall provides you with all technological gadgets under one roof.
Pricing and Investment opportunities
Because of its success, this project has been highly profitable since the start. Many investors have made huge profits by purchasing shops in the early process. The prices of Jasmine Grand Mall went high by 10%, which is excellent news for its investors.
The rates are still affordable, allowing you to make good investments at a reasonable price. With the continuing expansion of Jasmine Grand Mall and once the Shahkam chowk flyover will be completed, its prices will rise again. It is the best opportunity for the investors to buy shops at the same prices till the 1st of August. After that, inventory will be a sell-out at high prices. As a result, if you wish to benefit from this chance, you must act quickly!
For any kind of inquiry or details, you can contact us.
Email: [email protected]
Contact : 03331115200
Contact : 03331115100
Any questions, contact us on WhatsApp for prompt response
Check out our Social Media pages for the newest updates of properties