After the successful completion of Jasmine Mall, Q-Links Developers created another wonderful project: Safari Villas. With this upcoming Safari Villas Bahria Town Karachi, you'll be able to find your ideal house. Whether you're looking for a home in Bahria Town or want to invest in a lucrative property, Safari Villas will meet all of your requirements. Prepare to enjoy unrivaled luxury and amenities by investing in one of Karachi's top villas.
A fantastic combination of prime location, low rates, customizable terms, and out-of-this-world accommodations makes this project a winning mix.
Furthermore, the finest facilities of this location are drawing the attention of both buyers and investors. The more you know about these luxury properties, the more you will be drawn to them. These lovely homes provide a chance for a pleasant lifestyle by making an excellent investment in Bahria Town Karachi.

About Safari Villas Bahria Town Karachi
These are two-story villas with a ground area of 75 square yards and three bedrooms that adhere to the most current trends and sophisticated modes. These stunning homes have the following features:
1-Lounge area
2-kitchen and dining area
3-Three bedrooms with attached bathrooms
4-Balcony and terrace
Location of Safari Villas Bahria Town Karachi

The location of these luxury homes is one of their most prominent features. This project will have a high return on investment since it is located in a prime location.
Safari Villas is located in Bahria Greens Karachi. The Bahria Greens is already well-liked and accessible from various roads.
The region is also home to several magnificent landmarks, including the Eiffel Tower and Pakistan's biggest cricket ground. The value of these luxury homes will be twice as high once Rafi Cricket Stadium becomes functional.
Features and Facilities
1-Safari Mall
2-Bahria Town International Hospital
3-Park
4-Masajid
5-24 hours security
6-Gated enclaves
7-Attractive well, planned community
8-Safari Club with guest rooms, swimming pool, banquet hall, tennis court, squash court, snooker room & 9-Gym
10-Reliable Developers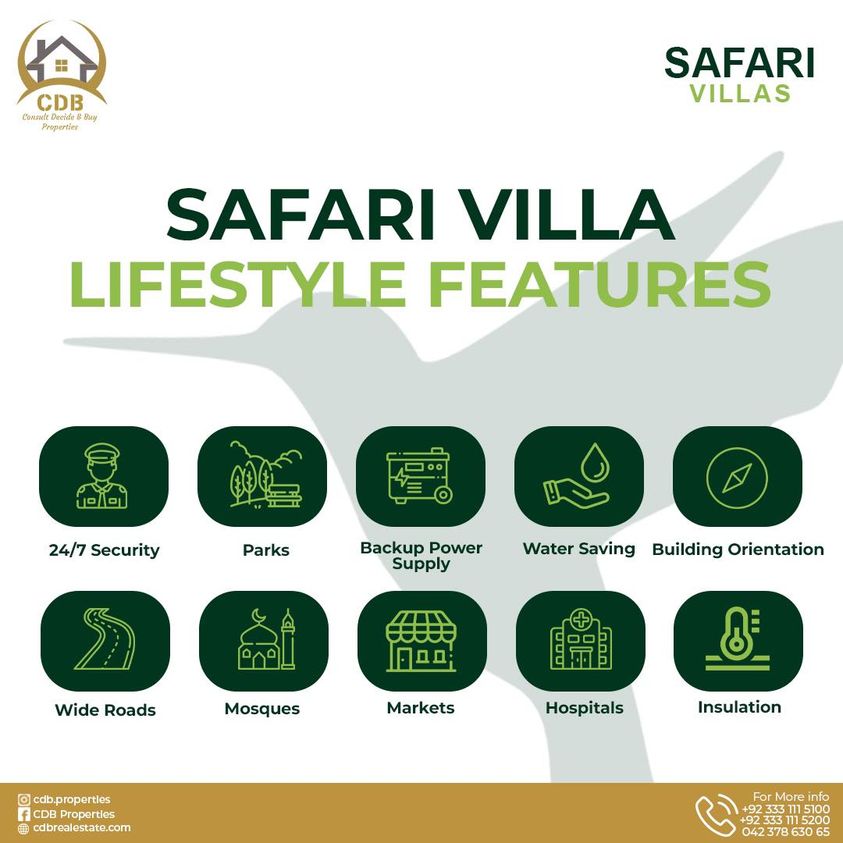 Nearby Developments
1-HBL Towers
2-Several Villas Projects
3-Naya Pakistan Housing Scheme Apartments
4-New Entrances of Bahria Town Karachi

Investment Opportunity
Safari Villas Bahria Town Karachi is a wonderful initiative that provides lovely living areas at reasonable rates. The ROI of this project is excellent, allowing investors to make money in Karachi's development. People seeking helpful things will undoubtedly acquire a property in this project. The booking of villas has already started. Safari villas serve as first come, first, get. It is the best time to book your villa with a reasonable payment plan. For complete payment details, you can contact CDB Properties.