Smart City Lahore is a new premium housing project in the midst of Lahore, initiated as a joint venture of Blue Group of Companies and Mokal Housing. It is a cutting-edge development that provides high-end living and attractive investment opportunities. This luxury development is ideally located on Main Canal Road Lahore. The development of this latest smart city was inspired by the world's most luxurious communities, and it will feature top-notch facilities, cutting-edge technology, sophisticated amenities, and an exclusive lifestyle.
Smart City Lahore will provide many investment opportunities for locals and overseas investors as well. They can enjoy the luxury to invest both in residential and commercial properties. Currently, the developers are offering plots at pre-launch prices along with very favorable and flexible payment plans.
About Developers
As everyone in Lahore was anxiously waiting for the new investment opportunity. At that time, Blue Group announced its partnership with Mokal Housing to initiate a new venture named Smart City Lahore.
It's not difficult to imagine the development and its facilities by looking at their track record in the history of real estate. The announcement itself created a huge buzz among the real estate investors as this project was announced at Graana Property Expo 2022.
Both of these partners are business tycoons in the field of real estate. Mokal Housing has over 15 years of experience in the property business and has completed a number of mega projects in Lahore, Islamabad, and Multan. On the other hand, Blue Group of Companies has remarkable goodwill in this field. If you were to search for real estate firms in Lahore or Islamabad, the Blue Group of Companies would appear at the top of the list.
Any questions, contact us on WhatsApp for prompt response.
Location
Like the developers, Smart City has a prestigious location in Lahore. This mega-development is ideally located on Main Canal Road. Many big landmarks such as educational institutions, housing projects, and shopping areas are at a few minutes drive from Smart City Lahore. The city of Lahore is only 5 minutes from the ring road. It's 7 minutes away from Bahria Town in Lahore. It is also 15 minutes from the international airport.
Features and facilities
Smart City Lahore facilitates its investors with all the modern amenities and provides a lavish lifestyle. It maintains the standard of life with the following luxuries:
High-Quality Infrastructure
Malls and Groceries Shops
Educational Institutions
Health Care Units
Gym and Sports Facilities
Parks and Grounds
Grand Mosque
Parking Area
Commercial Area
Salons and Spa
Secured Gated Community
Eco-Friendly Environment
Urban Forest
Plots Size
Smart City Lahore offers both residential and commercial opportunities for investors. Here is the list of plot sizes:
Residential
3 Marla
5 Marla
8 Marla
10 Marla
20 Marla
Commercial
Payment Plans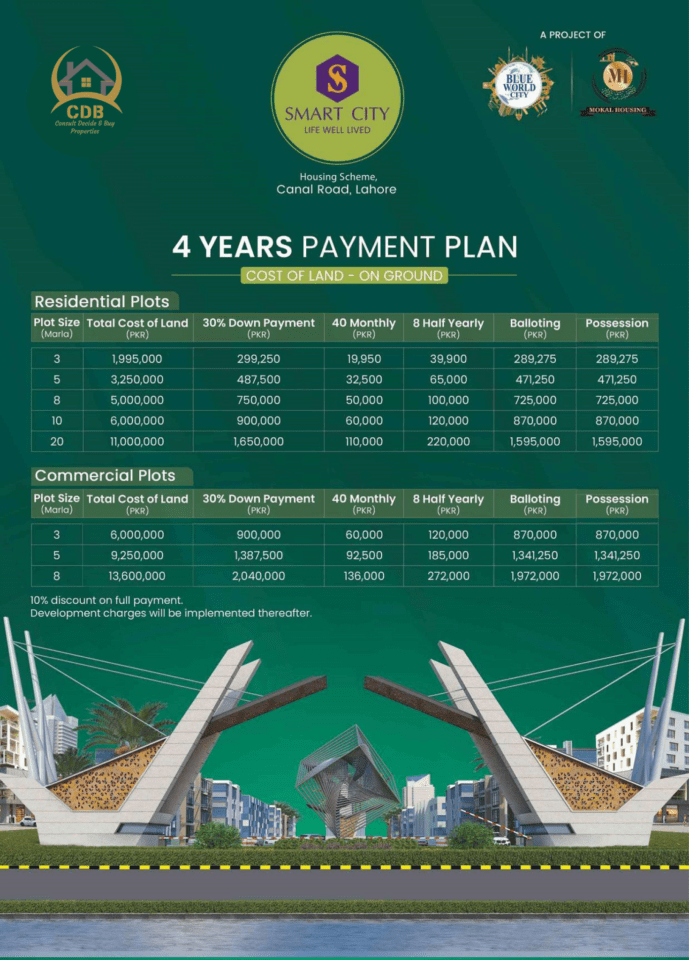 Currently, Smart City Lahore is offering pre-launched prices for early investors. These prices are for a limited time. All the payment plans for this project are in favor of everyone. You can see the complete payment plan issued by Smart City.
For any type of free consultation, you can directly contact CDB Properties. They will provide you with complete guidance free of cost as CDB properties is working as an authorized dealer of Smart City Lahore. Feel free to contact us any time.
Email: [email protected]
Contact : 03331115200
Contact : 03331115100
Any questions, contact us on WhatsApp for prompt response.
Check out our Social Media pages for the newest updates of properties