ABS Developers, known for their commitment to excellence, have introduced a new project in Bahria Town Lahore, "Pearl One Courtyard." This project follows the success of Pearl One Tower in Iqbal Commercials and ABS Mall in Golf View Residencia. Pearl One Courtyard is situated in the vibrant Tipu Sultan Block of Sector F, surrounded by prominent landmarks like Imtiaz Mart, Winterland, and the Eiffel Tower.
Pearl One Courtyard Project Structure
Pearl One Courtyard is a multi-purpose development designed to meet the demands of modern living and commerce. The building stands as a testament to ABS Developers' dedication, with 2 basements for parking, four floors dedicated to commercial use, and everything above the fourth floor reserved for residential apartments.
Pearl One Courtyard Setting New Heights
This project stands as a symbol of prestige for ABS Developers. It will cover a sprawling 3.5 kanal area and rise as the tallest building in Bahria Town Lahore. Previously, Pearl One Tower held this distinction, but ABS Developers have now exceeded their own record with Pearl One Courtyard.
Pearl One Courtyard Apartments Pre-Launch Pricing
For the pre-launch phase, residential apartments in Pearl One Courtyard are offered at highly competitive rates. The apartments are available for just 12,000 per square foot, a remarkably reasonable price for such prime real estate. However, these rates are available for a limited time, so early investors can secure an advantageous deal.
Pearl One Courtyard Payment Plan
Investing in Pearl One Courtyard is made even more accessible through a flexible payment plan. This convenience allows investors to manage their investments without excessive financial burden. Following is the payment plan for apartment deals in this project: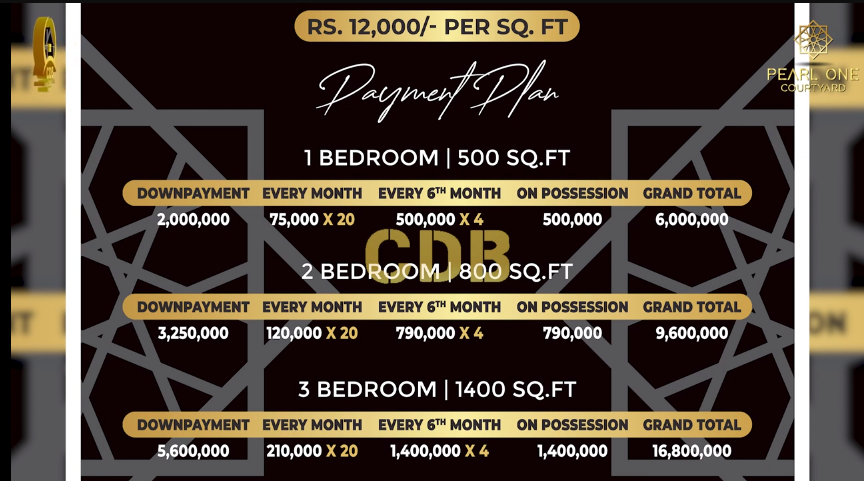 Rising Investor Interest
Pearl One Courtyard has sparked tremendous interest among investors. Its prime location in Sector F, Bahria Town Lahore, with its bustling surroundings, makes it an ideal investment opportunity. Given ABS Developers' track record of delivering quality projects, this new endeavor is poised for success.
Any questions, contact us on WhatsApp for prompt response.
Pearl One Courtyard: Your Gateway to Success
Investing in Pearl One Courtyard isn't just about securing a property; it's about securing your future. With the development's prime location, striking architecture, and favorable pricing, this investment opportunity is an excellent choice for those who aim for prosperity.
Contact CDB Properties For Booking
Don't let this opportunity slip through your fingers. Contact CDB Properties today to explore the investment possibilities in Pearl One Courtyard. As the most recent project by ABS Developers, this venture is already in high demand, and early investors have the advantage. Secure your foothold in Bahria Town Lahore's ever-growing real estate landscape.
Investing in Pearl One Courtyard means investing in your future, a future enriched by ABS Developers' commitment to excellence. This project is designed to offer a seamless blend of contemporary living and commercial convenience, making it a prime choice for investors. For booking and more information, reach out to CDB Properties, your trusted partner in real estate investments.
Don't miss this opportunity to be part of Bahria Town Lahore's newest success story. Invest in Pearl One Courtyard today, and start building a brighter tomorrow. Your path to prosperity begins here.
Contact: 03331115100
Contact: 03331115200
If you are visiting our website for the first time, you can make your very first deal with CDB Properties for free.
To avail this offer click on the below chat button
Check out our Social Media pages for the newest updates of properties
Rate Now, we'd love to hear your feedback on this article.