When it comes to real estate development in Lahore, ABS Developers stand out as a name synonymous with excellence and commitment. Having previously left their mark with the successful "Pearl One Tower," ABS Developers, under the visionary leadership of Dr. Subayyal Ikram, is back with a new masterpiece: "Pearl One Courtyard." This project is a testament to their unwavering dedication to delivering quality living spaces and commercial opportunities.
A Legacy of Success
ABS Developers have a prestigious legacy in Lahore's real estate market. Notably, they've worked on projects in collaboration with Bahria Town, a name that speaks volumes about their credibility and expertise.
Introducing Pearl One Courtyard
"Pearl One Courtyard" is located in Sector F of Bahria Town Lahore, a thriving hub where many renowned brands have already set up shop. This project is designed as a community within a community, offering a self-sufficient environment with all essential amenities.
Unmatched Facilities
"Pearl One Courtyard" is designed to meet the high standards set by Bahria Town Lahore and other relevant authorities. ABS Developers have spared no effort in ensuring that the construction materials used are of top quality, subject to rigorous assessment by the concerned authorities.
The project comprises both apartments and commercial shops, making it an all-encompassing development. It offers a luxurious lifestyle with every imaginable convenience right at your doorstep.
Any questions, contact us on WhatsApp for prompt response.
Affordable Luxury
One of the standout features of "Pearl One Courtyard" is its affordability. ABS Developers have priced the apartments at an incredibly competitive rate of 12,000/square feet. This attractive pricing has sparked considerable interest among investors looking for high-value opportunities.
A Swift Delivery Promise
ABS Developers are known for their commitment to delivering projects on time. "Pearl One Courtyard" is no exception. Currently, the plan is to hand over this remarkable project to its fortunate residents within a month. This speedy delivery timeline is a testament to ABS Developers' dedication and efficiency.
Diverse Apartment Options
"Pearl One Courtyard" offers a range of apartment choices to suit various preferences and requirements. Here's a quick look at the options:
1-Bed Apartments: Priced at 60 lacs, these comfortable units can be secured with a down payment of just 20 lacs.
2-Bed Apartments: For those seeking more space, 2-bed apartments are available at 96 lacs, with a down payment of only 33 lacs.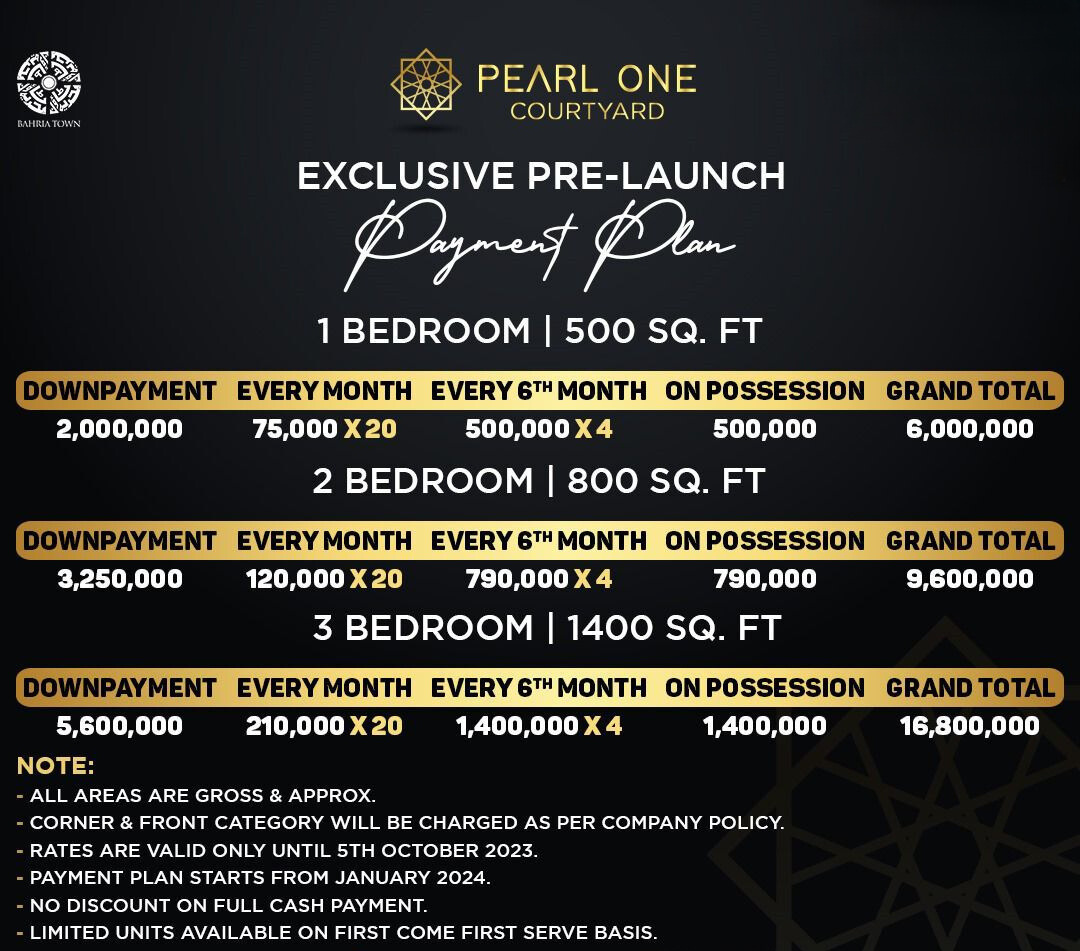 A High-Rise Marvel in the Making
"Pearl One Courtyard" is set to be a high-rise marvel, featuring an estimated 10 to 12 floors upon completion. This elegant structure promises an elevated living experience for its residents.
Pearl One Tower: A Resounding Success
ABS Developers' track record includes the successful delivery of "Pearl One Tower." This project comprises seven floors dedicated to residential apartments and three floors designated for commercial ventures. It boasts a plethora of amenities, including ample parking space, a mosque, a swimming pool, a rooftop garden, and a barbecue area.
The on-time delivery and quality of "Pearl One Tower" underscore ABS Developers' commitment to their projects, making it an excellent addition to their portfolio.
Get in Touch with CDB Properties
For those eager to be a part of "Pearl One Courtyard," CDB Properties is your trusted partner. We can provide you with detailed information, help you navigate the booking process, and answer any inquiries you may have.
Don't miss out on the opportunity to invest in this extraordinary project that promises an elevated lifestyle and attractive returns. Contact CDB Properties today and secure your place in "Pearl One Courtyard," a jewel in Bahria Town Lahore.
Contact: 03331115100
Contact: 03331115200
If you are visiting our website for the first time, you can make your very first deal with CDB Properties for free.
To avail this offer click on the below chat button
Check out our Social Media pages for the newest updates of properties
Rate Now, we'd love to hear your feedback on this article.