Lahore Smart City, one of the most prestigious and sought-after residential projects, is expanding its offerings with the launch of a new block named "Harmony Park." Harmony Park is designed to accommodate low-budget investors and end-users and introduces 3.5 Marla residential plots at remarkably reasonable prices. As an LDA-approved society, Lahore Smart City continues to deliver excellence in modern living.
Affordable Pricing for All:
Harmony Park aims to provide an opportunity for individuals with limited budgets to own their dream homes. The 3.5 Marla residential plots are available at highly favorable prices, making them accessible to a broader range of buyers. With a booking price of just 370,000 PKR, which accounts for 20% of the total plot price, prospective buyers can secure their plots in this promising development. Here is the complete payment plan for this new block: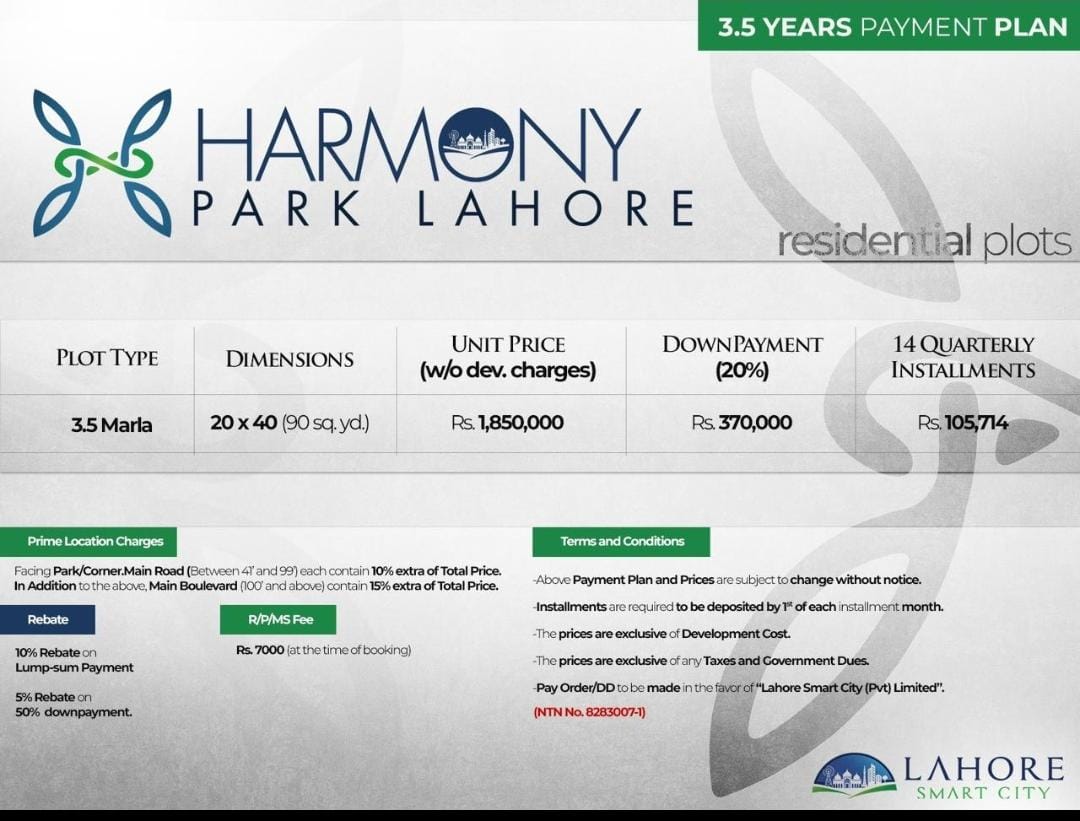 LDA-Approved Society:
Lahore Smart City holds the distinction of being an LDA-approved society, assuring residents of a secure and reliable investment opportunity. The approval signifies that the project meets the required standards and regulations set by the Lahore Development Authority.
Any questions, contact us on WhatsApp for prompt response.
Invest in Your Future:
Harmony Park at Lahore Smart City presents an excellent investment opportunity with its strategic location, modern amenities, and affordable pricing. Whether you want to build your dream home or seek a lucrative real estate venture, these residential plots offer the perfect starting point.
Booking:
For those interested in exploring the potential of Harmony Park and learning more about this exciting opportunity, CDB Properties is your trusted partner. Our experienced team is ready to assist you with booking and provide further details about the project.
Conclusion:
Lahore Smart City's new block, Harmony Park, opens doors to affordable living in one of Lahore's most prestigious residential projects. Offering 3.5 marla residential plots at competitive prices, this LDA-approved society welcomes low-budget investors and end-users alike. Take the first step towards your future and secure your plot in Harmony Park today. Contact CDB Properties for booking and further information.
Contact: 03331115100
Contact: 03331115200
If you are visiting our website for the first time, you can make your very first deal with CDB Properties for free.
To avail this offer click on the below chat button
Check out our Social Media pages for the newest updates of properties
Rate Now, we'd love to hear your feedback on this article.