On December 13th, 2022, Malik Aslam, Chief Operating Officer (COO) of the most anticipated project, "Lahore Smart City" housing society, presented their grand announcements and master plan to eager clients and investors. This project is ideally recognized as one of Pakistan's most desirable real estate developments after its predecessor Capital Smart City. The project, designed in collaboration with leading architectural firms from around the world, is located at a strategic location in Lahore.
Lahore Smart City is a fully LDA-approved area. This beautifully designed project offers luxurious living and a lucrative investment opportunity. World-class amenities, modern infrastructure, sophisticated features, and an upscale lifestyle make this society highly sought after.
Location:
Lahore Smart City is located in Lahore, the provincial capital of Punjab. It is situated on the main GT Road Lahore near Kala Shah Kaku. This project has easy access from several main roads.
Around 4 minutes from M2 Motorway.
Approximately 5 minutes from Lahore Ring Road.
Approximately 8 minutes from Bahria Town Lahore.
About 16 minutes from DHA Lahore
And around 20 minutes from Alama Iqbal International Airport Lahore.
Land Acquisition:
Lahore Smart City is projected to encompass 3800 Acres, and the owners have already procured 2700 acres. The rest of the expanse will likely be acquired soon. Developed meticulously, the area of this project has been structured to encompass a range of services – from the residential and commercial area to health care institutions, educational facilities, mosques, food valleys, and technology hubs.
Plots Sizes in Lahore Smart City:
Lahore Smart City offers different sizes of residential and commercial plots, given below:
Residential Plots:
3 marla
5 marla
8 marla
10 marla
1 Kanal
Commercial plots:
2.66 marla
4 marla
8 marla
Features of Lahore Smart City:
Lahore Smart City will offer a wide range of amenities and features to ensure the comfort and convenience of its residents. These include:
24-hour surveillance system with CCTV monitoring
International Standard Health Care Facilities
Shopping malls, cafes, and restaurants
Educational Institutions
Grand Mosques
Underground electricity supply
Gated community
Underground water and sewage system
Wide, illuminated roads for smooth access
Sports Complex
Technology hubs
Amusement parks
Public transport facility.
Lahore Smart City is set to become one of the most significant projects in Pakistan, offering residents a luxurious lifestyle with cutting-edge amenities.
Any questions, contact us on WhatsApp for prompt response.
Master Plan of Lahore Smart City:
At the launch of Lahore Smart City, the owners highlighted some unique characteristics that set it apart from other cities. And revealed the master plan of Lahore Smart City includes the following incredible features and amenities.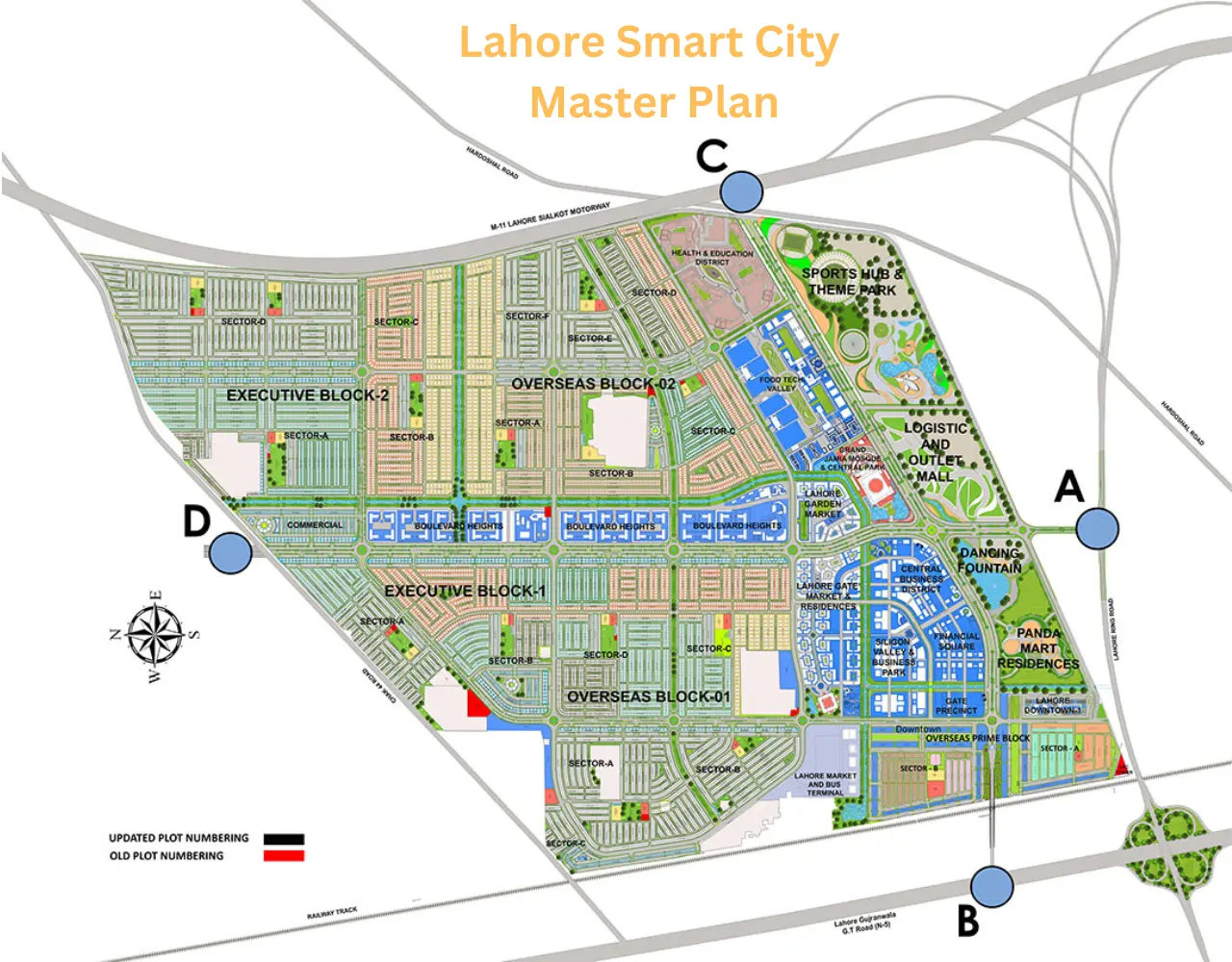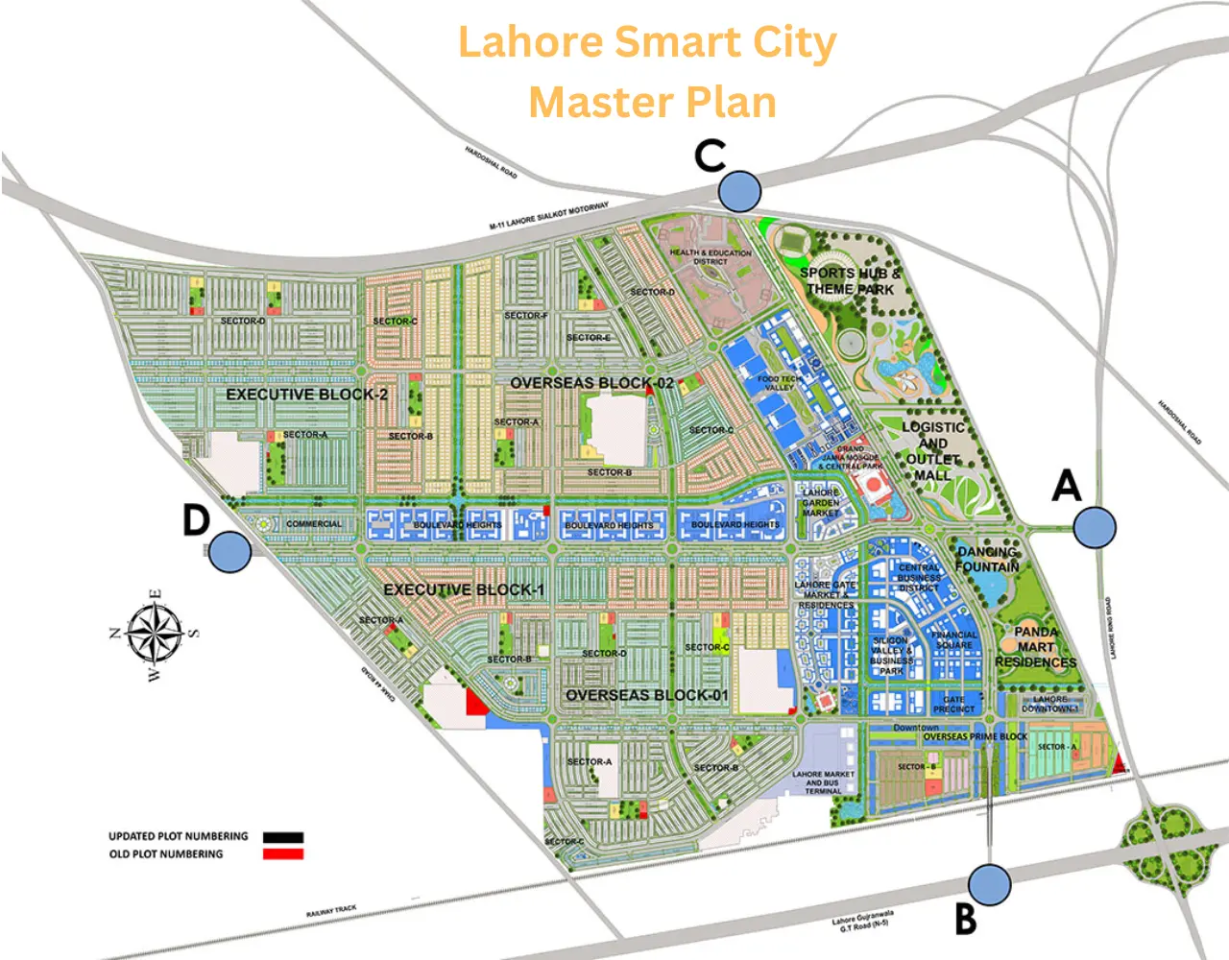 The master plan of Lahore Smart City is designed and developed by the Singapore-based firm. The same firm has designed the master plan of the Capital Smart City. The project has been designed to provide people with an advanced and luxurious lifestyle without compromising affordability.
Malik Aslam, the Chief Operating Officer of Lahore Smart City, revealed this master plan that includes stunning high-end features to take this city up a level. Following are some of the significant features included in the master plan of Lahore Smart City:
Sports District:
The sports district will feature a world-class cricket stadium equipped with all the latest technologies. The cricket stadium is planned to host international matches as well. An international standards football stadium will be developed here. More sports facilities and complexes will be constructed to make Lahore Smart City a sports hub.
Sports Complexes:
The sports complex was designed to be constructed on 117 acres of land. A great theme park will be launched here to provide international standard facilities to the residents. The theme park is also known as "Mini Disneyland. " It includes 3 main Roller coaster rides and hundreds of mini-rides.
Health District
As per the statement of the chief operating officer, 20 acres are reserved for the health district. It will consist of 3 major medical universities and hospitals. This community's state-of-the-art Saudi-German hospital is constructed on 200 Kanal to ensure its residents receive the best medical care possible. This new addition will revolutionize healthcare in the area and improve health services.
Education District
Education is the driving force behind the success of a society. Keeping this concept forth, the management of Lahore Smart City reserved a significant area for educational institutions. Consequently, Drawing from this ambition of people, Lahore Smart City will build five premier university campuses guaranteed to produce outstanding students. Habib Rafique (Pvt) Ltd is proud to announce the construction of its own university, where qualified students will be awarded scholarships. NUML and New Tech University have already been confirmed as two major universities involved in this endeavor, while two more are yet to be finalized.
Food Tech Valley
Pakistan's Food Tech Valley is an innovative new concept that will bring fresh vegetables and fruits to the marketplace like never before. It consists of four sheds with seven stories. This is a one-of-a-kind project designed in Singapore and will be up and running by June 2023. Not only are these agricultural products pesticides and fertilizers free, but they will also be grown without soil.
Silicon Valley
A Silicon Valley-type IT hub is also a part of Lahore Smart City. Establishing a state-of-the-art IT hub in Silicon Valley is the goal for 2024. The construction of this facility will be finalized within two years. Lahore Smart City has committed to providing 75,000 desks during its duration. It's time to implement your plans and make this dream come true.
The most excellent news is that Lahore Smart City has allocated 75% of its area to the public, allowing those in search of employment at the IT Company nothing more than to pay their utility or electricity bills. You won't have to pay any property rent for the first two years.
Also Read
Why Lahore Smart City Is The Best Investment Option in Pakistan
Lahore Smart City Payment Plan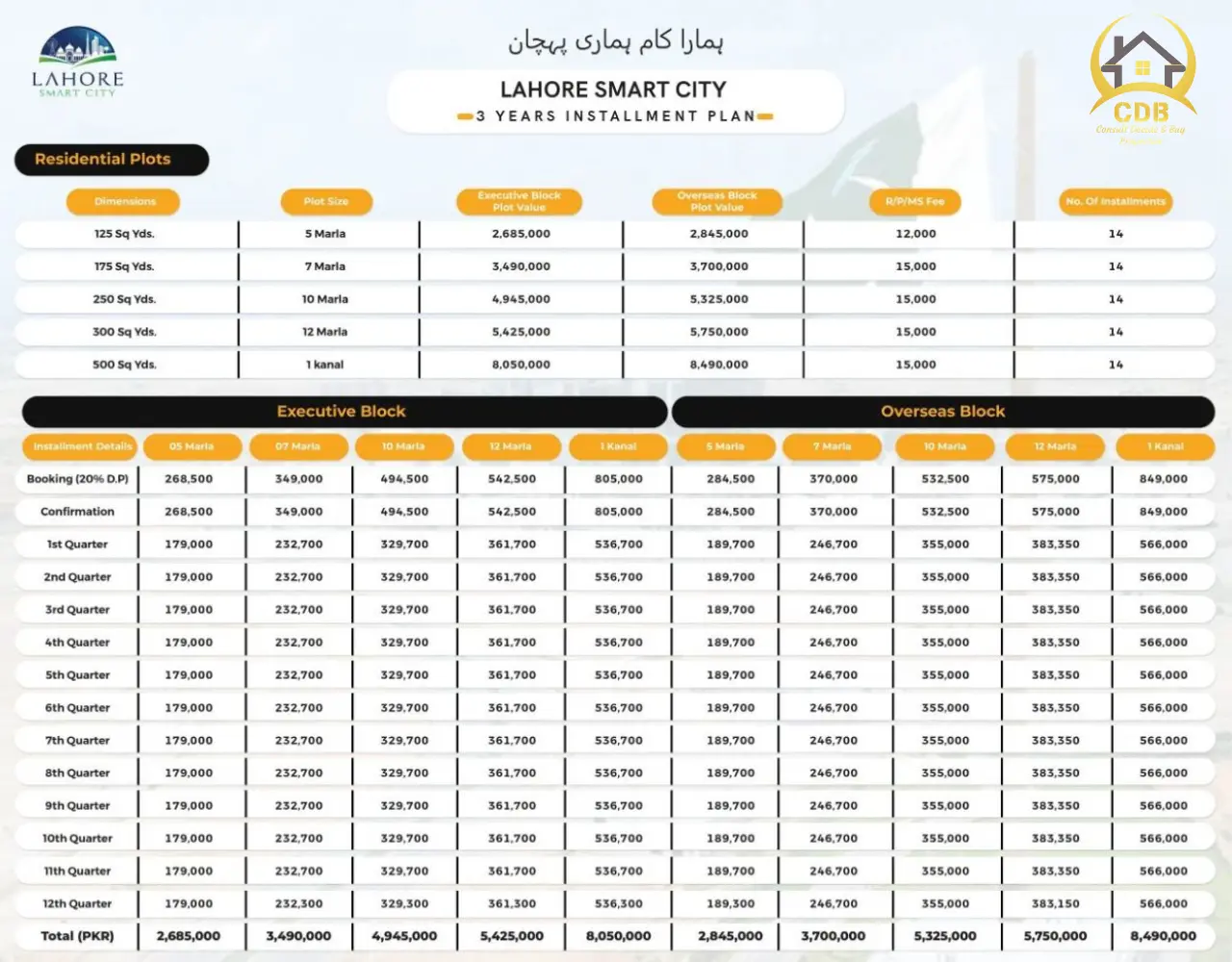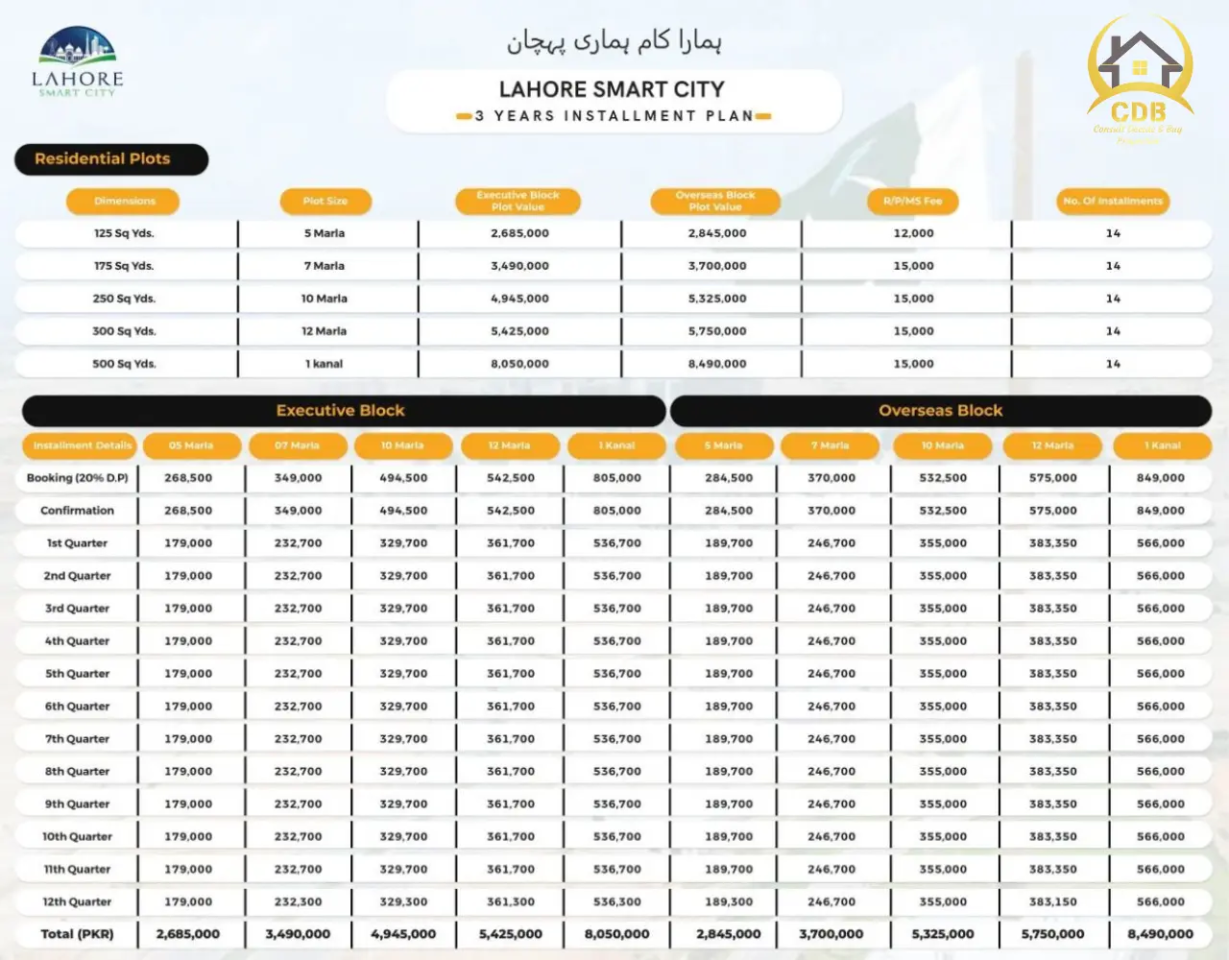 Summary:
Lahore Smart City is a revolutionary urban development project that aims to bring modern infrastructure, amenities, and recreational facilities to the city. The master plan of this ambitious project includes world-class sports facilities, educational institutions, health districts, a food tech valley, and silicon valley. This project will not only benefit the residents of Lahore but also give a massive boost to the local economy. We are excited to witness this project come alive and hope that it will become Pakistan's Flagship City, leading the way for smart cities across the nation.
Booking Details
For booking and further details about this project, contact CDB Properties. We will provide you best investment opportunities according to your budget. Let's invest and make the most of it.
Contact: 03331115100
Contact: 03331115200

If you are visiting our website for the first time, you can make your very first deal with CDB Properties for free.
To avail this offer click on the below chat button
Check out our Social Media pages for the newest updates of properties
Rate Now, we'd love to hear your feedback on this article.