Bahria Orchard Phase 4 Lahore is considered one of the most successful phases of Bahria Orchard. This phase boasts a variety of top-of-the-line amenities and features that set it apart from other phases in the community. It is a prime location for real estate development, with a significant amount of potential still remaining. The area boasts high potential for future growth, making it an ideal location for new residential and commercial projects. Among these is Central Mall, a state-of-the-art commercial project that offers commercial shops and residential apartments on an instalment plan. 
Central Mall is an innovative new development in Bahria Orchard Phase 4, offering a unique blend of comfort and luxury in the heart of Lahore. With its prime location and state-of-the-art facilities, Central Mall is set to become the premier destination for modern living in Lahore. Boasting some of the finest commercial spaces in the city, this project is sure to be a hub of activity, bringing together the best of commerce, leisure and hospitality in one convenient location.
Location
Central Mall is located in the heart of the G-6 block of Bahria Orchard Phase 4 on the main boulevard. The mall is being built on a spacious 32 Marla area, providing ample room for all the amenities and facilities it offers. This prime location puts it just a short 4-5 KM drive away from the Lahore Ring Road, providing easy access to all major transportation routes. Additionally, the surrounding area is home to a variety of essential amenities such as hospitals, entertainment venues, universities, and industrial areas, making it an ideal spot for modern urban living and providing residents with a convenient, comfortable lifestyle.
The layout of the Central Mall
The layout of Central Mall is designed to cater to a variety of needs and preferences. The ground floor and first floor are dedicated to commercial shops, providing ample space for businesses to set up shop and thrive. The remaining floors feature a mix of studio, 1-bed and 2-bed apartments, offering a convenient and comfortable living experience for residents. This unique layout allows for the perfect balance of commerce and residence in one convenient location.
Payment Plan
The Payment Plan of Central Mall is designed to provide a convenient and flexible option for investors to purchase commercial and residential plots. The mall is offering 3 years instalment plan for both commercial and residential plots.
For those interested in purchasing a shop, Central Mall offers a range of options. The ground floor shops are available for as low as 5,990,000 and as high as 39,494,000. The shops on the first floor are available for a minimum price of 2,690,000 and a maximum of 8,390,000. The booking process for shops starts with a down payment followed by 31 monthly instalments, 5 bi-annual payments, and a final payment upon possession.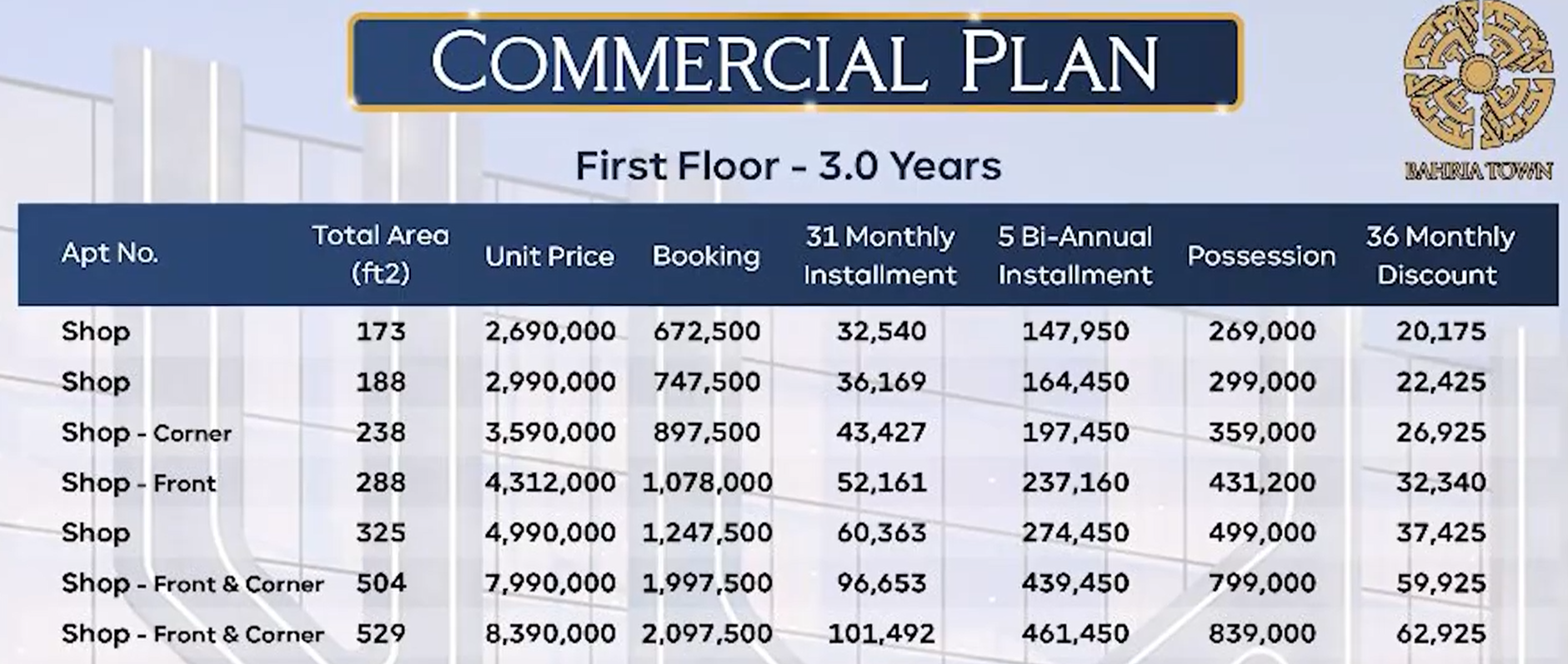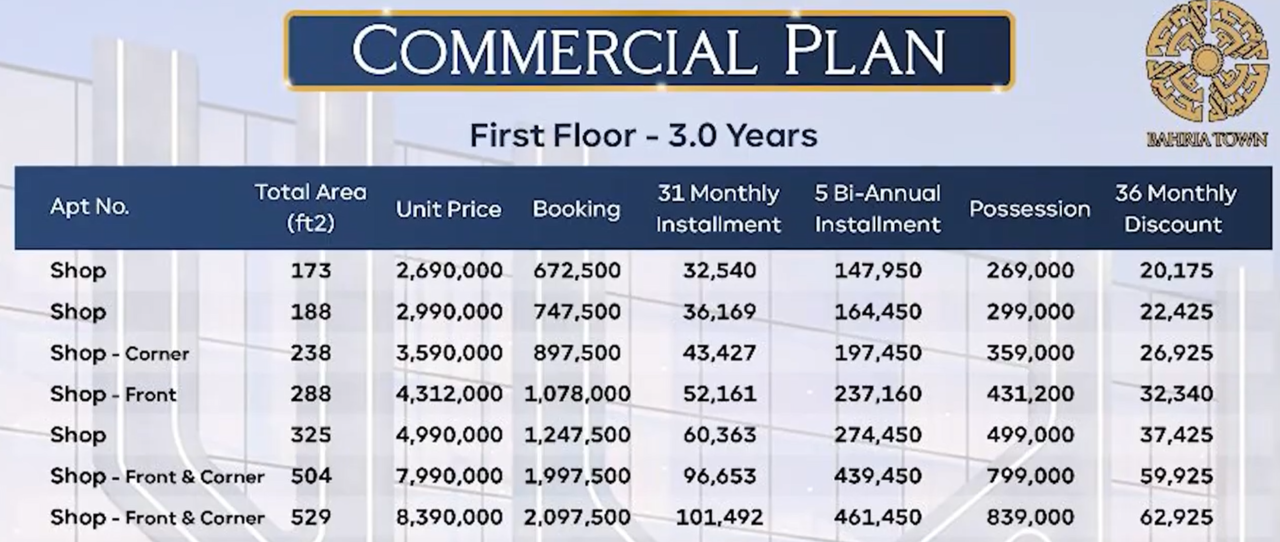 On the other hand, the residential payment plan offers studio, 1-bed, and 2-bed apartments with prices ranging from 2,990,000 to 8,625,000. Similarly, the apartments in Central Mall can also be reserved with a down payment, followed by 31 monthly payments, 5 bi-annual payments, and a final payment upon possession. 


However, for those who choose to pay a lump sum payment, developers are offering a discount of 10%. Additionally, there is also an option of a rental discount of 30% that will be offered for 36 months.
Any questions, contact us on WhatsApp for prompt response.
Amenities
Property Management Services
Rooftop Indoor Restaurant With Sundeck
Equipped With 24/7 CCTV Monitoring
Energy Efficient Design And Materials
Uninterrupted Power Supply By Bahria Town
Bahria Security
High Speed Lift
Building Maintenance
Fire Fighting System
Car And Motor Cycle Parking
Why Invest in Central Mall?
Investing in Central Mall is a smart decision for a number of reasons. Firstly, the mall is located on the main boulevard in the G-6 block, which means it will be easily accessible to everyone in the surrounding area. This prime location will play an important role in ensuring that the mall is able to cater to the needs of all residents of the community.
Another major advantage of investing in Central Mall is the potential for high customer footfall in the future. The mall is situated in close proximity to the upcoming Safari Homes, a residential project by Q Links developers. This project will feature more than 300 homes and is expected to attract a large number of residents to the area. Once both the Central Mall and Safari Homes are completed, the residents of Safari Homes will consider the mall to be their go-to destination for all their daily needs as it will be easily accessible. This means that the mall will have a steady stream of customers in the future. 
You Might Also Like:
[Nelson Homes Bahria Town – Payment Plan & Booking]
About Newcastle Developers
Newcastle Developers is a top real estate company in Pakistan that has a proven track record of delivering exceptional experiences to its customers. With a focus on innovative living and luxury accommodations, the company has set new standards in the industry. Their current project, Central Mall, is the 3rd project of Newcastle Developers, and it is expected to be as successful as their previous projects like Marina Apartments launched on LDA Avenue 1 and Central Heights launched on Main Boulevard, Tauheed Block, Bahria Town Lahore. The developer's mission is to create spaces that exceed customer expectations, and they are committed to delivering the highest quality projects.
Final Thoughts
Central Mall is a must-invest project for anyone looking for a profitable and secure investment opportunity in the real estate market. Its payment plan is designed to provide maximum flexibility and convenience to investors. So whether you are looking to invest in a shop or an apartment, Central Mall offers a range of options to suit your needs and budget. Investors can choose a payment plan that works best for them and take advantage of the exciting opportunities that Central Mall has to offer.
Contact CDB properties so that we can help you buy the location of your choice.
Contact: 03331115100
Contact: 03331115200
If you are visiting our website for the first time, you can make your very first deal with CDB Properties for free.
To avail this offer click on the below chat button
Check out our Social Media pages for the newest updates of properties
Rate Now, we'd love to hear your feedback on this article.