Bahria Sky Lahore is a first-of-its-kind shopping mall located at a prime location in Bahria Orchard, Lahore. Bahria Sky has recently unveiled its IT & Consumer Electronics floor on the 3rd story. This latest addition to Bahria Sky opens up a world of opportunities for shoppers who are looking for the latest gadgets and appliances.
The IT & Consumer Electronics floor at Bahria Sky offers great investment opportunities for investors. On this floor, investors can find shops of all sizes with a wide range of affordability. Here customers can get their hands on cutting-edge technology and gadgets such as mobile phones, tablets, laptops, computers, home appliances, and audio & video equipment. So, it will generate great footfall for shops.
Prices of Shops:
The prices of the shops are highly affordable according to the budgets of the investors. Investors can earn great profits in a very short time. Currently, the shops are available ranging from 35 lacs to 1 crore. All low-budgeted investors can also invest in this floor. The booking of the shops can start with a 30% down payment, and the remaining payments can be paid in easy installments of 4 years.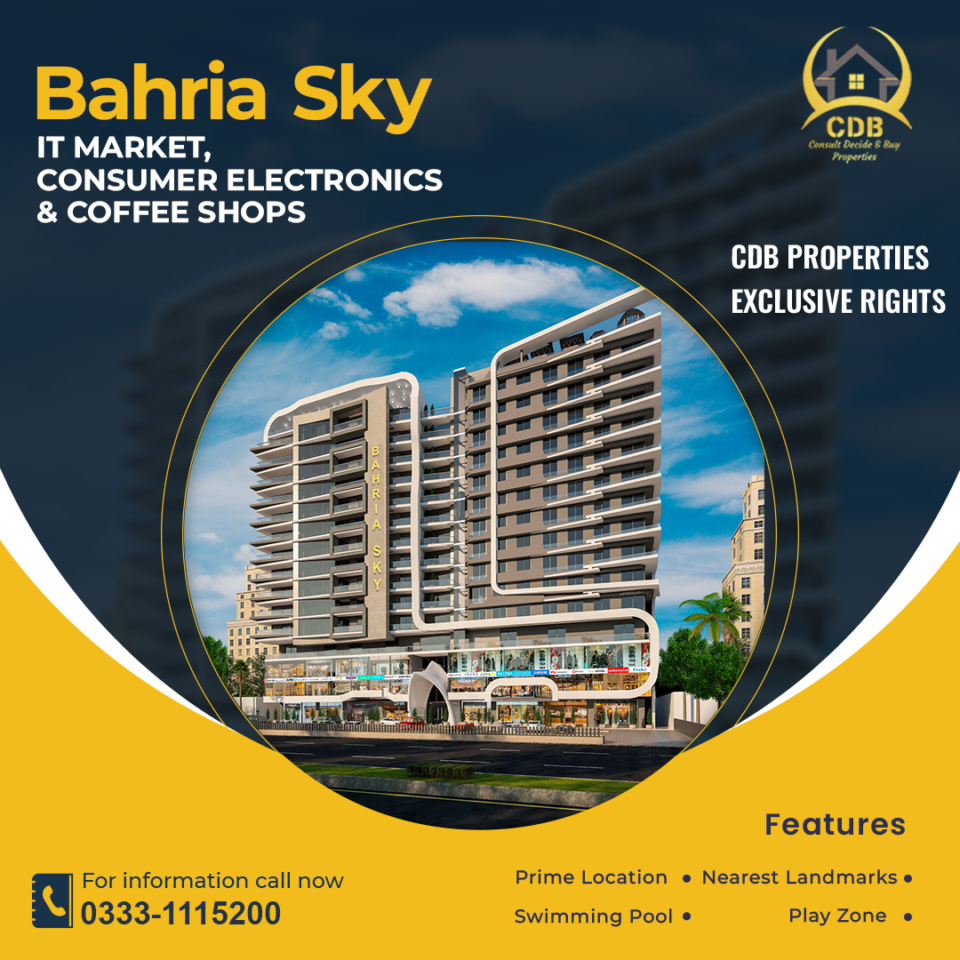 Any questions, contact us on WhatsApp for prompt response.
Coffee Shops:
The 3rd floor of Bahria Sky also includes six coffee shops that provide a great dining experience. Customers can enjoy a beautiful view of the surroundings from the terrace of these coffee shops. There is also a food court on the 2nd floor that serves delicious cuisine. However, the coffee shops on this floor are highly admirable. Currently, only three coffee shops are available for booking on this floor. Following are the prices of these coffee shops:
1st Coffee shop is available for 121 lacs.
2nd Coffee shop is available for 171 lacs.
3rd Coffee shop is available for 250 lacs.
Also Read:
Food Court Shops Available To Buy In Bahria Sky Lahore
Conclusion:
Bahria Sky Lahore has launched its 3rd floor IT & Consumer Electronics floor, which offers a great variety of products and services. The prices of the shops are highly affordable according to the budgets of investors, and those who invest on this floor can earn great profits quickly. Additionally, six coffee shops provide an amazing dining experience to the customers. Therefore, this floor is an ideal option for those who are looking for investment opportunities in Bahria Orchard, Lahore.
For booking and further details, contact CDB Properties. We have 100% sales rights for all shops on the 3rd floor. For a free consultation, reach out to us directly using the following contact details:
Contact: 03331115100
Contact: 03331115200

If you are visiting our website for the first time, you can make your very first deal with CDB Properties for free.
To avail this offer click on the below chat button
Check out our Social Media pages for the newest updates of properties
Rate Now, we'd love to hear your feedback on this article.