Lahore, the vibrant heart of Pakistan, is a city that captivates with its rich history, diverse culture, and bustling energy. Amidst this dynamic urban landscape, apartment living has emerged as a highly desirable and sought-after lifestyle choice. The allure of apartments lies in their ability to combine luxury, convenience, and an array of amenities, providing a remarkable living experience for individuals and families alike.
Finding the perfect apartment for sale is not just about purchasing a property; it's about investing in a lifestyle. Your choice of an apartment can shape your daily routine, influence your well-being, and create a haven where you can unwind after a long day.
Therefore, exploring the best residential apartment projects in Lahore, where luxury living awaits, is imperative.
Growing Trend of Apartments in Lahore
Over the years, apartment living has gained immense popularity in Lahore. The evolving lifestyles, changing preferences, and increasing urbanization have contributed to this growing trend. Apartments offer a unique blend of elegance and practicality, making them a preferred choice for individuals and families seeking a modern and luxurious living experience.
Following are some of the key advantages of apartments:
24/7 security
Low cost
Maintenance services
Hassle-free lifestyle
Proximity to key locations such as schools, hospitals, and shopping centers
Additionally, residents can enjoy a range of amenities within the premises, such as swimming pools, fitness centers, landscaped gardens, and recreational areas.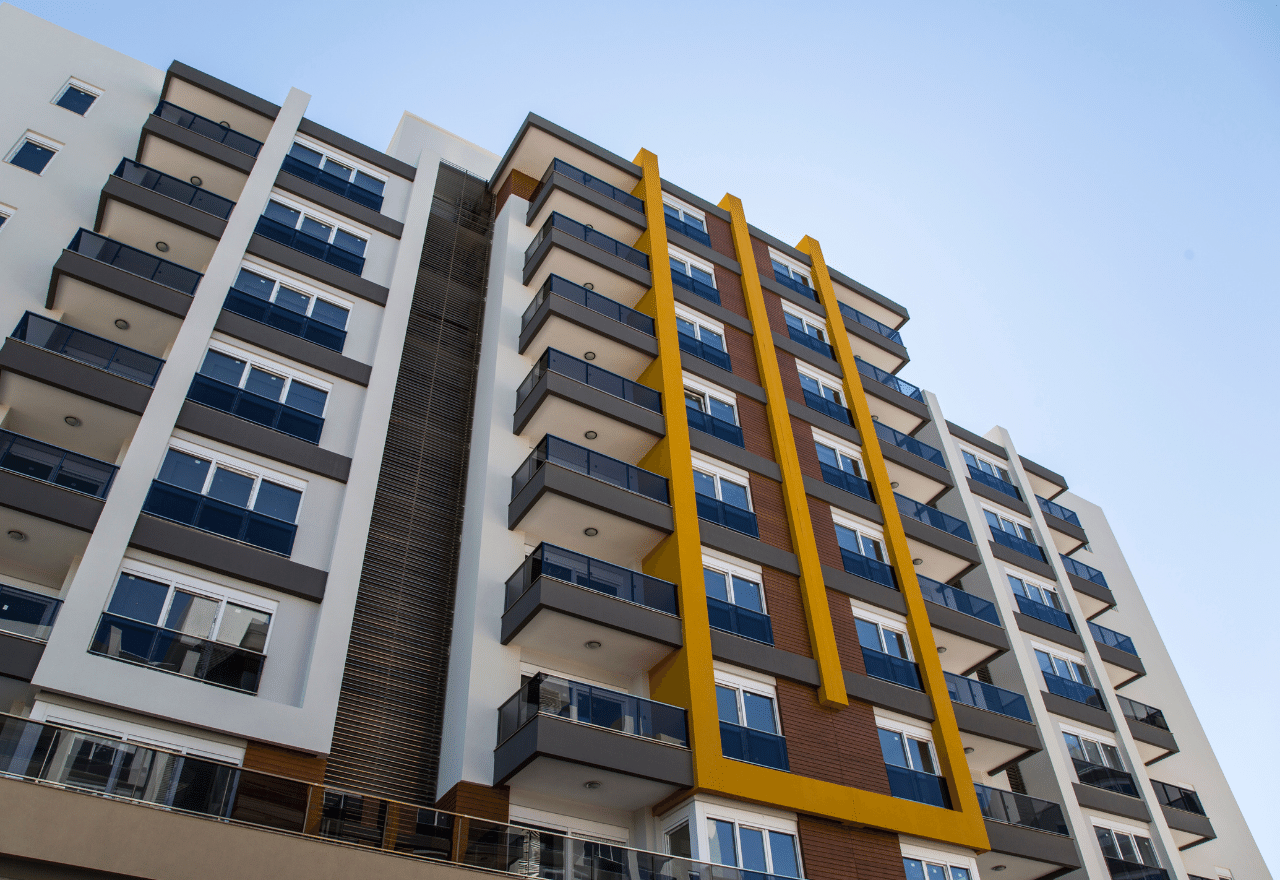 High Demand:
The demand for apartments in Lahore is on the rise, with an increasing number of individuals and families opting for this luxurious lifestyle. According to recent statistics, the volume of searches for "apartments for sale in Lahore" has seen a significant surge, indicating the growing interest and demand for such properties. This trend is a testament to the evolving preferences and the realization of the numerous advantages that apartment living offers.
Real Estate Landscape of Lahore
Lahore's real estate market is thriving, with a plethora of opportunities for investors and homebuyers. The city's rapid urbanization, strategic location, and robust infrastructure have contributed to its status as a prime real estate destination. The market offers diverse housing options, such as Bahria Town, Bahria Orchard, Lake City, LDA City, Al Kabir Town, and much more, catering to different preferences and budgets.
Several factors have contributed to the flourishing property sector in Lahore. The city's economic growth, increasing population, and infrastructure development have played a pivotal role in attracting real estate investment. Moreover, Lahore's cultural heritage, educational institutions, and employment opportunities make it an ideal place for individuals and families to spend a peaceful life.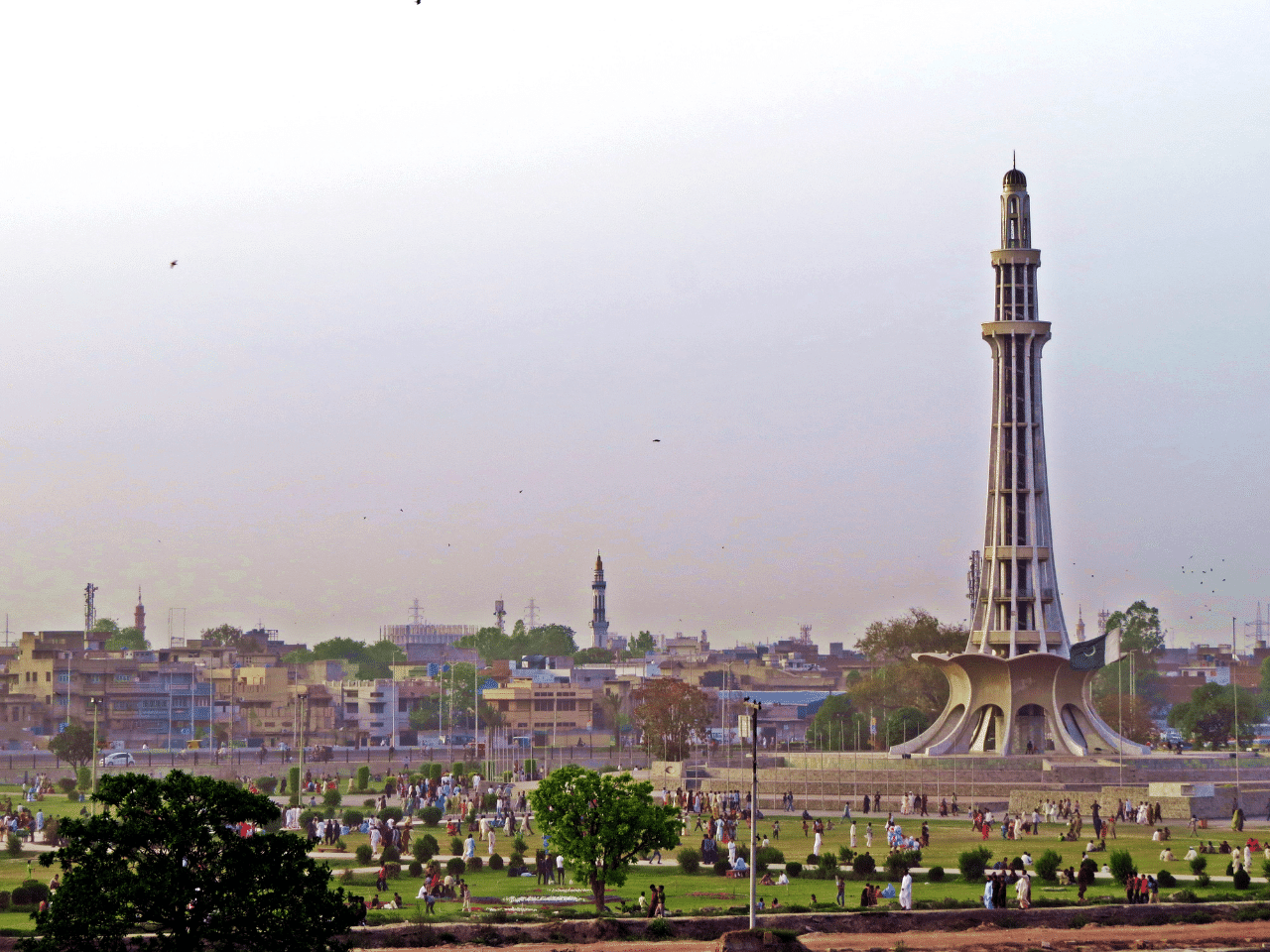 Housing Options:
When it comes to housing options, Lahore offers a wide range of choices, catering to different lifestyles and preferences. Apartments have gained significant popularity in recent years among the various options available. These modern and well-designed residential units provide an affordable and convenient living solution for individuals and families. In addition, apartments in Lahore offer amenities such as 24/7 security, maintenance services, recreational facilities, and proximity to essential amenities like schools, hospitals, and shopping centers.
Any questions, contact us on WhatsApp for prompt response.
Best Residential Apartment Projects in Lahore
When it comes to finding the perfect residential apartment in Lahore, the city offers many options that cater to different preferences and lifestyles. Whether you are a young professional seeking a modern and vibrant living space or a family looking for comfort and convenience, Lahore has some of the best residential apartment projects to meet your needs. These projects are meticulously designed, offering a harmonious blend of functionality, aesthetics, and modern amenities. Following are some of the best residential apartments in Lahore:
Bahria Sky Lahore
Q Central Mall & Residencies
SQ Mall
Union Luxury Apartments
Waterfall Tower
ABS Mall & Residency
Jasmine Homes
Choosing a well-designed residential apartment project in Lahore comes with a multitude of benefits. First and foremost, these projects prioritize the comfort and convenience of their residents. The apartments are thoughtfully designed to maximize space utilization and offer efficient layouts that cater to modern living requirements.
Security is also a top priority in these projects. Most of the best residential apartment projects in Lahore offer round-the-clock security services, including gated entrances, CCTV surveillance, and trained security personnel. This ensures a safe and secure environment for residents, giving them peace of mind.
1. Bahria Sky Lahore
Bahria Sky Lahore, developed by OZ Developers, offers a remarkable selection of residential and commercial properties. Designed to meet modern standards, this fully automated project is renowned for its luxurious amenities and impeccable attention to detail. Moreover, it is situated in an ideal location on Raiwind Road. Bahria Sky is set to become the tallest building in Bahria Orchard, spanning over 7.5 Kanal of land area and reaching a height of 200 feet. This awe-inspiring skyscraper will accommodate both residential and commercial prospects, providing an unparalleled living experience.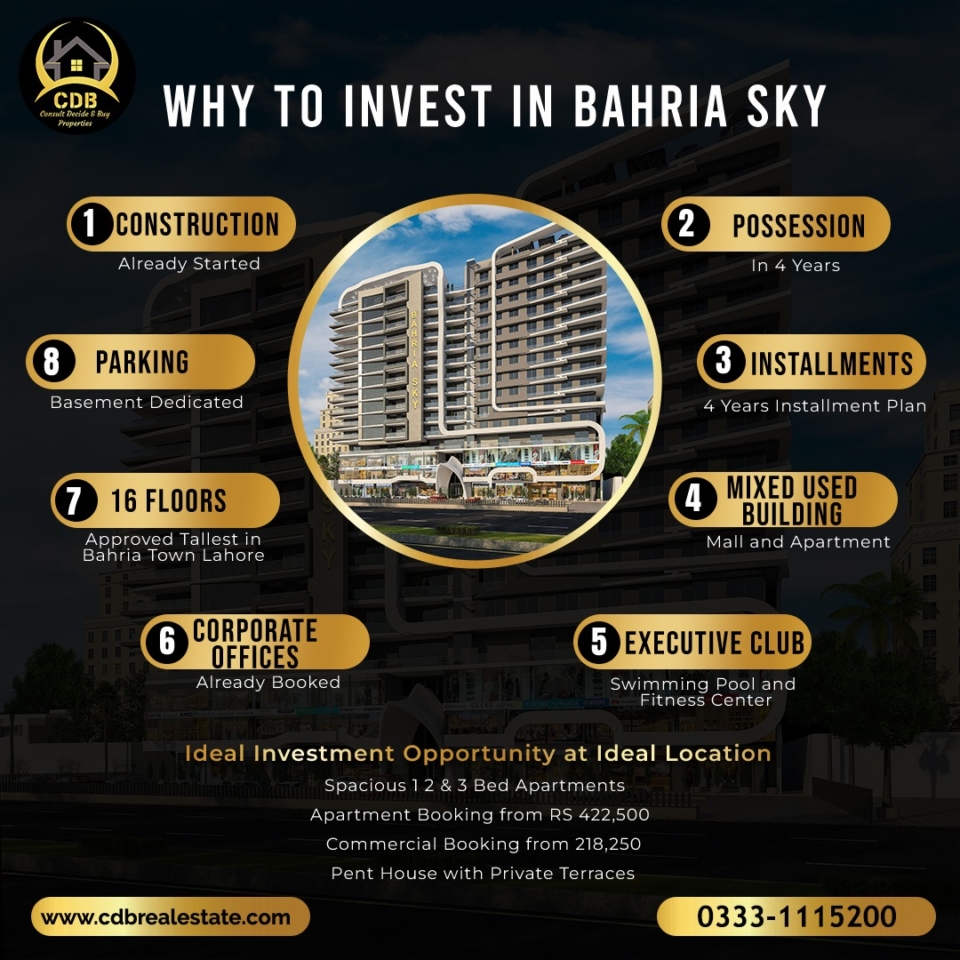 Apartments for Sale in Bahria Sky Lahore
Bahria Sky Lahore presents an array of apartment options for those seeking a luxurious lifestyle. Whether you prefer a cozy 1-bedroom apartment, a spacious 2-bedroom apartment, or a sprawling 3-bedroom apartment, you'll find a perfect match within this exceptional project. Each apartment is thoughtfully designed to combine elegance, functionality, and modern aesthetics, ensuring a comfortable and contemporary living space.
Features and Amenities
Bahria Sky Lahore aims to exceed expectations by providing extensive amenities and facilities that meet international standards. As a gated community, residents enjoy a secure and serene environment. The project incorporates 24/7 surveillance, ensuring the safety and well-being of its residents. Moreover, the building is fully automated, utilizing cutting-edge technology to enhance convenience and efficiency. The smart apartments within Bahria Sky allow residents to effortlessly control various aspects of their homes.
Furthermore, high-speed elevators have been installed for quick and seamless vertical transportation, saving residents valuable time in their daily routines. These features elevate the overall living experience, offering residents comfort, convenience, and peace of mind.
Bahria Sky Apartments Payment Plan
Bahria Sky Lahore offers flexible payment plans to accommodate the diverse financial needs of potential buyers. The payment plans are designed to provide ease and convenience, allowing individuals to own their dream apartment in Bahria Orchard. Here is the detailed payment plan for an apartment for sale in Bahria Sky Lahore:

2. Q Central Mall & Residencies
Q Central Mall & Residencies is set to become the first tallest commercial skyscraper in Bahria Orchard, Lahore. This exceptional multi-purpose project offers a unique blend of residential apartments, penthouses, and commercial shops, making it a coveted destination for investors and residents alike. With its modern infrastructure and ecological designs, Q Central Mall promises a seamless integration of convenience and luxury.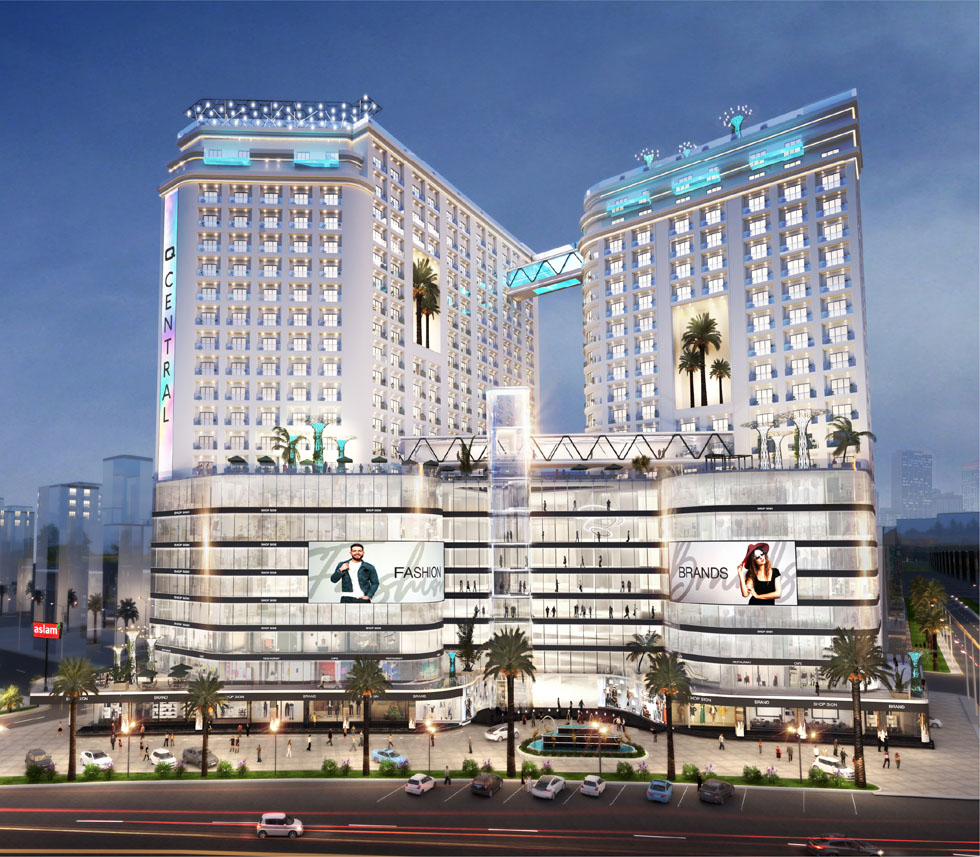 Highlighting the Unique Selling Points
Q Central Mall stands out from the crowd with its array of unique selling points. One notable advantage is that the project is free from transfer fees, enabling investors to save significant money. This cost-saving feature enhances the appeal of Q Central Mall, making it an attractive investment opportunity.
Apartments for Sale in Q Central Mall
If you are searching for apartments for sale in Q Central Mall, you can find a range of residential options within this remarkable project. The luxurious apartments offer modern amenities, stylish designs, and a comfortable living experience. From cozy studios to spacious multi-bedroom units, Q Central Mall provides choices that cater to diverse needs and preferences.
Q Central Payment Plan for Apartments & Residencies
Q Central Mall & Residencies offers a flexible and convenient payment plan for individuals interested in purchasing apartments within the project. However, the payment plan for apartments has yet to be revealed. For detailed information on payment options and installment schedules, prospective buyers can get in touch with CDB Properties.
3. SQ Mall
SQ Mall, developed by Ali Saqlain Estate & Builders, is a pioneering project dedicated exclusively to clothing shops in Bahria Orchard, Lahore. As the first investment and development group to introduce such a unique concept, Ali Saqlain Estate & Builders has established a reliable reputation, attracting the attention of numerous investors seeking opportunities in SQ Mall. With the growing population and increasing needs of residents, commercial projects like SQ Mall are crucial in fulfilling their requirements. Moreover, the project aligns with Bahria Orchard's commitment to providing residents with a wide range of amenities.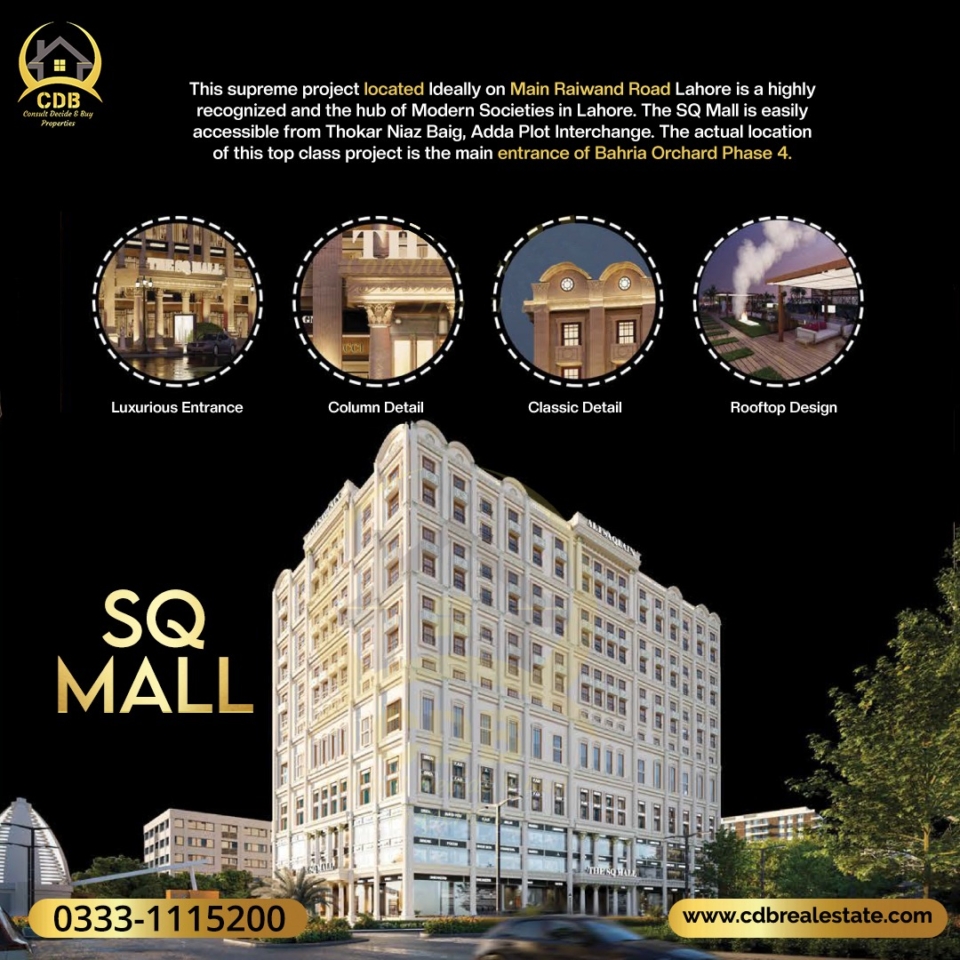 Architectural Design and Facilities
SQ Mall boasts an architectural design that combines functionality and aesthetics. The project features well-designed residential apartments and commercial spaces dedicated to clothing shops, ensuring a vibrant and bustling shopping experience. In addition, the mall offers a modern and inviting ambiance that appeals to both shoppers and business owners.
In addition to its architectural appeal, SQ Mall provides a host of facilities to enhance the overall shopping experience. From ample parking space to ensure convenient access for visitors to well-maintained common areas and comfortable seating, every aspect of SQ Mall has been carefully planned to create a welcoming environment.
Apartments for Sale in SQ Mall
For those seeking apartments for sale in SQ Mall, a variety of options are available here. The project offers 1-bedroom, 2-bedroom, and 3-bedroom apartments, catering to the diverse needs and preferences of potential buyers. These residential units are designed to provide comfort, style, and modern living amenities.
SQ Mall Apartments Payment Plan
SQ Mall also offers residential apartments, providing an excellent investment opportunity for buyers. The payment plan for these apartments is designed to be reasonable and flexible, allowing individuals to own a residential unit within SQ Mall at an affordable cost. Indulge in the possibilities presented by SQ Mall as it extends an invitation to acquire residential apartments at remarkably affordable and budget-friendly rates. Investors are granted the flexibility to invest effortlessly through the convenience of 48 Monthly installments, allowing ample time to embark on this promising venture. The payment plan for all properties within SQ Mall features an initial down payment of 15% and the remaining balance gracefully divided into 48 monthly installments.
4. Union Luxury Apartments
Union Luxury Apartments, brought to you by Union Developers, are poised to become the epitome of modern living on Raiwind Road in Lahore. Meticulously crafted, this magnificent project offers a range of apartment options to cater to the diverse needs of residents.
Spanning across sprawling 4 acres of land, Union Luxury Apartments boast many amenities, including a branded café, a state-of-the-art gymnasium, a refreshing swimming pool, and an exclusive resident executive club. With ample parking space, high-speed elevators, uninterrupted electricity supply, round-the-clock security and surveillance, and a comprehensive building maintenance system, Union Luxury Apartments provide an ideal setting to create the home of your dreams, reflecting your unique lifestyle and aspirations.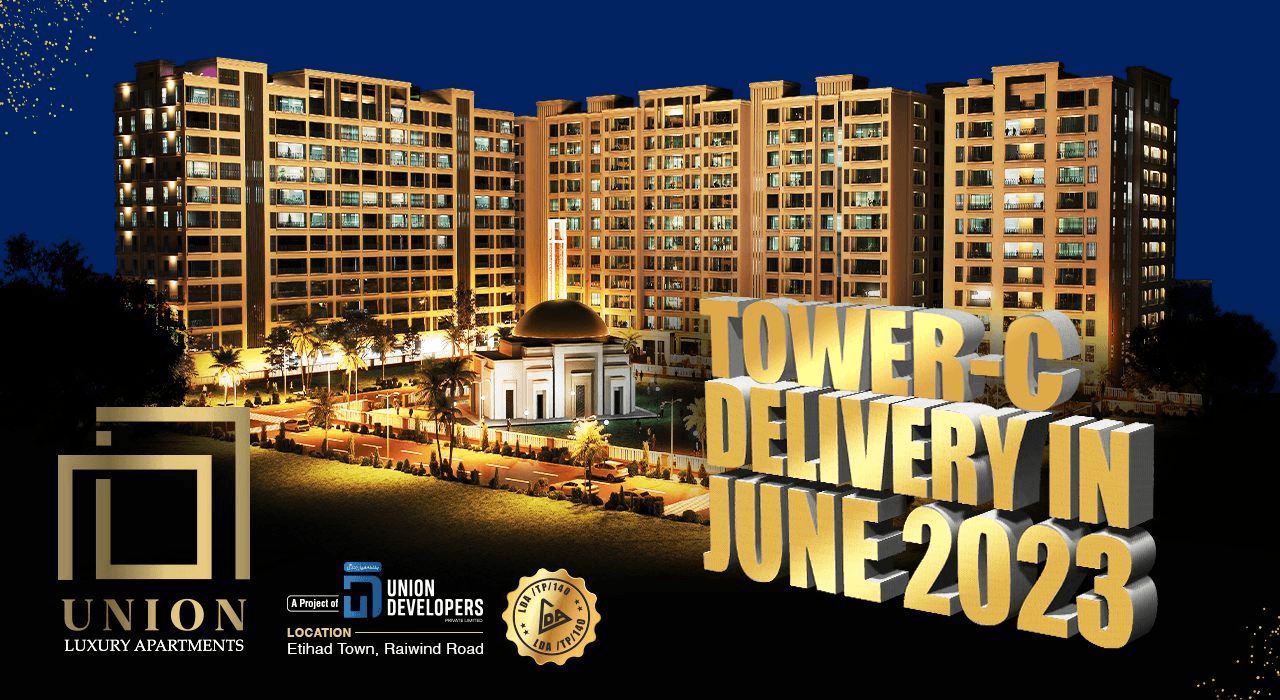 Structure of Union Luxury Apartments
With a splendid architectural design, Union Luxury Apartments stand tall with 11 floors, including a basement. The project covers a substantial 4-acre area and provides dedicated parking space for residents within the basement. Comprising four magnificent towers named Tower A, Tower B, Tower C, and Tower D, Union Luxury Apartments showcase a blend of elegance and functionality.
Union Luxury Apartments Payment Plan
Union Luxury Apartments provides a two-year payment plan, making it convenient and affordable for clients and investors. The booking process requires a 15% down payment, while the remaining amount can be paid in easy monthly installments. In addition, a nominal amount is payable upon possession, ensuring a hassle-free transition to your new home.
Here is an overview of the prices for Union Luxury Apartments:
Studio Apartments Price: Total amount of 5,995,000/-
One-bed Apartments Price: Total amount of 18,495,000/-
Two-bed Apartments Price: Total amount of 18,495,000/-
Three-bed Apartments Price: Total amount of 21,495,000/-
5. Waterfall Tower
Waterfall Tower is an awe-inspiring residential project that lives up to its name. Encompassing a vast area of 6 Kanal, this mega project comprises three identical towers, each spanning 2 Kanal of land. With a basement + ground + 8 floors layout, Waterfall Tower offers a complete residential experience with highly sought-after properties.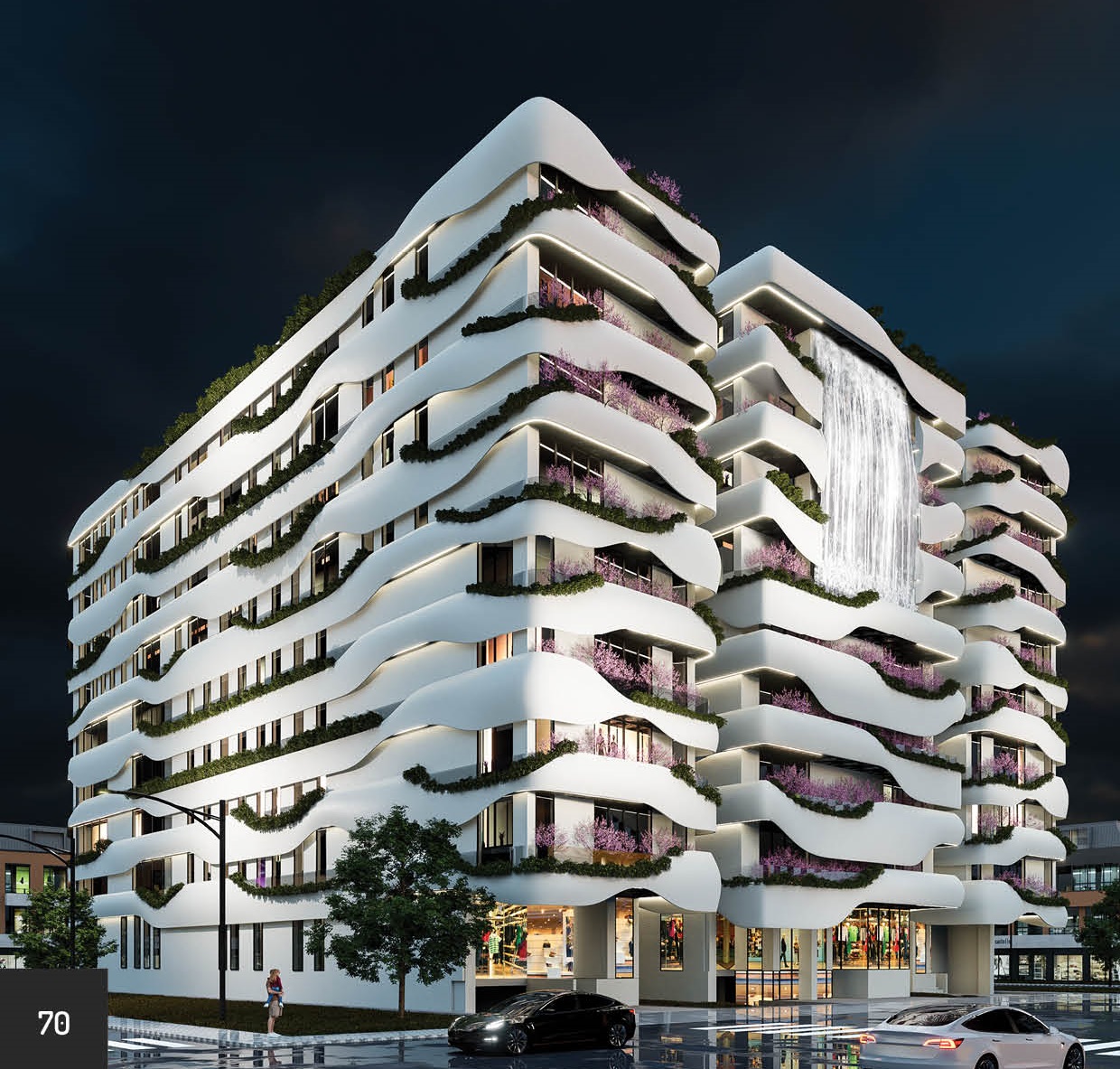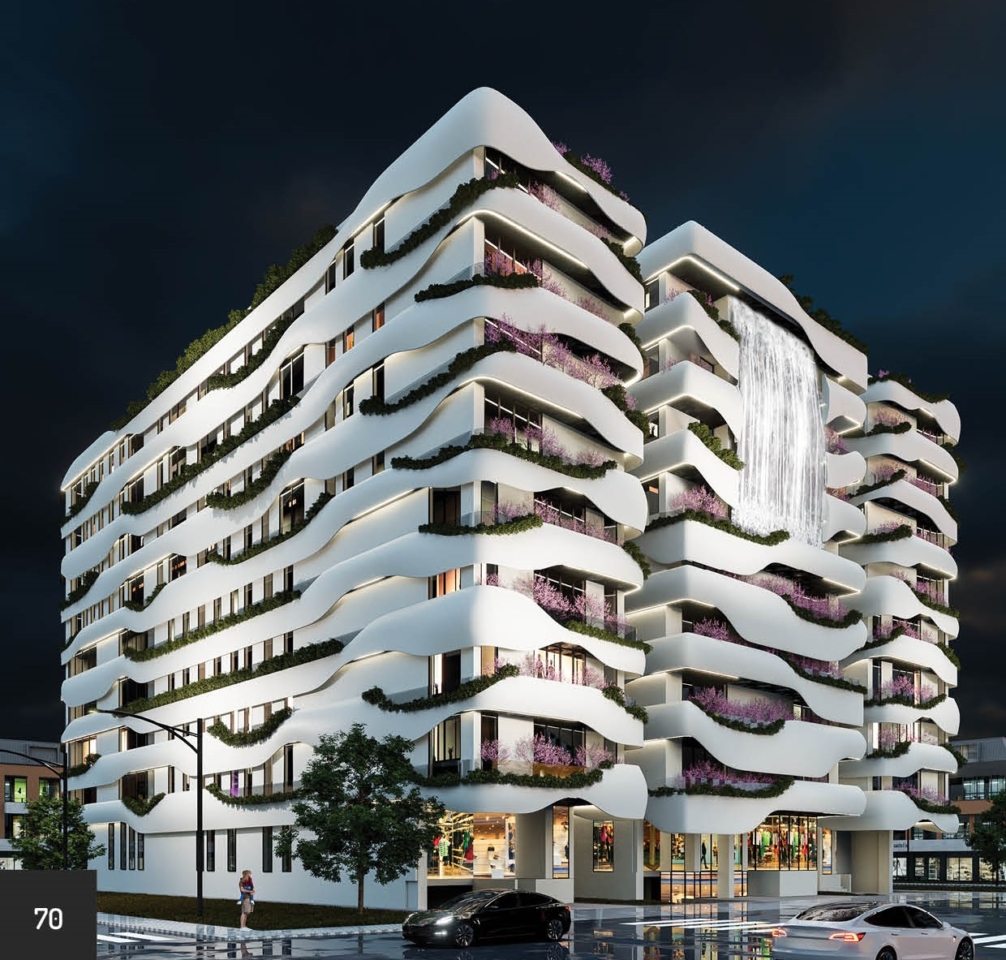 Luxurious Features and Unique Selling Proposition
Waterfall Tower sets itself apart with its unique selling proposition and luxurious features. The basement of the towers is dedicated solely to a spacious parking area, ensuring ample parking space for residents. The ground floor boasts a welcoming reception area, a serene prayer space, and elegant 2-bedroom apartments.
The 1st to 4th floors feature spacious 2-bedroom apartments, while the 5th to 8th floors offer stylish 1-bedroom apartments for sale. Each apartment in Waterfall Tower is thoughtfully designed with a focus on ventilation, providing a refreshing and well-ventilated living environment. In addition, the project exudes elegance and sophistication, making it an ideal choice for those seeking a luxurious lifestyle.
Location of Waterfall Tower
Waterfall Tower enjoys a prime location in the iconic Bahria Town Lahore. Situated in close proximity to major routes, this project offers easy accessibility. It can be conveniently reached within 2 minutes while traveling from Adda Plot to Bahria Town Lahore, opposite Beacon National University. The surrounding area is home to renowned restaurants, further enhancing the appeal of the location. Whether you are looking for a residence or an investment opportunity, the location of Waterfall Tower is sure to captivate you.
Waterfall Tower Apartments Payment Plan
Waterfall Tower offers the best 1-bedroom and 2-bedroom apartments for sale, catering to diverse needs and preferences. The project also provides an attractive payment plan designed to facilitate investors. With affordable rates and flexible payment options, Waterfall Tower ensures that aspiring homeowners can turn their dreams into reality. Following is the complete payment plan for apartments in this project:
6. ABS Mall & Residency
ABS Mall & Residency stands tall as the epitome of elegance and sophistication in Bahria Town Lahore. This exceptional project, brought to you by ABS Developers, offers a remarkable investment opportunity for those seeking real estate ventures with immense potential. Whether you envision it as a residential haven or a promising investment, ABS Mall & Residency is a perfect choice.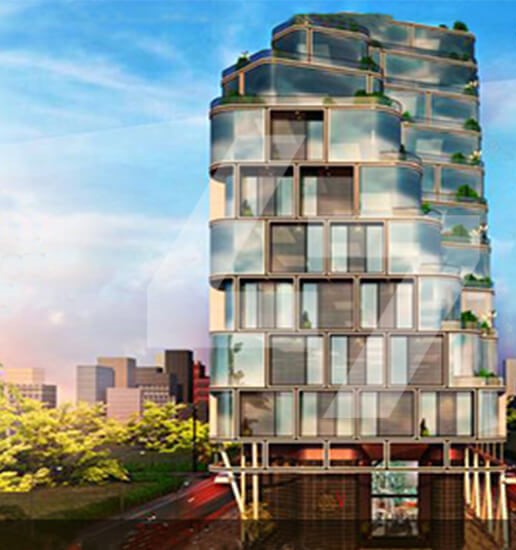 Modern Design and Facilities
ABS Mall & Residency showcases a modern design that embodies luxury living at its finest. With world-class amenities and modern infrastructure, it redefines the standards of excellence in real estate. As the tallest building in Bahria Town Lahore, ABS Mall & Residency promises spacious apartments and commercial spaces, exuding a sense of grandeur and exclusivity.
Amenities at ABS Mall & Residency
ABS Mall & Residency offers many facilities and amenities, ensuring its residents a luxurious and convenient lifestyle. Some of the planned amenities include:
24/7 Room Service
Food Courts
Prime Location
Spacious Apartments
Swimming Pool
Electricity and Power Backup
Sewerage and Water Supply
Apartments at ABS Mall & Residency
ABS Mall & Residency offers a range of exquisite apartments to cater to different preferences:
Studio Apartment
1-Bedroom Apartment
2-Bedroom apartment
Payment Plan for Flats in ABS Mall & Residency
The payment plan for flats in ABS Mall & Residency is designed to be flexible and convenient. Contact our sales team to inquire about the detailed payment plan and explore the options available to make your dream of owning a flat in ABS Mall & Residency a reality. Following is the complete payment plan for these apartments:

7. Jasmine Homes
Jasmine Homes Apartments is a prestigious residential project that caters to individuals seeking tranquility and serenity in their living spaces. This project is situated in a prime location and offers easy access to nearby commercial projects, ensuring convenience and a well-rounded lifestyle. The project is currently under rapid development, with the delivery of these homes scheduled in the near future.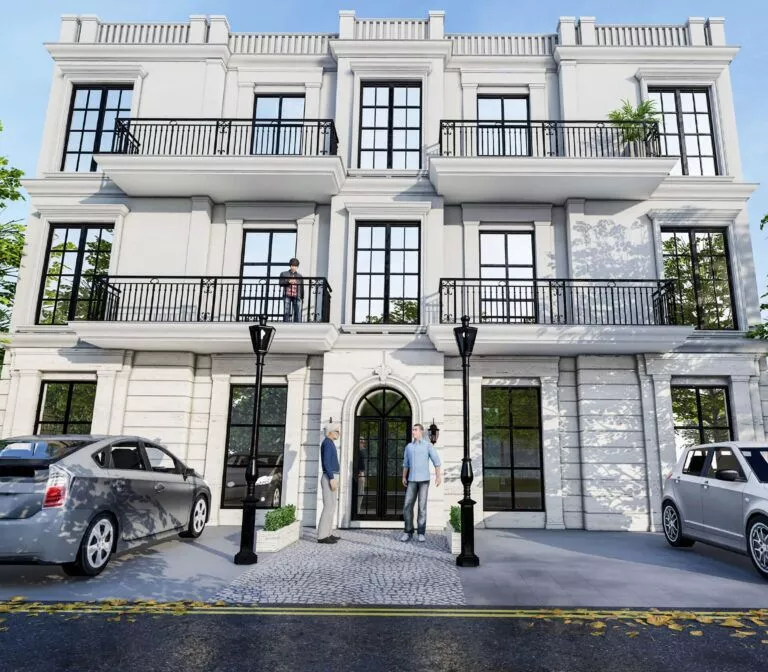 Serene Environment and Amenities
Jasmine Homes create a harmonious living environment where residents can enjoy serene surroundings. The project is thoughtfully designed to offer a serene and comfortable lifestyle with many amenities catering to residents' needs. From essential civic amenities to luxurious facilities of international standards, Jasmine Homes leave no stone unturned in providing a truly elevated living experience. The homes feature meticulously chosen fixtures and premium construction materials, ensuring both quality and aesthetics.
Jasmine Mall Apartments Payment Plan
Jasmine Avenue Homes Lahore offers various housing options, including 2-bedroom and 3-bedroom houses in an apartment-like format. Residents have the flexibility to choose their desired floor according to their preferences. In addition, the project offers different payment plans, making it accessible to a wide range of investors and residents. Jasmine Avenue Homes in Maryam Town provide an excellent opportunity to enjoy a luxurious lifestyle in an esteemed community.
Flats for Sale in Jasmine Mall Lahore
Jasmine Homes Apartments offer exceptional value for money with their affordable prices. These double-story buildings provide a range of apartment options that were initially introduced at the following prices:
Ground Floor Apartment: 42 lacs
1st Floor Apartment: 36 lacs
2nd Floor Apartment: 32 lacs
Unlock the doors to serenity and luxury by investing in the flats for sale in Jasmine Mall, Lahore. Immerse yourself in a haven of peace and experience the epitome of refined living at Jasmine Homes.
Conclusion
In conclusion, the above-discussed projects in Lahore offer enticing opportunities for individuals looking to invest in apartments for sale. Q Central Mall & Residencies, SQ Mall, Union Luxury Apartments, Waterfall Tower, ABS Mall & Residency, and Jasmine Homes offer a serene environment and affordable residential options with top-notch infrastructure. Each project presents its unique selling points and advantages for investors and residents alike.
Readers who are interested in investing in any of the projects are encouraged to explore these projects further by contacting CDB Properties. By making informed decisions, individuals can seize the opportunity to invest in apartments for sale in Lahore and benefit from the growing real estate market in the city.
Contact: 03331115100
Contact: 03331115200
Check out our Social Media pages for the newest updates of properties
FAQs
What are the best LDA-approved apartments in Lahore?
Some of the best LDA-approved apartments in Lahore include Bahria Sky Lahore, Q Central Mall & Residencies, SQ Mall, Union Luxury Apartments, Waterfall Tower, ABS Mall & Residency, and Jasmine Homes. These projects offer a range of amenities, prime locations, and quality construction.
What are safe and cheap areas to buy an apartment in Lahore?
Regarding safe and affordable areas to buy an apartment in Lahore, some options include Union Luxury Apartments, SQ Mall, Jasmine Homes and. These areas offer a good balance of safety, amenities, and relatively lower property prices.
What is the best area to live in Lahore?
The best area to live in Lahore depends on individual preferences and requirements. However, some popular areas known for their quality living standards and amenities include Gulberg, DHA (Defence Housing Authority), Model Town, Bahria Town, and Garden Town.
What are low-cost housing projects worth considering in Lahore?
There are several low-cost housing projects worth considering in Lahore, catering to individuals with budget constraints. Some notable options include Al-Kabir Town, Lake City, Fazaia Housing Scheme, Park View Villas, and LDA City. These projects aim to provide affordable housing solutions without compromising on quality.

If you are visiting our website for the first time, you can make your very first deal with CDB Properties for free.
To avail this offer click on the below chat button
Rate Now, we'd love to hear your feedback on this article.