Bahria Orchard Phase 3 is renowned for its strategic location and exceptional development in Lahore. This prestigious housing society now presents a golden opportunity for investors and business owners with the launch of 8 marla commercial plots on the main road. In this blog, we will delve into the details of these commercial deals and explore the potential they hold for profitable investments.
Prime Location and Prominent Features:
The 8 Marla commercial plots in Bahria Orchard Phase 3 are ideally situated in a prime location, boasting a 150-foot front road and a 100-foot back road. This strategic placement ensures maximum visibility and accessibility for businesses operating in this area. Whether you plan to construct a commercial building or develop residential apartments, these plots offer tremendous potential for high returns on investment.
Payment Plan:
This deal has been deemed the top commercial deal of 2023 in Bahria Orchard Phase 3. The plots are available with a convenient payment plan of 3 months installments, making it easier for investors to secure their plots. It is important to note that the prices of these commercial plots are expected to rise significantly in the near future, presenting an excellent opportunity for early investors to benefit from the appreciation in value. Here is the complete payment plan:
| | |
| --- | --- |
| Size | 8 Marla Commercial Plots |
| Total Price | 21,500,000 |
| Down Payment | 7,500,000 |
| 1st Installment (20 June 2023) | 5,000,000 |
| 2nd Installment (20 August 2023) | 9,000,000 |
Any questions, contact us on WhatsApp for prompt response.
Lucrative Investment Possibilities:
The commercial plots in Bahria Orchard Phase 3 offer a multitude of investment possibilities. As a business owner, you can establish your enterprise in a thriving commercial hub, capitalizing on the strategic location and the steady influx of potential customers. Alternatively, if you prefer residential development, constructing apartments on these commercial plots can yield substantial rental income or a profitable resale value.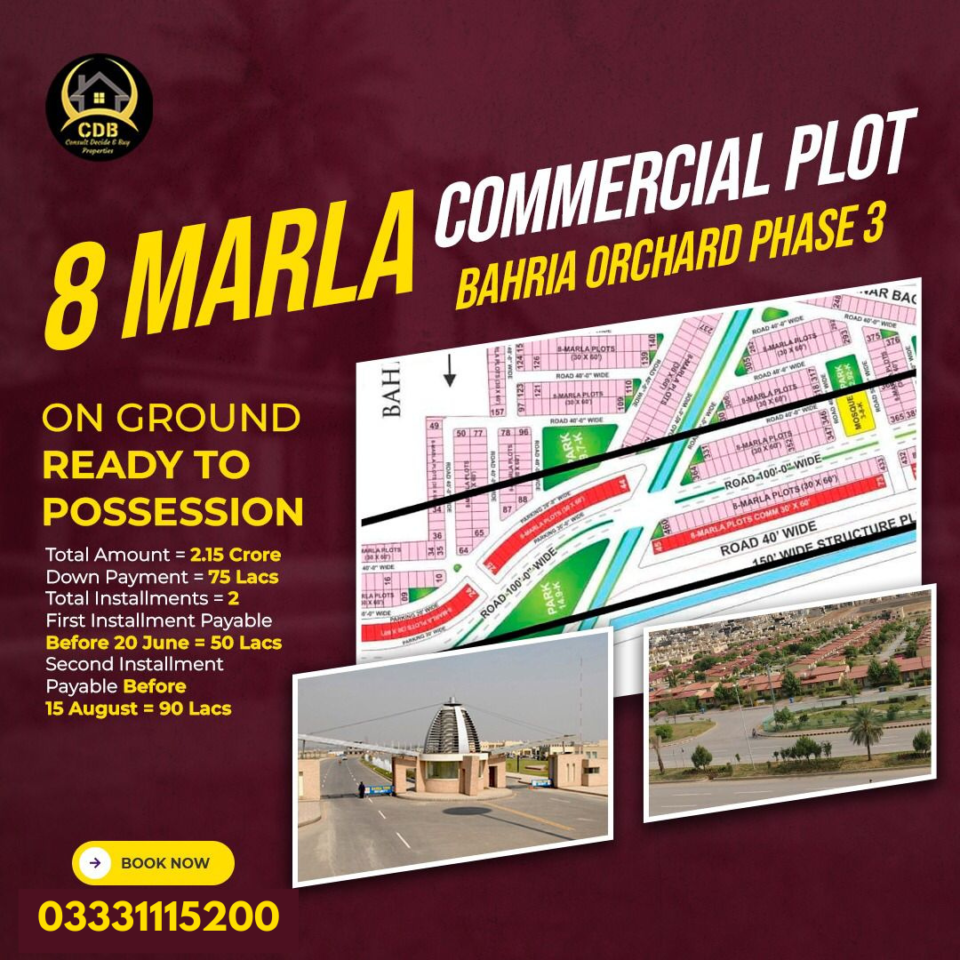 Transparent Booking Procedure:
Bahria Orchard Phase 3 aims to facilitate investors by providing a transparent payment plan for the 8 Marla commercial plots. By collaborating with CDB Properties, a reputable real estate agency, you can receive expert guidance and detailed information regarding the booking process, payment terms, and legal procedures. Moreover, Bahria Orchard Phase 3 does not charge any transfer fees, ensuring a hassle-free transaction for buyers.
Conclusion:
The launch of 8 marla commercial plots in Bahria Orchard Phase 3 presents an exceptional investment opportunity for those seeking lucrative ventures in Lahore's real estate market. With its prime location, flexible payment plan, and potential for significant appreciation in value, these commercial deals are highly sought after. To secure your plot and obtain comprehensive details, contact CDB Properties, the trusted partner for real estate investments in Bahria Orchard Phase 3. Don't miss out on this golden chance to elevate your business or investment portfolio.
Contact: 03331115100
Contact: 03331115200

If you are visiting our website for the first time, you can make your very first deal with CDB Properties for free.
To avail this offer click on the below chat button
Check out our Social Media pages for the newest updates of properties
Rate Now, we'd love to hear your feedback on this article.