If you're on the hunt for prime real estate investment opportunities, look no further than Victoria City, Lahore. Situated strategically, this emerging housing society offers a plethora of benefits for investors and homeowners alike.
Strategic Location
Victoria City is conveniently located for easy access, regardless of whether you're coming from Multan Road or Canal Road. Situated just 2 kilometres before the Manga Bypass when approaching from Multan Road or a short distance after passing Bahria Town, Zaitoon City, when coming from Canal Road, its prime location with two main approaches makes it exceptionally accessible.
A Diverse Range of Plot Sizes
One of the standout features of Victoria City is the variety of plot sizes available for investment. Whether you're interested in a compact 3 marla plot or a spacious 40 marla plot, this society has something to offer. The affordability of these plots is particularly enticing for investors looking to get in on the ground floor of a promising project. Following is the complete paymen plan for this project: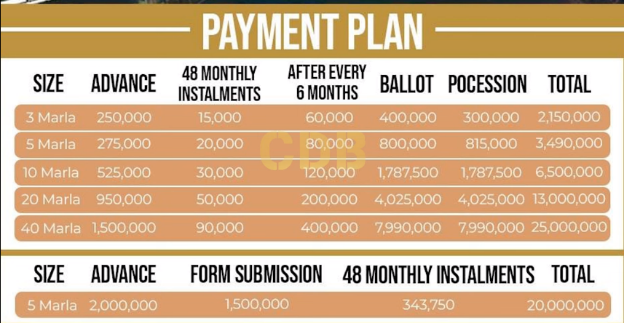 Balloting Opportunities
Victoria City has already conducted its first balloting in February 2023. During this inaugural event, two blocks, Umer and Toheed, were introduced. Umer block primarily featured 3 marla plots, while Toheed block offered a maximum of 5 marla plots.
But the excitement didn't end there. Victoria City recently held another balloting phase, adding Usman and Ali blocks to its portfolio. This move opened up even more opportunities for those looking to secure their place in this thriving community.
Any questions, contact us on WhatsApp for prompt response.
Swift Development
One of the clear indicators of Victoria City's potential is the swift pace of development. Heavy machinery is already on-site, ensuring that this project is advancing rapidly. This level of commitment to timely delivery comes courtesy of the renowned Sheranwala Developers, a name synonymous with quality and trust in the Pakistani real estate scene.
Commercial Opportunities
For those with a keen eye for commercial prospects, Victoria City doesn't disappoint. The society offers 2-sided open commercial plots on the main Canal Road. With ample 30-foot-wide parking spaces on both sides, these commercial plots are positioned to attract businesses and customers alike.
Investment Potential
Investors who recognized Victoria City's potential early on have already reaped the rewards in the form of substantial profits. With a commitment to rapid development, trusted developers at the helm, and a diverse range of plot sizes, the investment opportunities here are as promising as they come.
Don't miss out on the chance to be part of this thriving community. Victoria City is where your real estate dreams can become a reality.
For booking and more details about Victoria City, contact CDB Properties today. Your future in Victoria City, Lahore, awaits.
Contact: 03331115100
Contact: 03331115200
If you are visiting our website for the first time, you can make your very first deal with CDB Properties for free.
To avail this offer click on the below chat button
Check out our Social Media pages for the newest updates of properties
Rate Now, we'd love to hear your feedback on this article.