In the heart of Bahria Town Lahore, a beacon of grandeur is about to illuminate the skyline – Pearl One Courtyard. This venture, a brainchild of ABS Developers, promises to redefine luxury living and commercial splendor.
Pearl One Courtyard By ABS Developers
Investors understand the essence of scrutinizing developers before venturing into property investments. With Pearl One Courtyard, ABS Developers showcase their commitment to excellence, adding another gem to their portfolio.
Pearl One Courtyard's Unique Offerings
Anticipated to be one of Bahria Town Lahore's largest malls, Pearl One Courtyard goes beyond commercial spaces. It dedicates a floor to a state-of-the-art masjid, while a gym, community club, spa, and swimming pool elevate the living experience.
Pearl One Courtyard Prices Advantage
Investors, seeking both rental returns and personal satisfaction, find a haven in Pearl One Courtyard. The project's affordability, coupled with a 12000/square feet advantage, positions it as an attractive investment proposition. The payment plan adds an extra layer of feasibility. Following is the complete payment plan: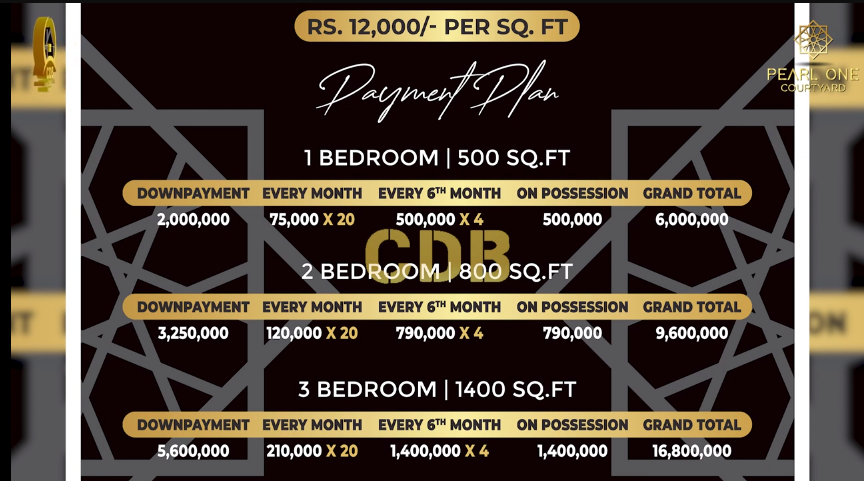 Any questions, contact us on WhatsApp for prompt response.
Pearl One Courtyard Rapid Progress
The wheels of progress are turning swiftly for Pearl One Courtyard. The imminent commencement of excavation heralds the tangible manifestation of this visionary project.
The Time is Now for Pearl One Courtyard Booking
As the project offers pre-launch prices, the timing is opportune for investors to make their mark. Pearl One Courtyard beckons as a wise investment choice, and CDB Properties stands ready to guide you through this journey. Don't miss out; invest wisely, invest now.
Contact: 03331115100
Contact: 03331115200
If you are visiting our website for the first time, you can make your very first deal with CDB Properties for free.
To avail this offer click on the below chat button
Check out our Social Media pages for the newest updates of properties
Rate Now, we'd love to hear your feedback on this article.