Bahria Town Lahore is one of Pakistan's most popular housing societies, known for its innovative, world-class developments and commitment to excellence. It continues to set new standards for quality and luxury. The latest development from Bahria Town is "The Gold Souq" and "The Gold Suites" – the first-ever gold market in Bahria Town Lahore. The Gold Souq will offer a wide range of gold products, including gold jewelry, artificial jewelry, and more. The Gold Suites will be a luxurious residential complex overlooking the Gold Souq. This latest development from Bahria Town is sure to exceed the expectations of even the most discerning buyers.
Q-Links Developers is a real estate firm based in Lahore that launched the Gold Souq & Gold Suites. They have a great reputation among locals and investors for developing some of the finest residential and commercial properties in Lahore. Safari Villas, Q Bazaar, Orchard Mall, and Jasmine Grand Mall are just some of their up-scale projects.
The Gold Souq & Gold Suites is a six-story building with a basement that covers a 24 Marla Area. The word Souq is an Arabic term (سوق) that means "Market" or "Bazar." As a result, the Gold Market and Gold Suites are named after the word "Souq." The Bahria Town Lahore is one of Pakistan's most popular tourist attractions. It is well known for its beautiful architecture and its vibrant atmosphere.
Location of The Gold Souq & Gold Suites
The Gold Souq & Gold Suites is located in the heart of Bahria Town Lahore, making it the perfect place to stay or shop for anyone who wants to experience all the city offers. The project is situated near Jasmine Grand Mall, which is currently under construction. This project's location is unquestionably heart-melting and essential. The Bahria Town School and Hospital are located close by and have all of the finest living options. The Gold Souq & Gold Suites is an excellent choice for those who want to enjoy the best of both worlds – a luxurious shopping experience and a prime location.
Features & Amenities
Gym
Mini Golf
Sauna
Swimming Pool
Play Area
24/7 Service Available
Restaurant
Back-up Power
Snooker & Pool Table
Ample Car Parking
Safe & Secure Environment
Gold Souq & Gold Suites Infrastructure
The Gold Souq & Gold Suites is being developed with the highest quality standards in mind. The infrastructure will be top-notch. This six-story structure is both a commercial and residential hub. The commercial sector has been assigned to the Basement on the 2nd floor. The top floors, from 3rd to 5th, are allocated to a residential area, which implies a high standard of living.
Any questions, contact us on WhatsApp for prompt response.
Below we have provided more information on all floors' design layouts and payment plans.
Basement Floor Plan & Payment
The basement floor of Gold Souq is home to 18 shops, having a variety of standard and lobby-facing options. It boasts a magnificent fountain in the center. The average shop size is 154-265 square feet, with prices ranging from 43 Lacs to 65 Lacs. Buyers can also choose to pay for their purchase in 36 monthly installments, with a 30% downpayment required upfront. Whether you're looking for the perfect gift or simply treating yourself, the basement floor of Gold Souq is sure to have what you're looking for.
Ground Floor Plan & Payment
The Ground Floor of Gold Souq is truly a sight to behold. Its beautiful architecture and vibrant atmosphere make it the perfect place to find all things gold. The ground floor has 14 stores, with Standard and MB Facing categories available, making it the perfect place to shop for all your gold needs.
The average shop size on this floor ranges from 178 to 352 square feet. The prices of shops available here range from 98 lakhs to 2 crore rupees, with a 30% down payment and a 20% possession payment.
1st & 2nd Floor Plan & Payment
Gold Souq's 1st & 2nd floors have a similar infrastructure as the basement floor but with 34 shops in total (17×2). The average size of shops is identical to basement shops as well. These two floors have three distinct types of shops: Standard, MB Facing, and Lobby facing. These shops can cost anywhere between 57 Lacs to 76 Lacs, and the 36 monthly installment plan is also applicable for these shops. However, the percentage of downpayment and possession remains the same.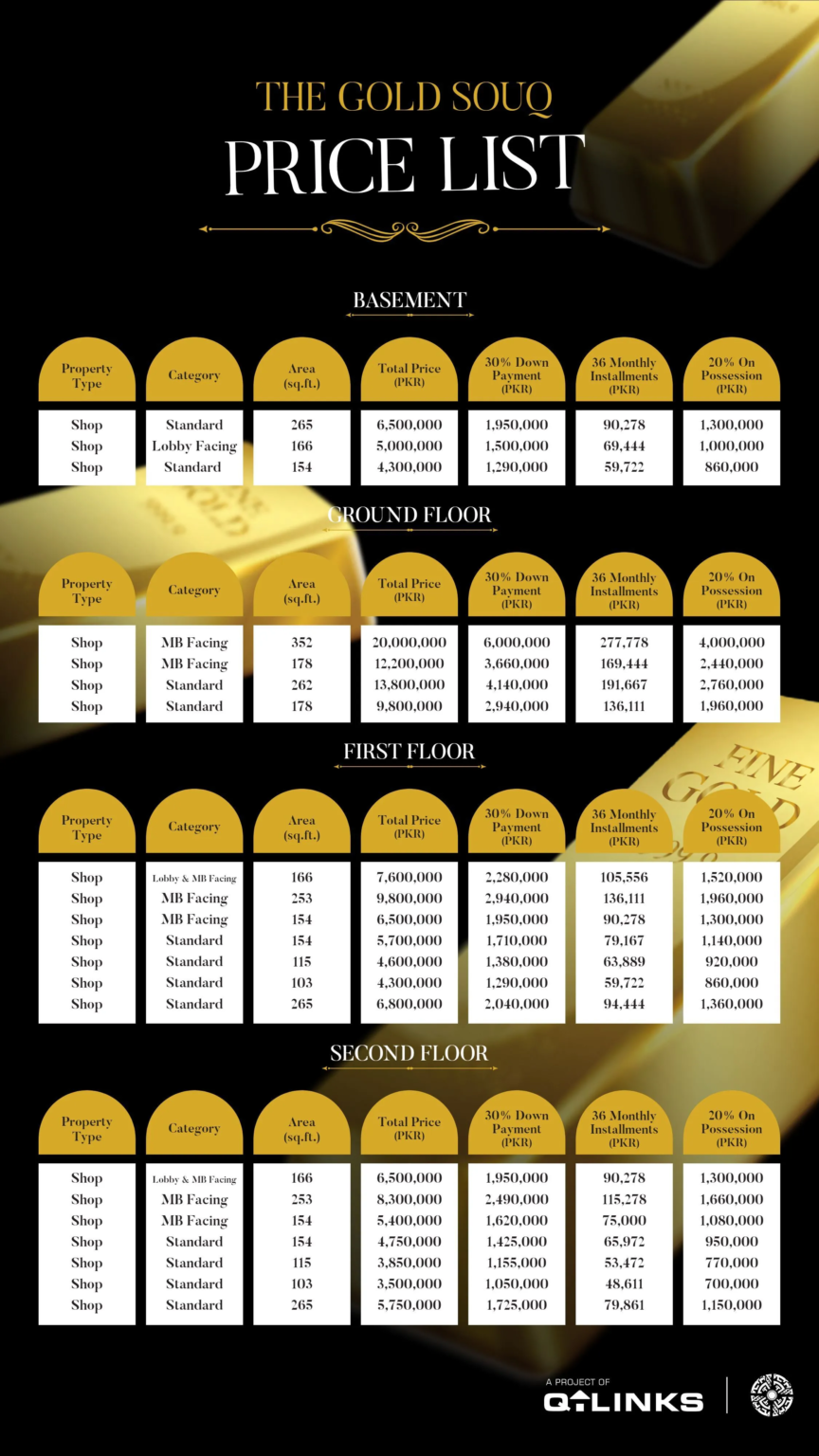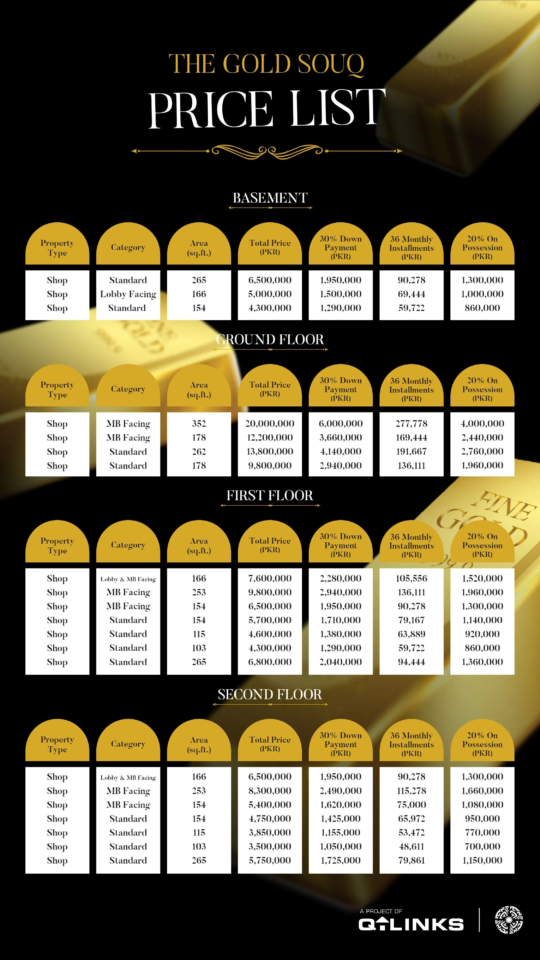 3rd to 5th Floor Plan & Payment
The residential area is known as Gold Suites offers a unique opportunity to live right next to the gold market and benefit from its ongoing operations. It includes one-bedroom studio apartments that have been assigned to the third to fifth floors. These units can be referred to as five stars because they offer a high level of convenience.
The gross area of each apartment is 380 square feet. The suites are available for a starting price of 49.5 Lacs. Their booking starts from a 30% down payment. Also, each month, there are 36 monthly payments of 68,750 along with a total payment of 20% upon possession.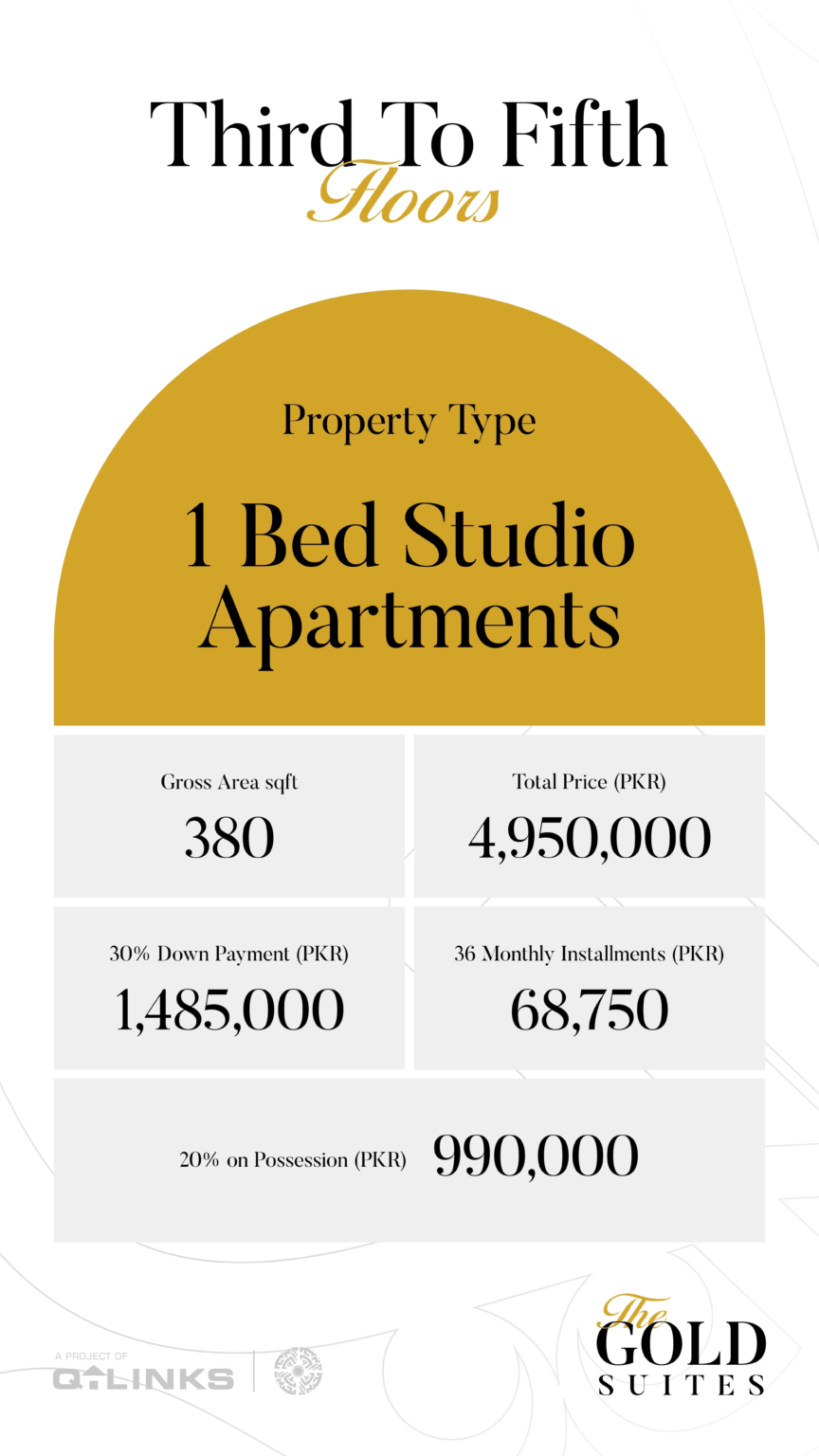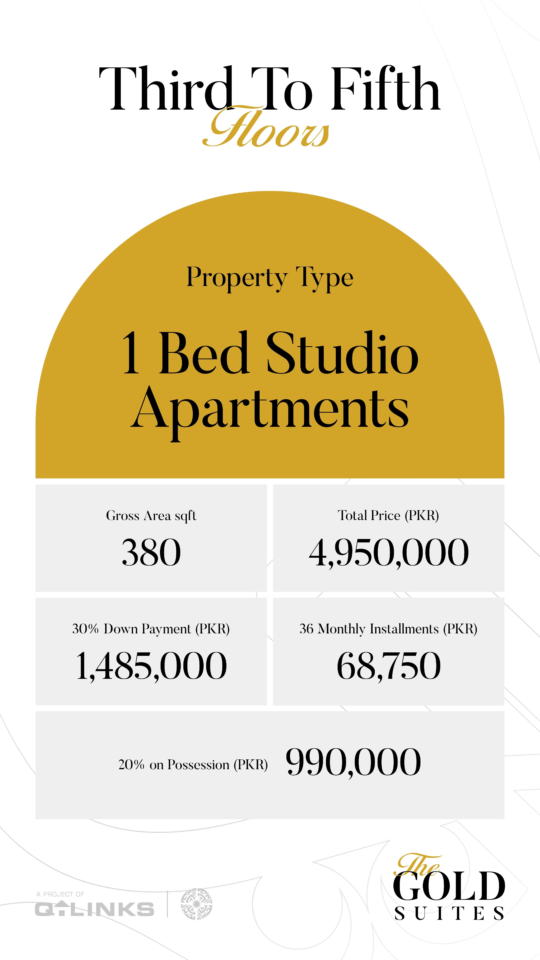 Final Thoughts
Gold Souq is one of the most promising projects in Bahria Town Lahore and an excellent investment opportunity for those looking to enter the market. Its prime location, luxurious lifestyle, and ample amenities make it a desirable destination for investors and homeowners alike. If you're interested in learning more about this project or want to invest, contact CDB Properties today – the authorized dealers will be happy to assist you!
Visit our website for more information on the Gold Souq, and be sure to check out our YouTube channel for more real estate investment opportunities in Pakistan.
Email: [email protected]
Contact : 03331115200
Contact : 03331115100
Any questions, contact us on WhatsApp for prompt response.
Check out our Social Media pages for the newest updates of properties