The Jasmine Grand Mall Bahria Town Lahore, a magnificent construction by Q-Link Developers, is the area's major commercial hub and the largest mall, housing numerous recognized brands, convention facilities, and flagship stores. It is Bahria Town Lahore's largest shopping mall, where you may invest for expansion, retail, and several other business options. Jasmine Grand Mall is originally planned to include hundreds of retailers, providing you with a variety of investment opportunities in Bahria Town Lahore. This mall also offers visitors the option to shop, eat, and enjoy entertainment and play areas in a variety of ways on a daily basis.
Jasmine Grand Mall Bahria Town Lahore
The Jasmine Grand Mall Bahria town Lahore is a major project in the neighborhoods that includes massive supermarkets, event areas, and flagship retail outlets. It offers brand stores and food courts for sale in cash as well as in two-year simple installments. The new commercial core of Bahria Town Lahore is Jasmine Grand Mall.
It is one of the greatest new commercial projects in Lahore owing to its cutting-edge design, prime location, and inclusion of all advanced facilities. This location is suitable for developing a successful business and making investments in Lahore. This platform is open to investors from all throughout Pakistan.
Location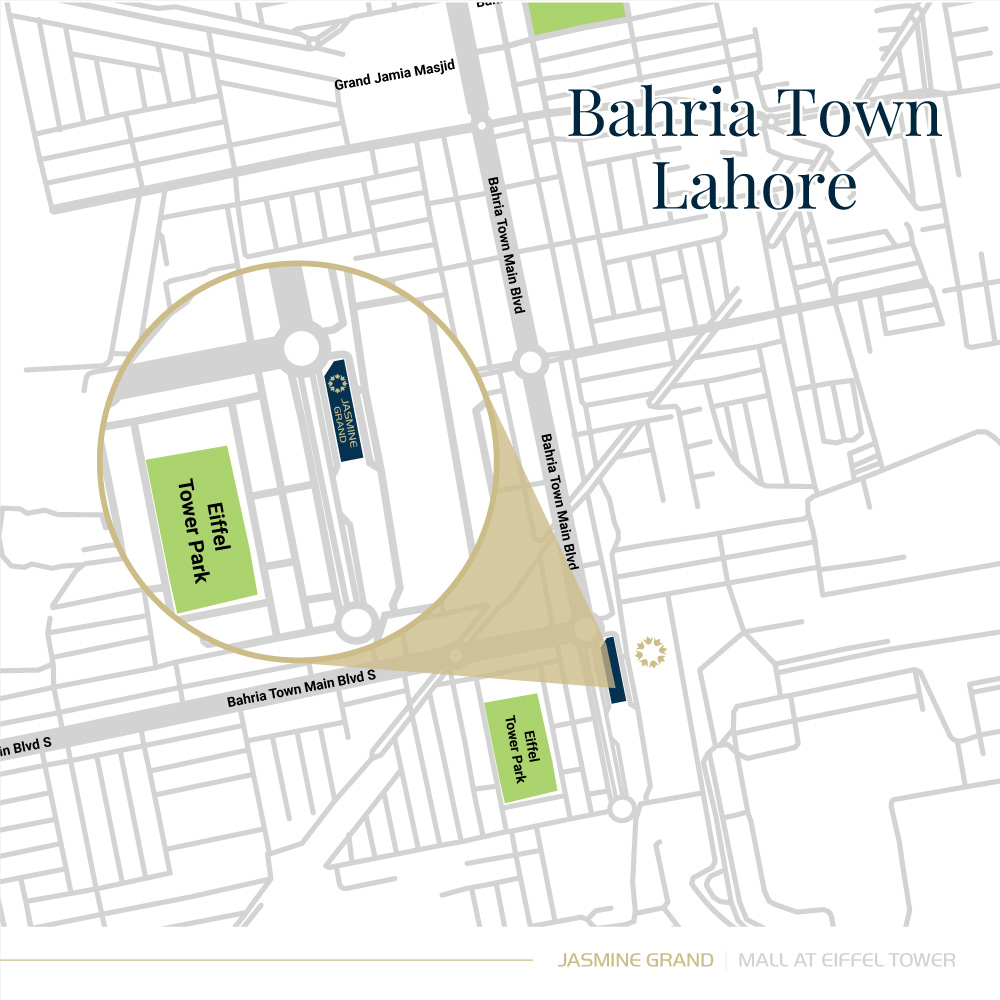 The Jasmine Grand Mall is located directly on the Main Boulevard of one of Lahore's most contemporary and nicest neighborhoods, Bahria Town Lahore, in Sector E, on the opposite side of the Eiffel Tower Park. The most noticeable aspect of Jasmine Grand Mall is its position, which is outstanding, advantageous, pragmatic, and attractive all at the same time.
The Jasmine Grand Mall looks out over the magnificent and tranquil Eiffel Tower park, which is located on the opposite side of the road from this major commercial center. This mall is also easily accessible.
Layout Plan of Jasmine Grand Mall
The Jasmine Grand Mall has an area of 40,000 square feet. Jasmine Grand Mall has a basement, ground level, first floor, second floor, third floor, fourth floor, and a rooftop. From the basement to the third floor, commercial stores of various brands are present, while the fourth floor houses the IT Hub. There is also a rooftop constructed for various functions, as well as enough of parking for consumers and staff.
The sizes of the shops at Jasmine Grand Mall range from 100 to 1497 square feet.
It features around 200 stores that will serve the citizens of not just Sector E but also the rest of Bahria Town and Lahore.
Amenities at Jasmine Grand Mall
The Jasmine Grand Mall has various world-class facilities under one roof, which distinguishes it from others in the area. These amenities are
Security and CCTV Surveillance 24/7
Electricity is available 24×7
Power backup
Cutting-edge eco-friendly design
A large entry lobby for shows and events
A large entry lobby for shows and events
High-speed elevators and escalators.
Landmark design and a welcoming atmosphere.
Fire and emergency exits
Largest Brand-name Supermarket in Area on Each Floor
Great Investment Opportunity
Parking Area
Mini Golf Area on the Rooftop
Entertainment Areas
Payment Plan:
The payment plan for Jasmine Grand Mall Bahria town Lahore is highly simple and straightforward for investors just because it includes a 24 Monthly Installment plan with a 40% down payment on the total price of the business. The shops are divided into four categories: standard shops, lobby facing shops, corner lobby shops, Main Boulevard facing shops, and corner shops. Because of these divisions on each floor, the payment method for the shops varies.
Any questions, contact us on WhatsApp for prompt response.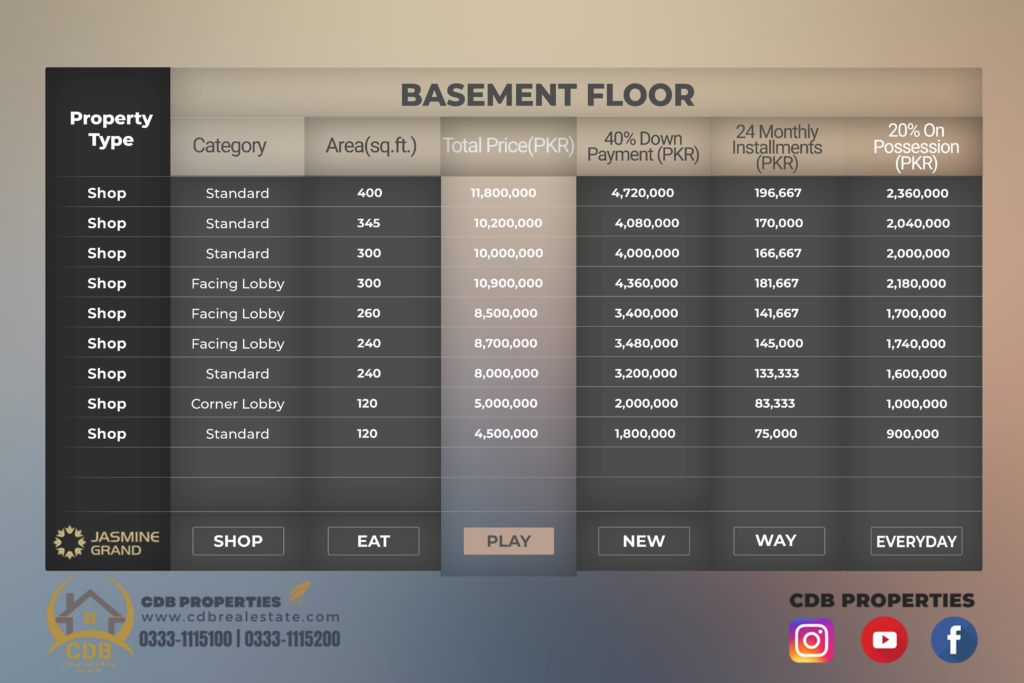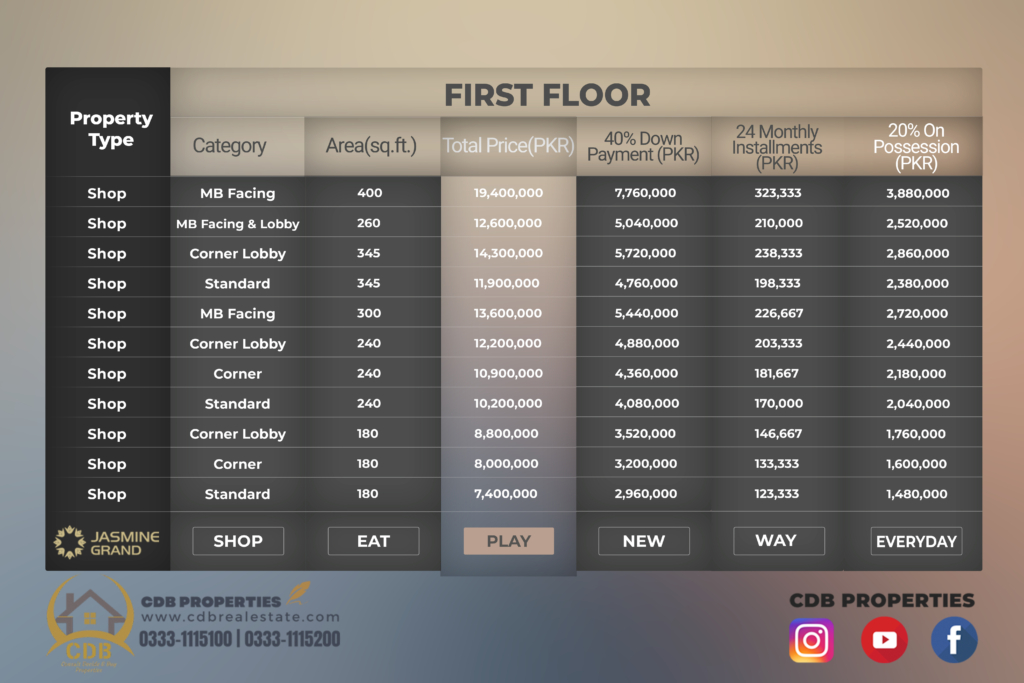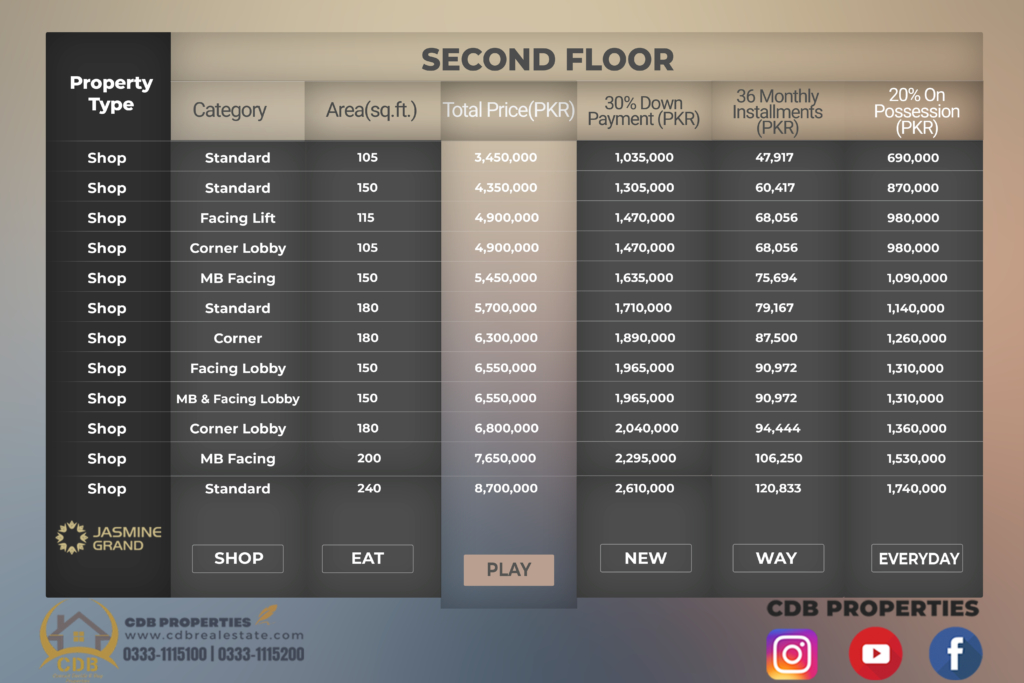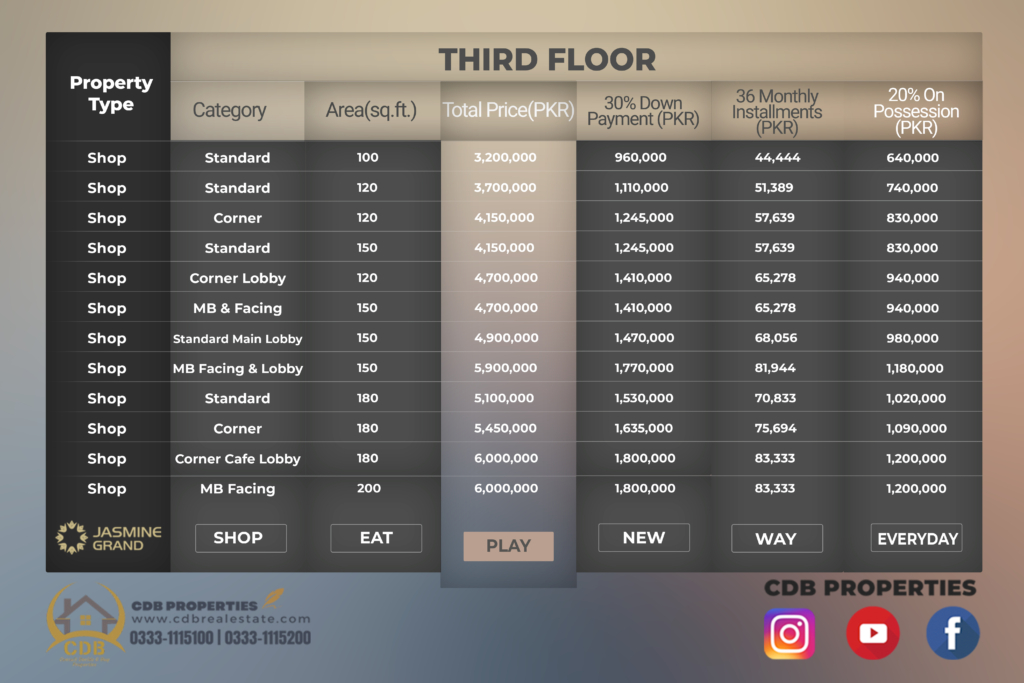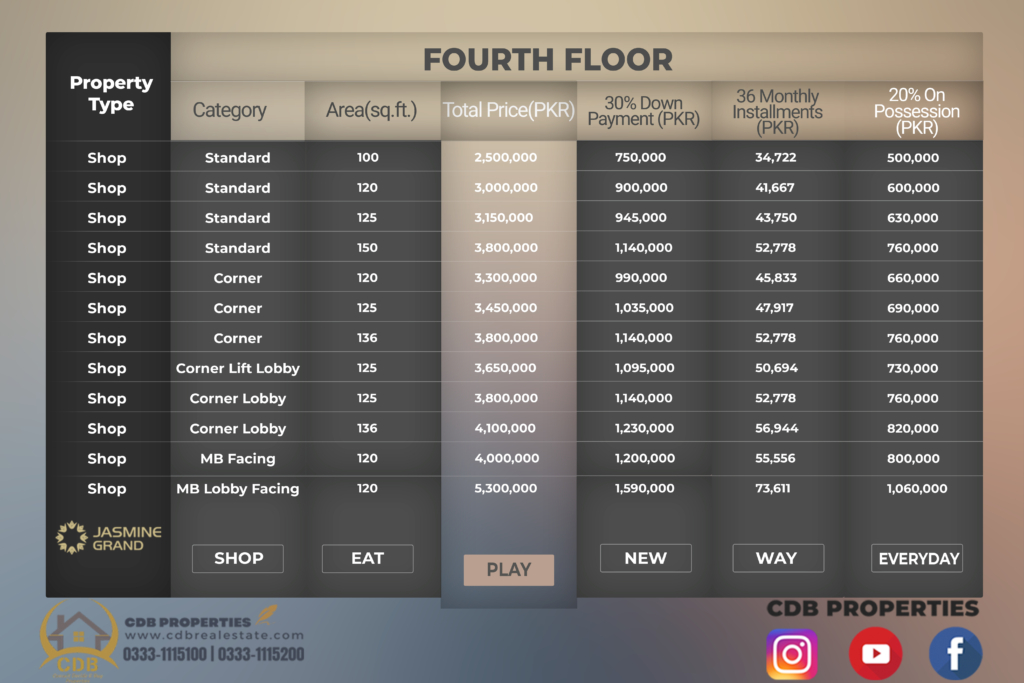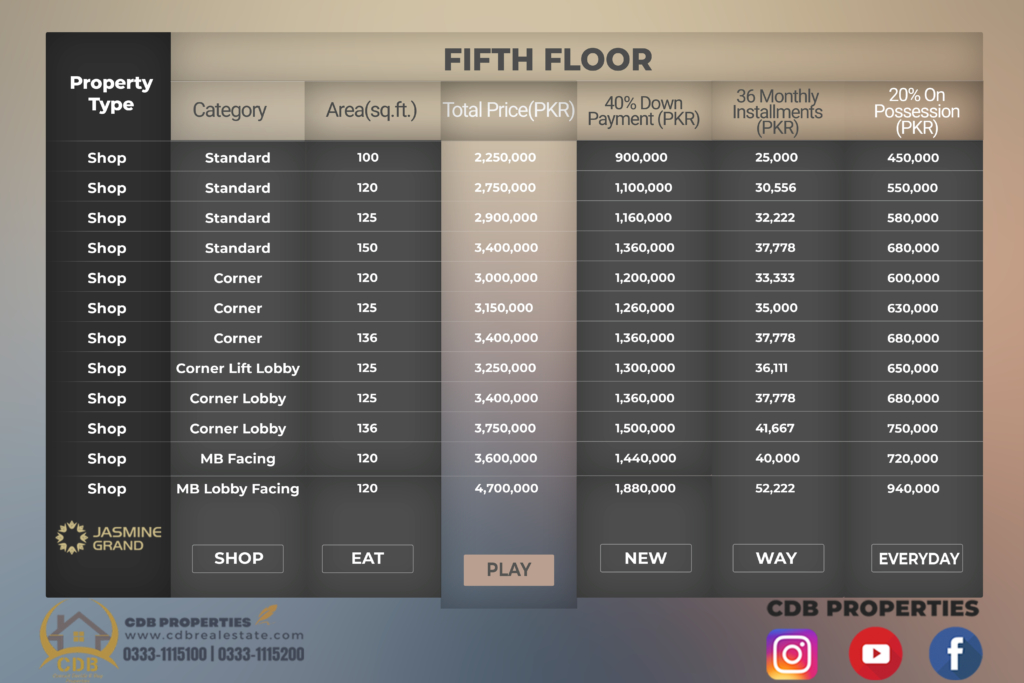 Investment Scope of Jasmine Grand Mall
Investing in Jasmine Grand Mall is a worthwhile investment. The present retail pricing are acceptable, beginning at PKR 4,000,000. However, as construction begins to pick up, costs will skyrocket. Costs are likely to soar by up to 100%. Investors may invest in these stores with confidence in order to generate big profits, build a thriving business, and receive an attractive rental income. Aside from these characteristics, the project's developers have already delivered a number of well-equipped projects. The investors have high regard for Q-Links Developers and wish to collaborate with them.
Top 5 Unique Features of Jasmine Grand Mall Make It A Great Investment
Jasmine Grand Mall also offers the chance to earn a guaranteed rental income of 6% with no delays. After submitting a fixed amount for the preferred shop, investors may take advantage of this excellent chance and begin earning money the next month.
The percentage of rental income will also increase with time to 10% annual ROI for 10 years
Investors are being given capital growth on a solid land-based asset. Jasmine Grand Mall has an experienced shopping center management staff that makes it their mission to assist investors in every way they can.
So don't wait any longer and reserve your business property in Sector E Bahria Town, Lahore's Jasmine Grand Mall immediately.
[Also Read Jasmine Grand Mall Construction and Development Update]
Contact Us:
For booking a commercial property of Jasmine Grand Mall Bahria Town, contact CDB Properties for further details. We provide you with better consultations and give the most recent and latest details for any real estate matters. You can also visit our YouTube Channel for the latest updates in the real estate world.
You can contact us at the following phone numbers for additional information.
Email: [email protected]
Contact : 03331115200
Contact : 03331115100
Any questions, contact us on WhatsApp for prompt response.
Check out our Social Media pages for the newest updates of properties