District One Lahore is one of Lahore's most sought-after residential and commercial projects. Its prime location on Jati Umrah Road provides an excellent opportunity for those seeking to begin a new high standard of life. The project offers several sizes in plots with a highly favorable and attractive payment plan. The project has been made to provide a high-end luxurious lifestyle to its residents.
Location:
District One Lahore is primarily located at an ideal location. This mega project is situated at Sharif Medical City Road and Jati Umrah Road. The area is close to the Lahore Ring Road and Raiwind Road, making it easily accessible from all major parts of the city. When you live in District One, not only can you enjoy the convenience of top-notch amenities nearby, such as premier educational institutions and healthcare facilities, but you also feel safe with your family since it is a secure project. Moreover, banks, shopping centers, and other services are within easy access from this location too.
Amenities:
District One Lahore offers several top-notch amenities to its residents. These include the following:
• 24/7 security with CCTV surveillance
• Grand Mosque, parks, and green belts
• Shopping malls and commercial areas
• Wide roads with street lighting
• Fully LDA Approved Area
• Underground wiring and sewerage system
• Smart Housing
• A secure project
Any questions, contact us on WhatsApp for prompt response.
Plots sizes:
District One Lahore offers various plots sizes for sale, which include:
• 3 Marla Residential Plots
• 5 Marla Residential Plots
• 7 Marla Residential Plots
• 10 Marla Residential Plots
• 1 Kanal Residential Plots
• 4 Marla Commercial Plots
• 5 Marla Commercial Plots
Payment Plan:
District One Lahore has a highly favorable and attractive payment plan, making it easy for anyone to purchase a plot in the project. The payment plan is according to the cost of Land. An official payment plan of District One Lhaor is as given below: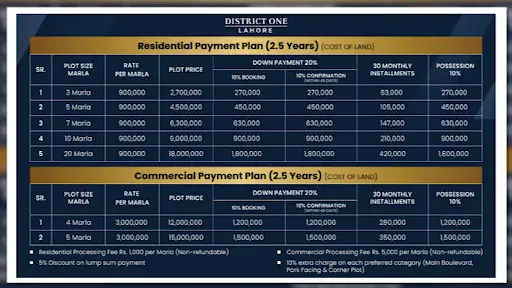 If one wants to invest in a secure and promising project that offers a luxurious lifestyle with top-notch amenities, then District One Lahore is the right choice. For booking and further details about the project, contact CDB Properties.
We provide the best real estate consultancy services in Lahore. Contact us for more details and stay updated about the latest projects and offers.
Contact: 03331115100
Contact: 03331115200

If you are visiting our website for the first time, you can make your very first deal with CDB Properties for free.
To avail this offer click on the below chat button
Check out our Social Media pages for the newest updates of properties
Rate Now, we'd love to hear your feedback on this article.