Soul City, a rising star in the realm of real estate, continues to make waves with its latest offering. The launch of a new deal featuring 3 marla plots has ignited the interest of investors seeking a prime investment opportunity.
Promising Development Pace:
Soul City is setting a precedent for swift development, attracting investors with its dedication to progress. This new deal of 3 marla plots aligns perfectly with the project's rapid growth trajectory.
LDA Approved:
Investors can rest assured knowing that this newly launched 3 marla plot deal is fully approved by the Lahore Development Authority (LDA). This official validation underscores the legitimacy and credibility of the project.
Affordable Investment Avenue:
Soul City's commitment to affordability is evident in the pricing of these 3 marla plots. Priced at just 2,895,000, these plots provide an accessible entry point for investors looking to capitalize on a promising venture.
Any questions, contact us on WhatsApp for prompt response.
Flexible Payment Plan:
The investment journey becomes even more appealing with a well-structured payment plan spanning four years. This thoughtful arrangement ensures that investors can comfortably manage their investments over time. The comprehensive payment plan offers financial ease and convenience.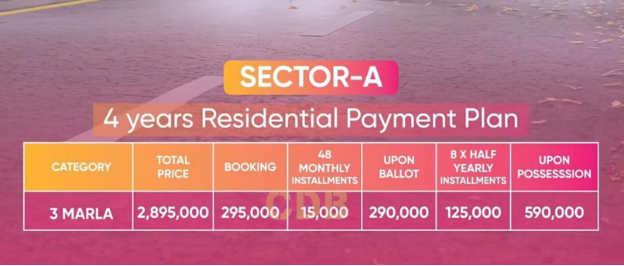 Speedy Development Appeal:
One of the key factors fueling investor interest in Soul City is its rapid development pace. The commitment to timely project completion bodes well for those looking to make a sound investment and see returns sooner rather than later.
Seize the Opportunity:
Soul City's new 3 marla plot deal is a testament to its commitment to offering diverse and attractive investment opportunities. With the project's remarkable development progress and favourable payment plan, investors are presented with a chance to secure a foothold in this dynamic real estate venture.
Secure Your Investment:
For those ready to explore the potential of the new 3 marla plot deal in Soul City, there's no better time than now. Secure your investment by reaching out to the real estate experts at CDB Properties. Their insights and guidance will ensure that you make informed decisions and capitalize on this fast-developing investment opportunity. Contact CDB Properties today to embark on a journey towards a lucrative investment future.
Contact: 03331115100
Contact: 03331115200

If you are visiting our website for the first time, you can make your very first deal with CDB Properties for free.
To avail this offer click on the below chat button
Check out our Social Media pages for the newest updates of properties
Rate Now, we'd love to hear your feedback on this article.