Are you in search of an investment opportunity that promises both value and growth? Look no further than Soul City Lahore, an LDA-approved project that's capturing the attention of smart investors.
The Soul City Advantage
Spanning a sprawling 6,000 kanals, this vibrant city is a canvas of development. A significant 1,817 kanals are already LDA approved, ensuring a secure investment.
Marwa Developers: A Trusted Name
Marwa Developers, helmed by the reputable Malik Mudasir, the land provider of DHA, are the visionaries behind this project. Their reputation for excellence speaks volumes.
Strategic Location
Soul City Lahore is strategically situated on Gia Bagga Road, merely 2 km from the Haloki Interchange. This location isn't just promising; it's bustling with neighboring societies like Liberty Lands, Pak Avenue, and Etihad Town Phase 2.
Any questions, contact us on WhatsApp for prompt response.
Progress at Lightning Speed
Soul City has taken marketing and development seriously. As a result, development work is moving forward swiftly, laying the foundation for a prosperous future.
A Variety of Plot Sizes
Whether you're a seasoned investor or a first-timer, Soul City has something for everyone. Choose from 3 marla, 5 marla, 10 marla, and 1 kanal residential plots or opt for 5 marla and 10 marla commercial plots.
3 Marla Plots: Affordable and Smart
With 3 marla plots priced at just PKR 2,895,000 and available on a convenient 4-year installment plan, it's an excellent entry point for investors looking to secure their future.
Flexible Payment Plans
Previously, 5 marla, 10 marla, and 1 kanal plots were offered with a 2.5-year installment plan. Now, Soul City is making it even more attractive with extended terms, ensuring your investment fits your financial strategy. Followinging is the payment plan for these plots: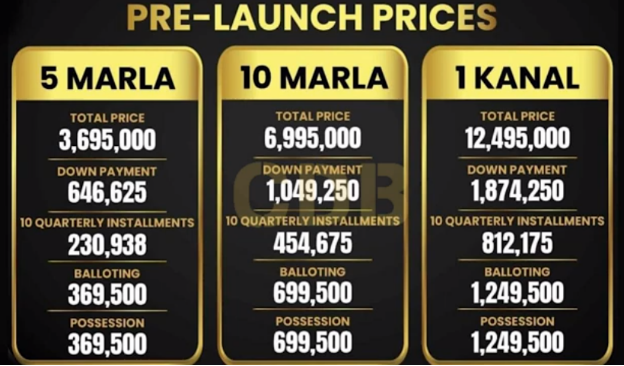 Soul City Lahore is not just an investment; it's an opportunity to be part of a thriving community. Secure your future today by investing in this promising venture. Contact CDB Properties for booking and further details. Your path to a brighter tomorrow begins here!
Contact: 03331115100
Contact: 03331115200
If you are visiting our website for the first time, you can make your very first deal with CDB Properties for free.
To avail this offer click on the below chat button
Check out our Social Media pages for the newest updates of properties
Rate Now, we'd love to hear your feedback on this article.