The best thing has happened to the District Gujrat. The biggest Eiffel Park is going to be in place in New Metro City as part of the Eiffel Enclave. CDB Properties not only congratulate its customers/ Investor/dealers from the region but Also appreciate this gigantic effort done by BSM. Indeed, this is a fantastic chance for the entire area to profit from this new contract. Eiffel Park will be 50 Kanal in size and will include a variety of features such as a Sky Tower with 360-degree Aerial View, Day Light Show, Eiffel Rooftop, Eiffel View Marquee, lake, food chain, and jogging track, in addition to the existing beautification of New Metro City. These amenities will be a welcome addition, allowing NMC to accommodate more people at a variety of events. In Eiffel Enclave, BSM is providing 5, 7, 10, and 14 marla plots in simple payments. The payment plan is customer-friendly, and our devoted teams provide free consultation around the world.
Latest Update & Location
Eiffel Enclave New Metro City Payment Plan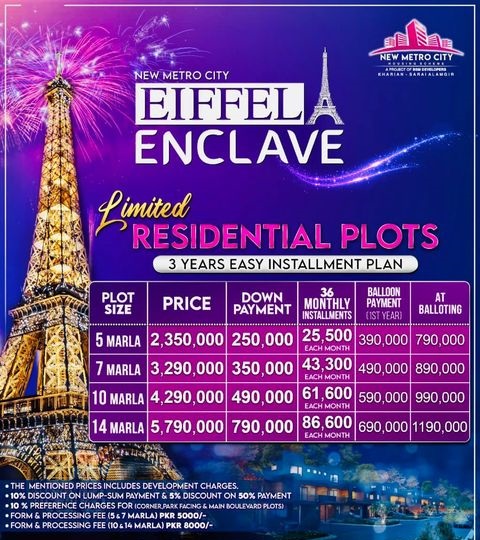 Contact us:
For booking in New Metro City Eiffel Enclave, contact CDB Properties for further details. We provide you better consultations and give the most recent and latest details for any real estate matters. You can also or visit our YouTube Channel for latest updates in the real estate world.
You can contact us at following phone numbers for additional information.
Email: [email protected]
Contact : 03331115200
Contact : 03331115100
Any questions, contact us on WhatsApp for prompt response.
Check out our Social Media pages for the newest updates of properties