Are you in the market for a new place to live? If so, you should check out Marina Apartments Lahore. These luxurious apartments offer a great living experience in a prime location. Here, we will give you a complete overview of what Marina Apartments Lahore offers!
Overview of Marina Apartments
Marina Apartments Lahore is a new luxurious apartment complex with amenities that will meet your every need. This mega project is initiated by New Castle Group, a renowned developer. It's a 6 floors apartments based complex located on LDA Avenue 1. It provides all major amenities such as a 24/7 security system, restaurants, gymnasium, and many commercial activities.
Developers
New castle Properties is the developer of Marina Apartments. They have a long track record in the field of architecture and are always coming up with new real estate ideas for Lahore. With Marina Apartments, the developer has once again shown its dedication to providing the best living experience for its customers.
Location of Marina Apartments Lahore
The location of Marina Apartments is one of its most vital selling points. It is situated in the H block of LDA Avenue phase 1, Lahore, which is a very prime and developed area. This location can be accessed by the main canal road, ring road Lahore and main raiwind road Lahore. You'll find a public park with 42 kanals located next to Marina Appartments Lahore. It is an entirely luxurious residential opportunity for the people. Many education entertainment points and educational institutions such as the University of Lahore, COMSATS, superiors university, and many others are just 4 to 5 minutes away.
Any questions, contact us on WhatsApp for prompt response.
Infrastructure of Marina Apartments Lahore
Marina Apartments Lahore covers a total area of 48,397 square feet. It consists of a basement, ground floor, and six stories above. Two high-speed elevators provide quick access throughout the structure.
The basement is reserved for car parking. It is a spacious car parking always open for the residents.
The ground floor is full of commercial shops such as restaurants, clothing brands, gymnasiums, and many more.
1st – 6th floors are completely residential. These floors are full of 1-bed and 2-bed apartments. All these apartments are fully furnished and provide a high standard of living style.
[Also Read Union Luxury Apartments Lahore Payment Plan, Features, and Investment Deals]
Amenities
Marina Apartments Lahore comes with all the amenities that you could need. This is a luxurious living experience you do not want to miss out on! Here is the list of amenities available in Marina Appartments Lahore:
24/7 CCTV Cameras
Fire Fighting System
Access Card Entry
Gymnasium
Home Made Food Restaurant
Reception/Lobby
Park Facing Project Developing on Corner Plots
Spacious Car Parking
High-Speed Lifts
Restaurants
Shopping points
Grocery Mart
Building Management
Pricing
The pricing for Marina Apartments Lahore is very reasonable. With a three-year installment plan, Marina Apartments makes paying for your stay at the apartment straightforward and effortless. The prices of these apartments start from PKR 92 Lac. This is an excellent price for such a luxurious living experience!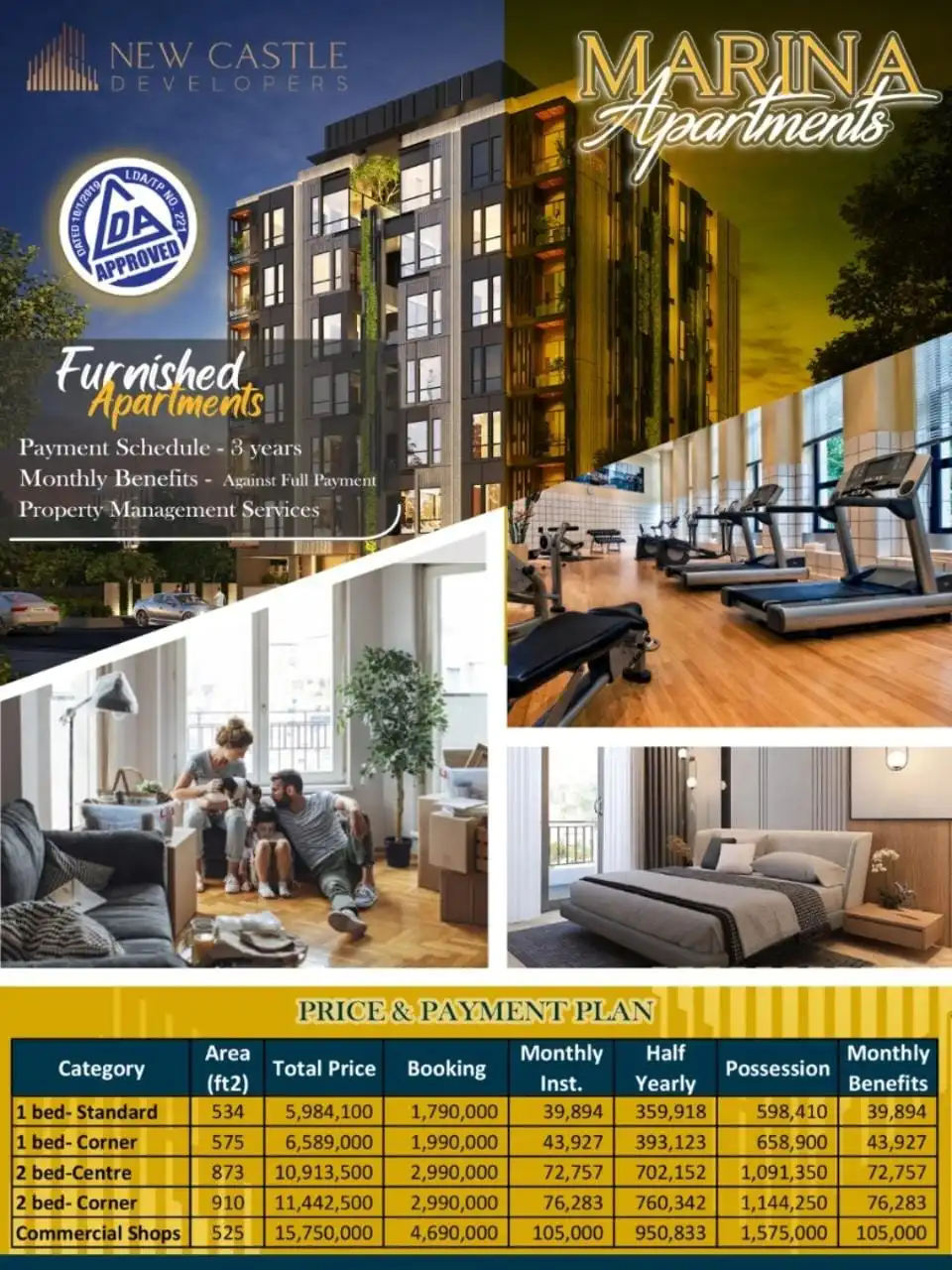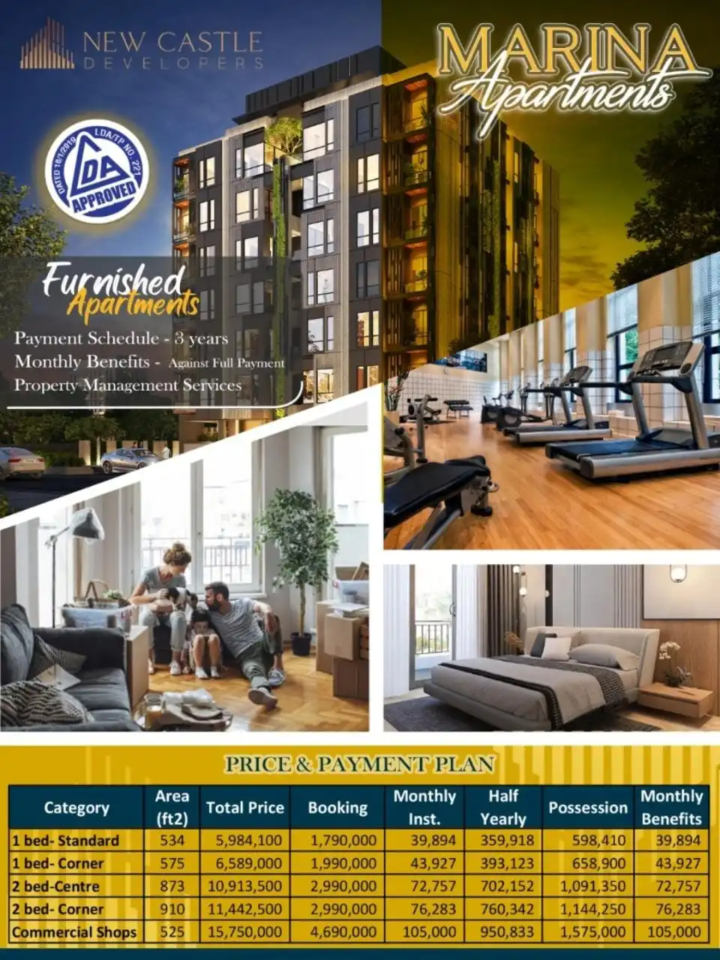 For a complete payment plan and the booking, you can contact CDB Properties. We are always available to assist the people who need guidance related to real estate. Feel free to contact us using the following contact details:
Email: [email protected]
Contact : 03331115200
Contact : 03331115100
Any questions, contact us on WhatsApp for prompt response.
Check out our Social Media pages for the newest updates of properties