The developers of Lake City have returned with Phase 2 of the project following the great success of Lake City Lahore. Lake City's phase 2 will be known as Bella Verde. This project provides both end users and investors with an excellent opportunity to make an investment. It aims to provide people with an international standard society with state-of-the-art facilities.
With its unparalleled location and facilities, Lake City has set new benchmarks in Pakistan's real estate industry. It is widely acknowledged as the LDA's largest approved housing community.
The luxury of living and quality standards found in Lake City is unmatched. Lake City is expanding rapidly, and the launch of Phase 2 of Belle Verde only promises to further that growth.
Location
Phase 2 is in a similar place to Phase 1 of Lake City. Instead, it is right next to it. When you reach Lake City, where M-8 ends, that's where Phase 2 begins.
The map of this society has not yet been made public, but it will be soon, along with balloting information.
Any questions, contact us on WhatsApp for prompt response.

Amenities and Features.
You'll find everything you need in Lake City Phase 2 Bella Verde, from a fully functional masjid to commercial banks, bakeries, fast food chains, a cinema, and an operational shopping mall.
The Golf View is one of society's most attractive features and is responsible for enhancing the overall quality of life in Lake City to an entirely new level.
Payment Plan
Phase 2 features 5 Marla plots with a total land cost of 89 Lac. It offers a three-year payment plan starting with a down payment of 17 Lac, followed by 13 monthly installments of 499,000.
See the Complete payment plan below: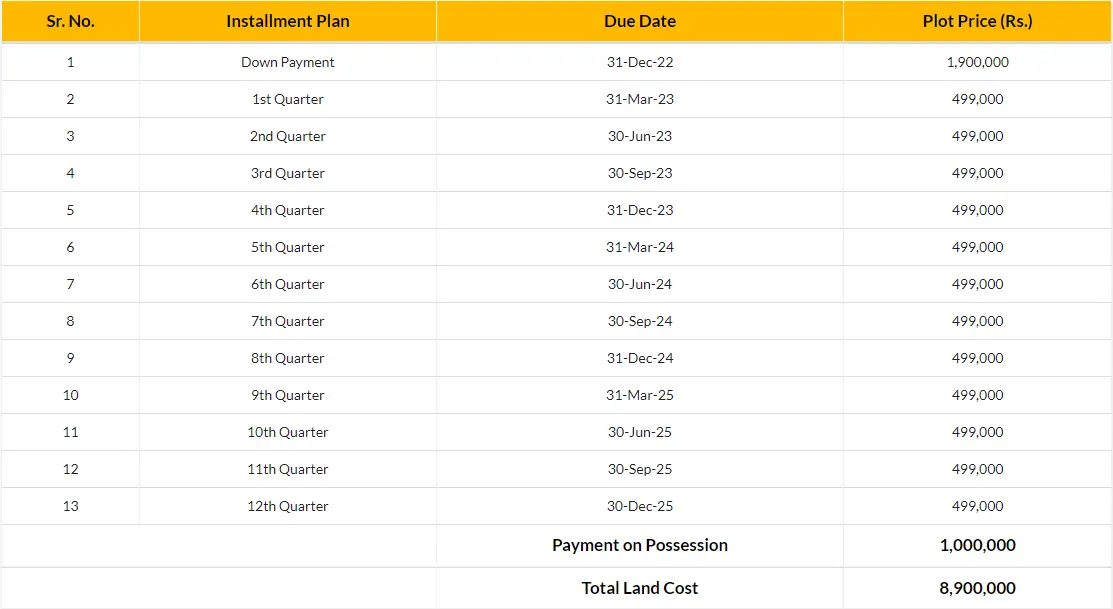 One thing to keep in mind is that you have to pay an extra 1 Million for development charges with your last two payments.
Final Thoughts
In terms of real estate in Pakistan, Lake City Phase 2 is a treat for anyone looking to invest or build a home in a community that offers both a high standard of living and a premium level of luxury.
For more details, you can contact CDB Properties. We are here to provide you with the best real estate investing options. Our contact details are listed below.
Contact: 03331115100
Contact: 03331115200

If you are visiting our website for the first time, you can make your very first deal with CDB Properties for free.
To avail this offer click on the below chat button
Check out our Social Media pages for the newest updates of properties
Rate Now, we'd love to hear your feedback on this article.