Are you searching for a highrise project in Lahore that guarantees a promising investment? When making such decisions, it's vital to consider three key factors: the location, the developers behind the project, and the necessary NOCs (No Objection Certificates). As your trusted real estate advisor, CDB Properties recommends Green Palm Lahore by Rafi Group, a project that excels in all these aspects.
Trusted Developers Powering Green Palm Lahore
One of the foremost reasons to invest in Green Palm Lahore is its credible developers. Rafi Group boasts an impressive portfolio, having successfully completed projects like Empress Tower, Empire Centre, Central Plaza, Defence Shopping Mall, and more across Lahore. Their extensive experience and reputation in the industry make Green Palm a standout project.
Elevate Your Living in a Prime Location
The location of a highrise project is a critical element for both investors and future residents. Green Palm Lahore scores high in this regard. Situated in Sector C of Bahria Town Lahore, this project offers unrivalled accessibility. It's a mere 3-4 minutes drive from the Buley Shah Interchange and directly connects to the Ring Road via Jhelum Road. Additionally, it's easily reachable from Ferozepur Road, with a convenient link after crossing LDA City. Notably, Green Palm is in proximity to adjacent projects like LDA City, Soul City, and Etihad Town Phase 2, an area poised for significant growth in the future.
Any questions, contact us on WhatsApp for prompt response.
Embracing Multiple Approaches at Green Palm Lahore
The most successful projects often have more than one entry point, making them easily accessible from different parts of the city. Green Palm aligns with this success principle by offering multiple gates and approaches from major roads within the City.
Versatile Plot Options at Competitive Prices in Green Palm Lahore
Investors looking for plots can choose from options that include 5 Marla, 10 Marla, and 1 Kanal. At present, prices for these plots are competitive, as it's in the pre-launch phase.
Amenities at Green Palm Lahore for a Well-Connected Lifestyle
Green Palm Lahore is designed to cater to residents' needs with amenities such as dedicated mosques and parks for each block within the society. Moreover, the project includes plans for a hospital, ensuring that healthcare needs are met right within the community.
Affordable Payment Plans
Affordability is often a key concern for investors. Green Palm Lahore addresses this by offering a reasonable payment structure. Investors can secure their plots with a 10% booking payment and a 10% confirmation fee. The remaining balance can be comfortably paid through manageable instalments.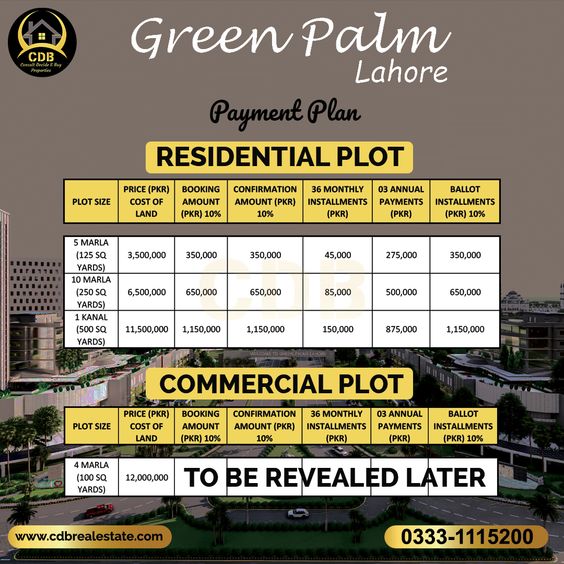 Invest with Confidence
Investing in Green Palm Lahore not only ensures a credible and reputable project but also a promising future. The developers' track record, prime location, multiple entry points, plot variety, and affordable payment plans make it a lucrative investment opportunity.
For additional information and bookings, please don't hesitate to contact CDB Properties. Your real estate experts are ready to provide you with all the details you need to make an informed investment decision in Green Palm .
Act now and secure your future in this thriving highrise project.
Contact: 03331115100
Contact: 03331115200

If you are visiting our website for the first time, you can make your very first deal with CDB Properties for free.
To avail this offer click on the below chat button
Check out our Social Media pages for the newest updates of properties
Rate Now, we'd love to hear your feedback on this article.