Looking for a new place to live? Check out Citi Housing Kharian! A new housing community offers a variety of living options in the heart of Kharian. Whether you're looking for a residential or commercial opportunity, Citi Housing has something to fit your needs. It features a lush natural environment, all modern facilities for a comfortable life, and many more. Citi Housing Kharian is the perfect place to call home for several reasons.
Citi Housing Kharian is one of a kind, as it aims to be an appealing connection for residents of Sarai Alamgir Kharian and the surrounding areas. This new housing project is located on G.T. Road near Sarai Alamgir, Kharian, and provides comfort and serenity with a natural and greenery-filled environment equipped with luxuries. The major reason for initiating this project is to facilitate the people of Gujarat with the opportunity to live a standard lifestyle.
Developers
This luxury project is developed by Mr. Malik Major Amir, the son-in-law of Mr. Malik Riaz (Chairman Bahria Town), a leading name in the real estate and construction field. With a commitment to quality and customer satisfaction, they have developed many iconic landmarks in different cities of Pakistan, including Gujranwala, Sialkot, Jhelum, Multan, Lahore, and Faisalabad. Citi Housing Kharian Developer is committed to building long-term relationships with investors based on trust, loyalty, and honesty.
Citi Housing Kharian Discount Scheme
If you want to know about the Citi Housing Kharian Discount Scheme then you should watch this video.
Location
When picking a community to live in, the most important aspect to consider is the location of the society. Keeping it in mind, this housing society is built to provide the best living experience to the people of Kharian. The new project is located on the main G.T. road Sarai Alamgir, New Kharian. It is close to many landmarks such as Grand City Kharian, New Metro City Kharian, Grand Trunk Road, Kharian City, Buraq City, and many more. All the people from the surrounding area can enjoy the facilities of Citi Housing Kharian.
Any questions, contact us on WhatsApp for prompt response.
Layout Plan
Citi Housing Kharian is beautifully designed to facilitate all types of investors with different sizes of plots. The project offers a variety of residential and commercial plots i.e.
05 Marla
07 Marla
10 Marla
01 Kanal
02 Kanal
The layout plan is designed in such a way that all the amenities and facilities are available within the vicinity of the society.
Facilities
The project offers many world-class facilities and amenities to the residents. Some of them are as follows:
24/7 protection
Secure gated community
Education institutions
Health Centers
Underground electricity
Grand Mosque
Graveyard
Sports Complex
Spacious Parks
Payment Plan
The developers of Citi Housing Kharian have set the prices of the plots very reasonably. The price range for plots is as follows: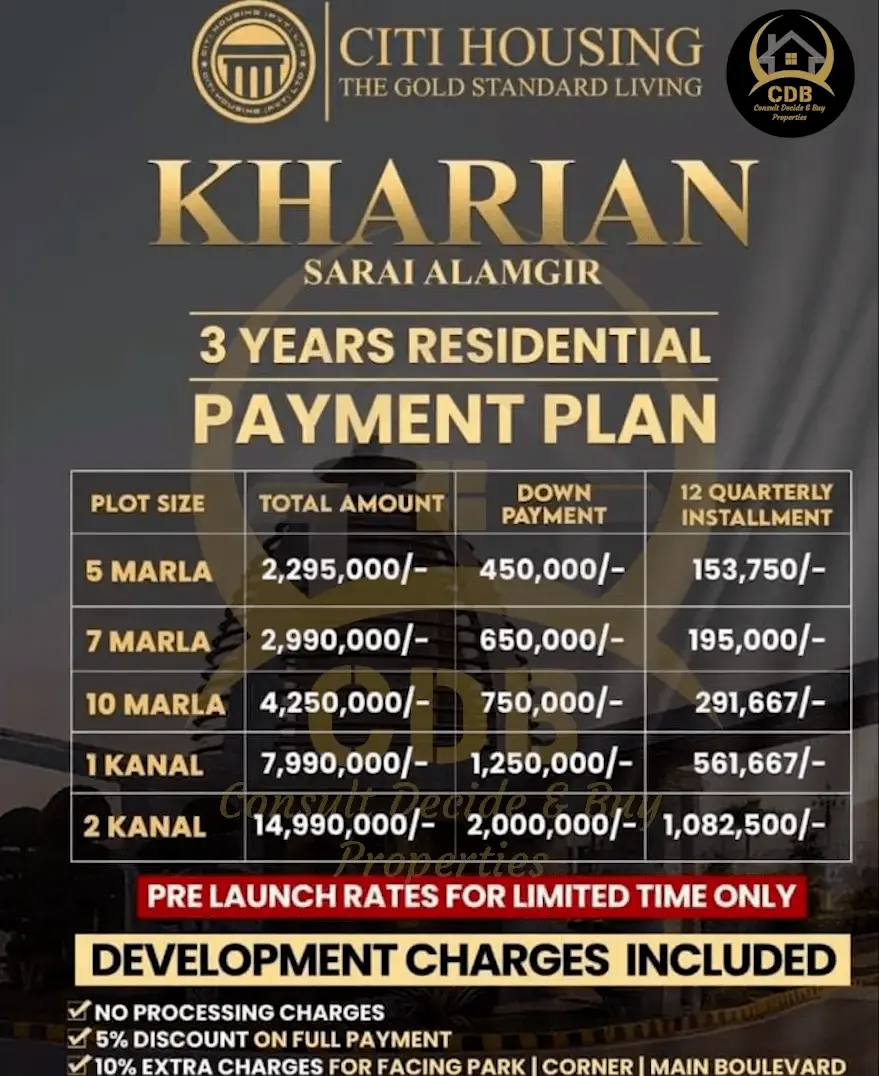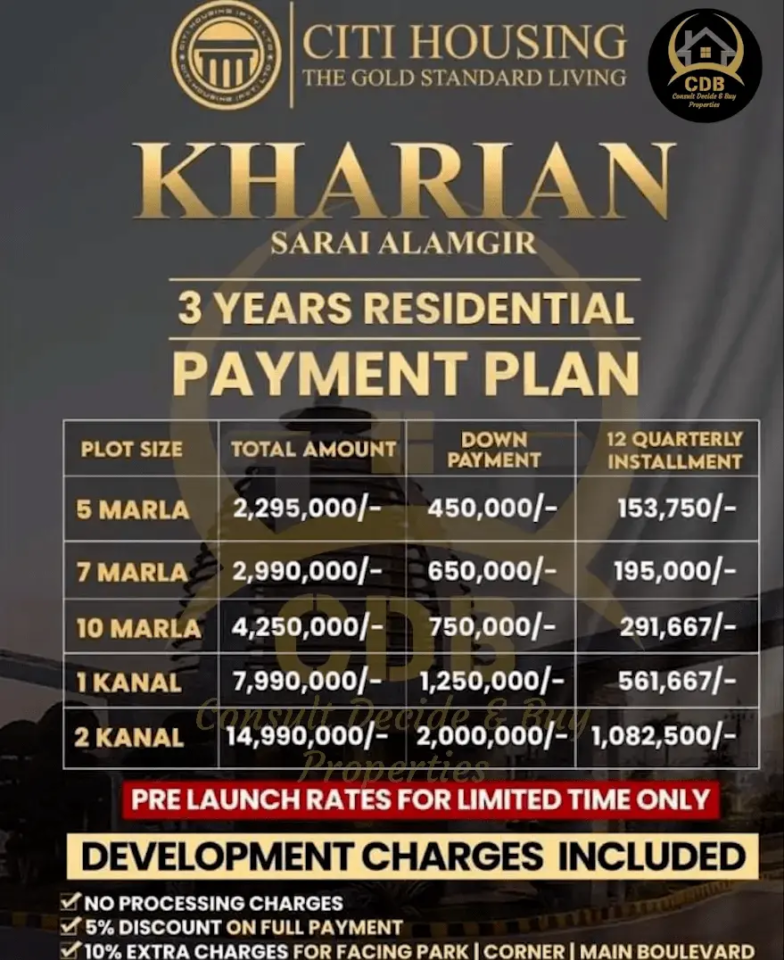 Booking
For more details or the booking process, you can contact CDB Properties. We are authorized dealers of Citi Housing Kharian. And we do not charge a single penny for the consultation. You can directly send your payment to the developer's account.
CDB Properties has been serving the real estate industry for over a decade. Our expert team provides you best guidance for the investment opportunities according to your budget. You can contact us any time using the following contact details.
Email: [email protected]
Contact : 03331115200
Contact : 03331115100
Any questions, contact us on WhatsApp for prompt response.
Check out our Social Media pages for the newest updates of properties