Al-Kabir Orchard, a name synonymous with reliability and successful real estate projects, is back with an exciting new venture called "Overseas Prime." This project promises attractive investment opportunities that are hard to resist.
Flexible Plot Options:
In Al-Kabir Orchard, you have the choice of 3 marla and 5 marla plots. What sets this project apart is its convenient 3.5-year installment plan. Better yet, possession is guaranteed within just one year, ensuring swift returns on your investment.
Proven Track Record:
Al-Kabir Town, a sibling project of Al-Kabir Orchard, has a history of delivering successful projects on Raiwind Road, Lahore. Investors who previously put their trust in Al-Kabir developments have enjoyed impressive profits and consistent rental income. This legacy of success is a testament to Al-Kabir's commitment to quality and reliability.
Sector A: A Proven Investment:
Al-Kabir Orchard's Phase 1, also known as Sector A, initially offered a range of plots, including 3 marla, 5 marla, 8 marla, 10 marla, and 1 kanal option. Investors who seized this opportunity are now comfortably paying their installments, confident in the value they've secured.
Any questions, contact us on WhatsApp for prompt response.
Speedy Delivery and Attractive Surroundings:
The new deal in Al-Kabir Town promises to be delivered within a mere year. These are on-ground plots, situated in a well-developed area that enhances their overall attractiveness. The convenient location adds to their appeal, making them a compelling investment option.
A Thriving Neighborhood:
Al-Kabir Orchard benefits from its proximity to Lahore Smart City, a thriving and well-established project. The strategic location, combined with accessible infrastructure, contributes to its investment potential.
Convenient Location and Connectivity:
Al-Kabir Orchard's management office is conveniently located on Kala Shah Kaku's main road, and the extension of the metro bus service to this area further enhances its connectivity.
Reasonable Pricing and Easy Payment Plans:
The 3 marla and 5 marla plots in "Overseas Prime" are competitively priced. What's more, Al-Kabir Orchard offers an accommodating 3.5-year installment plan, making property ownership accessible to a broader range of investors. Following is a detailed payment plan: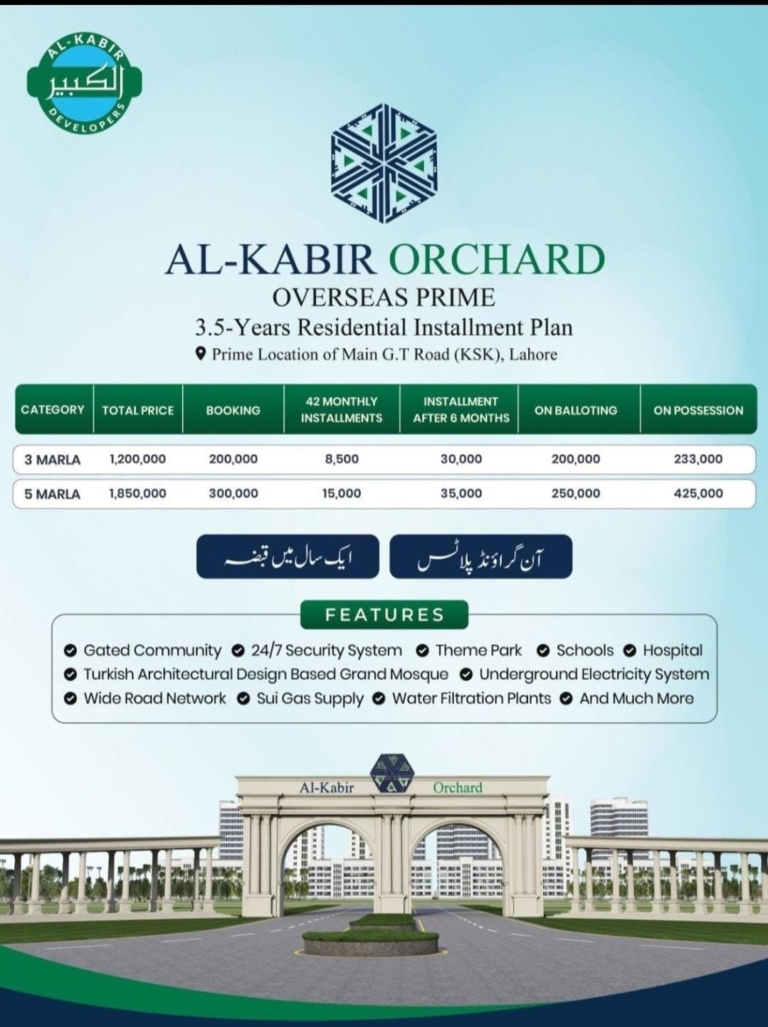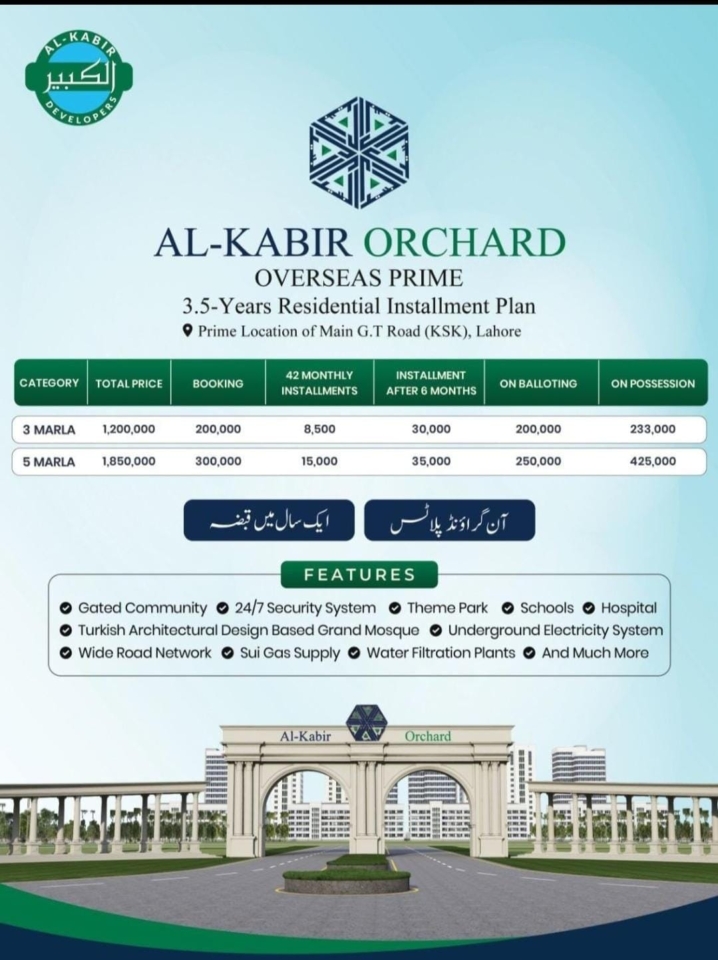 Secure Your Investment:
Don't miss out on this fast-track investment opportunity. With swift delivery, a trusted developer, and an excellent location, Al-Kabir Orchard's "Overseas Prime" is a project worth considering.
For booking and detailed information about the payment plan, reach out to CDB Properties today and secure your piece of this promising venture.
Contact: 03331115100
Contact: 03331115200

If you are visiting our website for the first time, you can make your very first deal with CDB Properties for free.
To avail this offer click on the below chat button
Check out our Social Media pages for the newest updates of properties
Rate Now, we'd love to hear your feedback on this article.